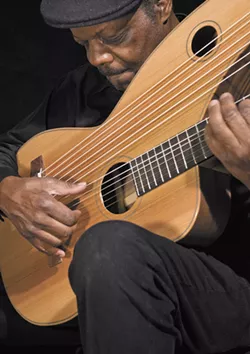 A classical guitar series curated by Leon Atkinson is back at the Bing Crosby Theater after more than seven years, this time under the Friends of the Guitar Hour moniker. And it nearly didn't happen.
Atkinson is a world-renowned classical guitarist out of Sandpoint who co-hosts the weekly Guitar Hour on Spokane Public Radio with KPBX program director Verne Windham. He was diagnosed with kidney failure a decade ago and was on dialysis — nine hours a day, seven days a week at home — for years until he received a kidney transplant three years ago.
"I'm now back at 100 percent," Atkinson says. "I'm travelling and doing concerts all over the world again and still doing my radio show. It's amazing what one little organ can do."
Originally from Long Island, New York, Atkinson grew up in a musical family and eventually found work on Broadway, wrote songs for commercials and even studied with Andrés Segovia, commonly regarded as the best classical guitarist of all time. But Atkinson always pined for the outdoors, which brought him to buy a 100-acre property in Sandpoint in 1973. Since then, he's taught at nearly all the universities and colleges in the area. He currently runs a private studio at his home.
The guitar series kicks off this weekend with the San Francisco-based Jon Mendle, who has toured with Yo Yo Ma's Silk Road Ensemble. It continues March 24 with steel-string player Alex de Grassi and Andrew York, formerly of the Los Angeles Guitar Quartet. On May 12, the series wraps up with Atkinson performing along with Larry Jess, principal trumpet with the Spokane Symphony, and his brass ensemble.
Jon Mendle • Thu, Nov. 19, at 7:30 pm • $25/$60 for concert series, contact Leon Atkinson (208-660-4983) • Bing Crosby Theater • 901 W Sprague • bingcrosbytheater.com • 227-7638