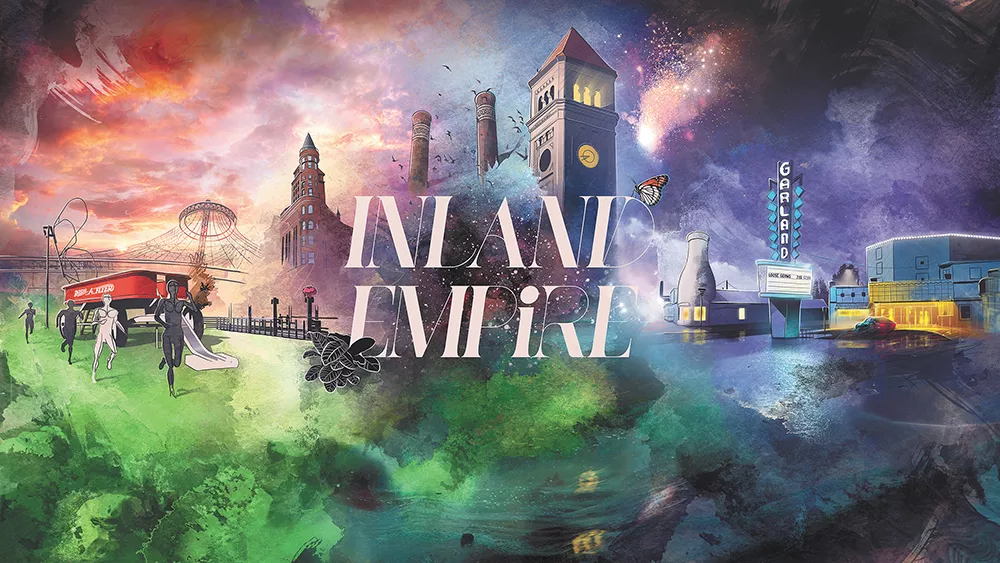 Before David Waters even had his college degree in hand, the explosively colorful, organized chaos of his designs had caught the eye of some huge brands: Nike, Adidas, ESPN.
With that knowledge, and a quick scroll through Waters' online portfolio, one might surmise that the 2013 graduate of the University of Idaho's graphic design program could land a job at any creative agency he wished.
But Waters doesn't want that.
"Keeping a hold on creating something I can continue to have a unique voice in, it means so much to me," the pensive, bearded artist, 28, says from the dining room table of his parents' home in the North Spokane neighborhood of Indian Trail.
In front of him, a glossy-screened iMac is positioned behind the matte grey rectangle of his Wacom Cintiq digital tablet, an invaluable tool through which Waters' deeply detailed designs are transferred from imagination to hand to screen. Before he takes the pointed stylus in his right hand, Waters pulls on a woolly grey glove because, he says, his hands sweat a lot.
"I would much rather work a job at a gas station or stocking shelves, if I could keep my art on the side, than sacrifice creativity," he says. "I'm pretty restless, and I don't know what I'm going to do next. It's more about not wanting to lose that perspective of being on the outside and being free to experiment."
That's not to say Waters won't take on freelance design work. Since those career-changing designs were sold — a Manchester United T-shirt, and a line of branded tees for NBA star Kevin Durant, both licensed by Nike — he's completed other vivid, labyrinthine designs for lesser-known creative campaigns.
"The stuff I've been interested in lately hasn't been what clients want, but it makes me happy," he explains.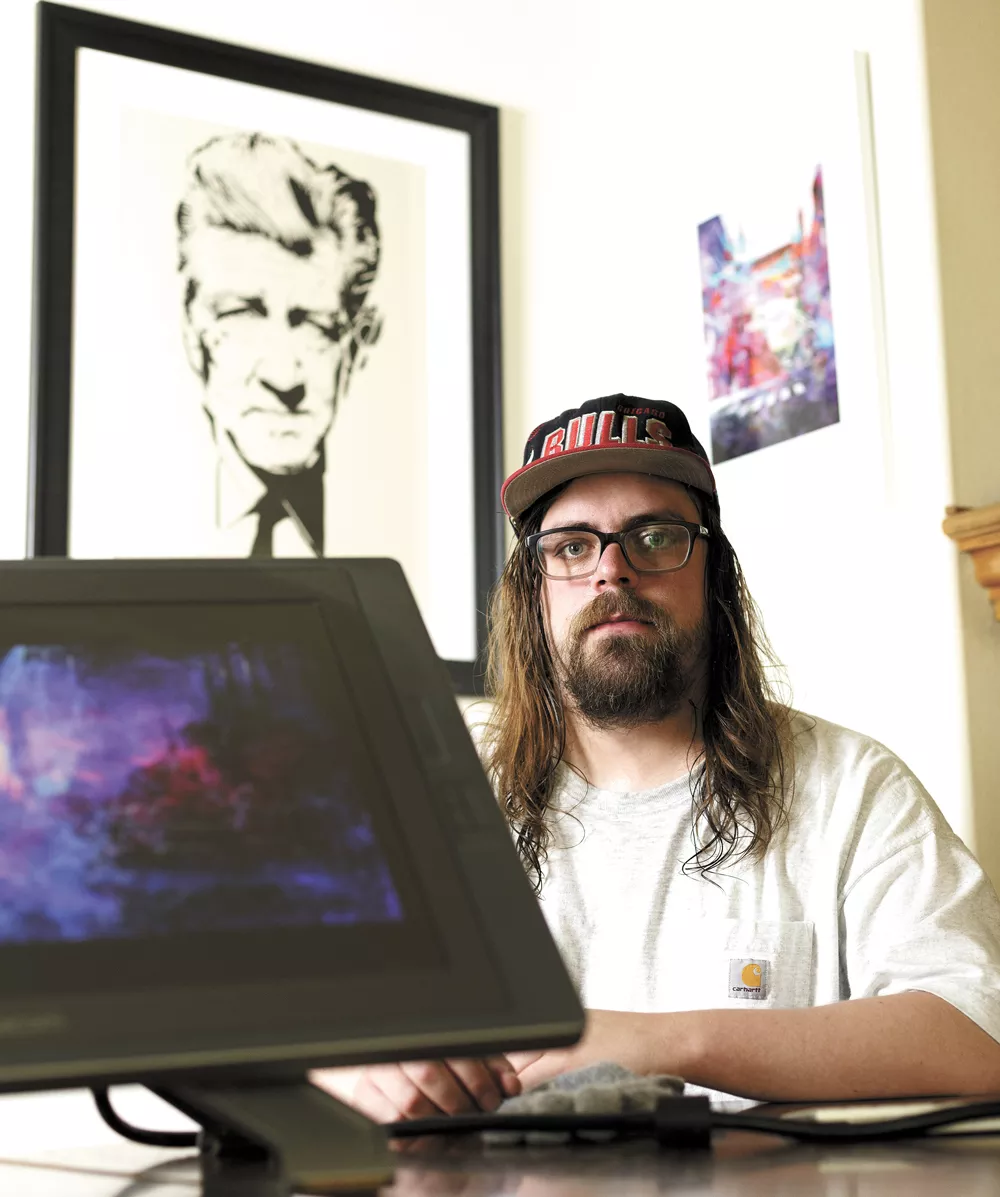 To begin one of his immensely detailed pieces, Waters usually starts with a single image; a photo or original sketch. Then, using Adobe Photoshop and his tablet's stylus, he begins building, layer upon layer and stroke by stroke, to reach an ethereal, glowing finale.
Many of Waters' pieces — like a reimagined poster for Back to the Future (created and displayed as part of the Spokane Symphony's Movie Music Spectacular concert this past January) and the Kevin Durant tee — are evocative of a solar storm on the sun, or a supernova in a far-away galaxy. Soft brushstrokes and pinpoint dots become space dust; squiggling fine lines are crackling electricity.
This juxtaposition of light and dark elements is a quality seen throughout Waters' repertoire. And though he's developed and perfected these signature elements of his style, the artist is constantly pushing through his own creative boundaries.
In an effort to make his art feel more authentic, he's experimenting with designing custom brushes in Photoshop, scanning acrylic paint strokes on canvas to his computer and then using the abstract shapes to make digital brush patterns.
"Digital art is odd because it's very well accepted in advertising and a lot of things, but from what I've seen when you go to sell individual pieces, it's a different ballpark," Waters explains. "You have to sell digital work close to the price it took to produce, which is sometimes difficult. But because of its digital nature, people seem to equate it with poster prices."
The walls of the mid-'90s rancher around Waters' makeshift workspace at the family dining table are a gallery showcasing his and his mother Joan's artwork.
Diagnosed with Parkinson's disease more than a decade ago, Joan has continued to paint in watercolor and even took on glassworking despite the challenges presented by the illness.
"She does more work than I do," David says. "No matter if her hands are shaking, it's something that helps her cope with the situation."
Due to a mental health crisis, David moved back home after college to recover and has been working on his art there since. These days, he doesn't venture outside the home too often.
"It's hard to talk about my artwork without getting personal about it. [My mental health] is not a defining characteristic of my art or identifies me, but it has shaped how I feel about creative work and how it helps me," he says.
Both Waters' and his mother's art have been featured at Terrain, the annual, one-night local arts showcase. He's also participated in several poster design showcases, including last year's Bartfest music festival, and for the aforementioned Spokane Symphony concert. In June, Waters sold framed prints at Terrain's sister event, Bazaar, under the name Loose Germs.
"That was the first time I put myself out there in person... I was definitely pretty nervous. When I like to look at art or music, I like to have a position where I can view it when someone isn't looking back at you, so for Bazaar I tried to frame it that way," he says. "I had my seat in the corner — I wanted to give people a space to see it and develop their own opinions." ♦
Find more of David Waters' art at loosegerms.com.