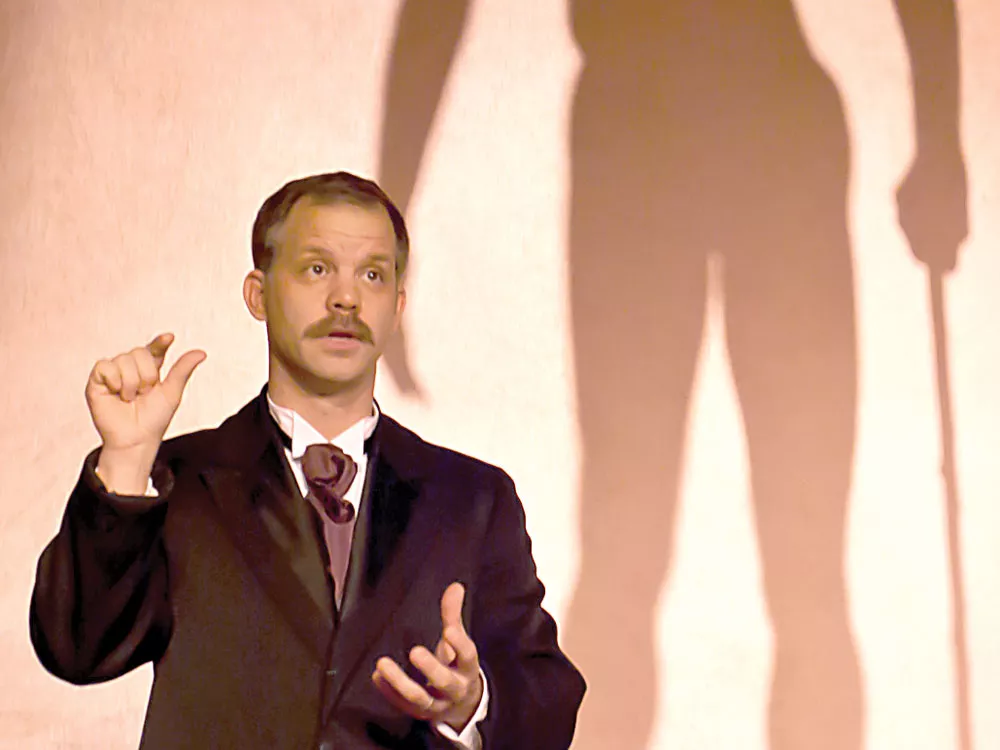 Think of all your past sins, cruelties and stupidities. What if they all accumulated on your body — bony growths lumped on your face, foul-smelling warts covering your torso? Hideous deformities for all to see.
You'd feel ashamed. Everyone would judge you in moralistic terms: You must have done something awful to look as repulsive as that.
That's how 1880s Londoners responded to Joseph Merrick, of course: There must be something wrong with that man.
But we all have our psychological defects; most people's just aren't visible like Merrick's.
Lake City's production of The Elephant Man, while intelligent and involving, helps us visualize the patient's imperfections better than his doctor's.
As Frederick Treves, the doctor who rescues and nurtures the misshapen outcast, George Green could do with more British reserve. Later on, he'll express surprise over Merrick's humanity, undergo a crisis of confidence and turn manic in a crazy scene. The emotional reserve is needed, initially, for contrast.
With his watch fob dangling and with hands at his waist cinching back his topcoat, Green conveys the physician's intensity, his belief in the value of making medical discoveries and expanding knowledge. But in the early going, Treves should be less eager than aloof.
Similarly, director Marina Kalani has allowed overacting to spread into some of the minor roles. Accents come and go, too. And with Merrick's speech intentionally slurred — and with much of the action set upstage instead of near the lip — consistent diction and volume are lacking.
One effective sequence, though, has Merrick (Christopher Lamb) asked to recount how the circus freak had been beaten and abused.
Lamb offered an understated contrast: eyes cast down, body tilted and slumped, groaning as he remembers how the blows had struck him over and over. No overacting here; just effective simplicity.
Playing a famous Victorian actress, Anne Lillian Mitchell is similarly simple but effective in rehearsing her greeting over and over ("I am very pleased to make your acquaintance") — turning it into an act of enormous kindness to Merrick and into a seduction of Treves.
Late in Act One, Merrick discusses the theater with the actress, saying if the illusion of stage acting does not please us, it's because the spectators lack empathy. Mrs. Kendal's kindness to the man with the warped and distended body pays off as the first act ends with the image of Merrick, in shafts of dim light, pressing his hand to his cheek. He had just shaken hands with the first woman ever to treat him kindly.
Playwright Bernard Pomerance keeps us thinking about our level of emotional involvement, even when we're repulsed by what we're looking at. That's why his second act varies the presentational techniques: a series of pin-spot revelations about how everyone sees themselves in Merrick, a freaky dream sequence and a role-reversal in which Merrick puts Treves on display and discusses his imperfections.
The production's inside-of-a-circus-tent set, designed by Green and Dan Heggem, places the action where the freaks are. And the gawkers, who are outside the tent staring in, ridiculing the unfortunate few? That's us.
But the freaks aren't there to be gaped at. The freaks deserve our sympathy — even and especially the ones who don't think they're freaks.

The Elephant Man • Thurs-Sat 7:30 pm, Sun 2 pm, through Nov. 14 • $17; $15, students; $13, seniors; $9, children; $10, student rush • Lake City Playhouse • 1320 E. Garden Ave., Coeur d'Alene • http://www.lakecityplayhouse.org • (208) 667-1323