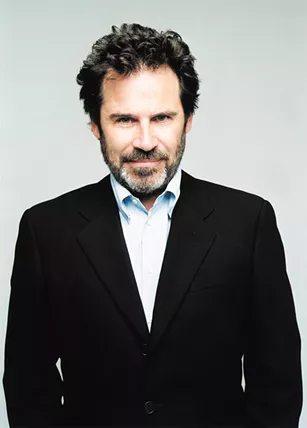 Dennis Miller used to be funny. Actually, Dennis Miller used to be one of the funniest people on the planet.
His assured delivery and wide-ranging skewering of hypocrisy among the powerful and silliness among the rest of us made him the ideal anchor for Saturday Night Live's Weekend Update segment in the mid-'80s. Vulture.com ranked him as the best ever in that role, over the likes of Tiny Fey, Amy Poehler, Chevy Chase and Bill Murray. Later, Miller's topical rants full of pop-culture ephemera and historical references made his long-running Dennis Miller Live show on HBO a massive critical and popular hit. It ran for 10 seasons — 215 episodes — and won five Emmys between 1994 and 2002 while blazing a trail for comedians like Bill Maher, Jon Stewart and Jon Oliver to turn politics into comedy gold.
The reason you don't hear about Miller in the same reverential tones as you might about his former SNL peers doesn't really have anything to do with him losing his sense of humor, and pretty much everything to do with his embracing some conservative views that are anathema to much of Hollywood or any fans who lean left.
He's skeptical of the #MeToo movement that lets Bill Clinton "skate," thinks Barack Obama was a "nice guy" but a "crappy president" and actually finds some things to appreciate in Donald Trump. And while that might be painful for fans from the old days — myself included — one thing comes clear after talking to Miller for a half-hour on the phone.
Dennis Miller is still funny. And Dennis Miller doesn't really care what you think.
Miller didn't do much overtly political material in his early stand-up days, but that changed when Lorne Michaels hired him for Saturday Night Live and immediately put him behind the desk on Weekend Update.
"You're a topical humorist at that point, and I'm thankful I had that hook," Miller says from a tour stop in Florida, part of a trip that brings him to Spokane Friday night. "It took me to a different way of writing. I've always written about current events, and that includes some politics. It's just that my politics aged with me."
Learning to scour the news for hooks and headlines that would serve new jokes became a talent Miller was able to use well beyond SNL. And it's one he still uses as he prepares to film a new stand-up show in May, although the 64-year-old acknowledges it takes a little more work these days.
"It's harder just because you're not as driven," Miller says of creating a new special. "Now I find the observations during the day have to stop at some cranky Ellis Island, where I have to reassign them into joke material. There's a midstep. I'm cranky now. I assume that's part of being old."
Miller says his relative conservatism came through a natural evolution, some combination of aging, financial success, the shock of 9/11 and increased hypocrisy among America's liberals.
Even back when he was a more mainstream comedy darling, Miller had a libertarian streak that's not uncommon among comedians; as long as a joke was funny, it didn't really matter if a target was Democrat or Republican. "I was a ballbuster then about everybody," Miller says.
Miller says as he looks at the country, it's "Hatfields and McCoys," but he sees the left as more closed-minded than conservatives.
"I don't think I've ever seen [America] this uptight, nasty and judgmental, and it's from one side," Miller says. "People can talk all they want, but the left is trying to shut down some discussion, and I don't get that."
Still, Miller also has apolitical, entertaining stories of how he handled getting fired from his genuinely odd Monday Night Football announcing gig ("I knew I was going to get whacked") or dealing with "two days of showbiz depression" when his first late-night talk show was canceled.
Whether or not one would enjoy Miller's stand up in 2018 depends a lot on how you feel about Miller's present politics. But, clearly, Miller's main goal on stage remains being funny.
"This whole thing about trying to get other people to agree with you, or think the way you do, I could care less," Miller says. "These are my thoughts. I'm trying to get some laughs."♦
Dennis Miller with Philip Kopczynski • Fri, April 6, at 8 pm • $45/$60/$68/$75/$90 • Martin Woldson Theater at The Fox • 1001 W. Sprague • foxtheaterspokane.org • 624-1200