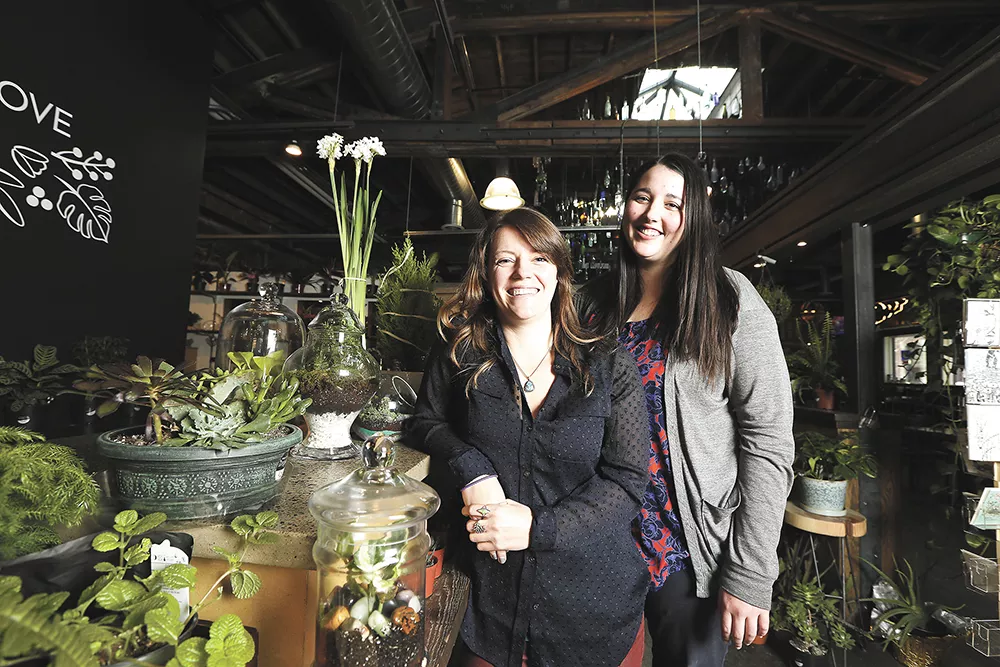 Joining the ranks of other old-fashioned ideals being revitalized through the current "what's old is new again" zeitgeist, terrariums and other miniature indoor gardens have re-emerged from their Victorian origins as a hip home décor trend and creative hobby.
The miniature gardens contained in glass or ceramic vessels not only offer an outlet for budding green thumbs who have little space or time, but also feed our hunger for personalized, creative expression in the spaces we occupy.
An added benefit: Indoor garden plants can help purify the air, and of course the living greenery is peaceful and pretty to look at. If only we could shrink ourselves small enough to escape into these tiny, botanical oases that populate the desks and windowsills of our built environments.
While any casual web or Pinterest search turns up endless terrarium-building inspiration — from plant species that pair well inside any of the trendy, geometric-shaped containers, to how to care for the fairly low-maintenance habitats — a new local business specializing in indoor gardening and botanical arrangements has all the resources to help anyone get started.
Parrish & Grove opened in downtown Spokane's Saranac Commons last November, offering customizable mini-gardens at its build-your-own terrarium station, along with a variety of locally grown exotic house plants, fresh flowers and other botanical-themed gift items.
Situated in the middle of the open-market space it shares with a brewery, bakery, café and Mediterranean restaurant, Parrish & Grove easily markets itself to passersby with lush displays of cascading greenery. Before opening, the vacant spot (formerly home to Sun People Dry Goods Co.) had long caught the eye of Parrish & Grove owners Amanda Parrish and Chelsea Updegrove, both of whom also work full-time at the local nonprofit Lands Council located next door in the Community Building.
"We were sitting at Black Label [Brewing Co.] and saw the space was vacant, and we said to each other, 'What do you think should go in there?'" Parrish recalls on a chilly Thursday morning.
"Amanda said she always thought flowers should be in here because it has that market feel, and what market doesn't have flowers?" adds Updegrove. "The next day we knew we'd struck gold, and we submitted a proposal."
Both women are avid houseplant cultivators, so stocking specimens they'd personally discovered were harder to find at other area retailers was another priority. Customers can also order fresh flower arrangements, or create their own in store. So far, the build-your-own terrarium bar has been one of Parrish & Grove's most popular features. It offers a variety of materials and plants to choose from.
A cabinet in the shop's back corner offers all the sand, soil and other materials — sold by the scoop — needed to create the well-draining base layers for a healthy terrarium of desert plants that can survive with little water. Updegrove says it's actually easier to kill plants like succulents due to overwatering than to neglect. Customers can bring their own container, or purchase one from the shop. After adding the tiny plants, finish off with a few mineral embellishments like polished stones, quartz crystals or sparkly druzy, with tiny crystals atop a colorful mineral.
Both private parties and public workshops centered around terrarium building are offered at Parrish & Grove. Depending on the items used, most terrariums range from $30 to $45.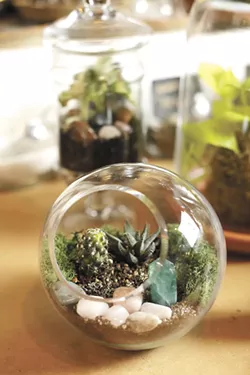 Cultivating exotic, dry or tropical-climate botanicals inside glass vessels emerged during the Victorian era, after a physician and botany hobbyist named Nathaniel Ward accidentally discovered that a sealed glass environment would allow non-native plants to survive, even thrive, in his London home. Ward's specimens otherwise died outside their natural climate when exposed to the city's sooty, toxic air. Early terrariums were called Wardian cases, and became a wildly popular form of home décor for the day's elite. Ward's miniature greenhouse designs also ushered in a new era for exotic plant imports.
Since then, we've seen terrariums resurge in the modern era as a kitschy trend of the 1970s, and of late as more of an elevated component of interior design and personal expression. What hasn't changed, though, are terrarium plants' hardy traits, minimal space and easy care requirements, making the houseplants accessible to a range of lifestyles.
"Creatively, you get to create a mini-world, from the color of the sand that complements a quartz crystal cluster next to a spiky plant. It's beautiful. There is nothing like making plants and nature into art," Updegrove says. "Plus, who doesn't like to get their hands dirty and play around and make things?" ♦
Parrish & Grove • 19 W. Main • Open Tue-Sun, from 10 am-6 pm • parrishandgrove.com • 838-7784