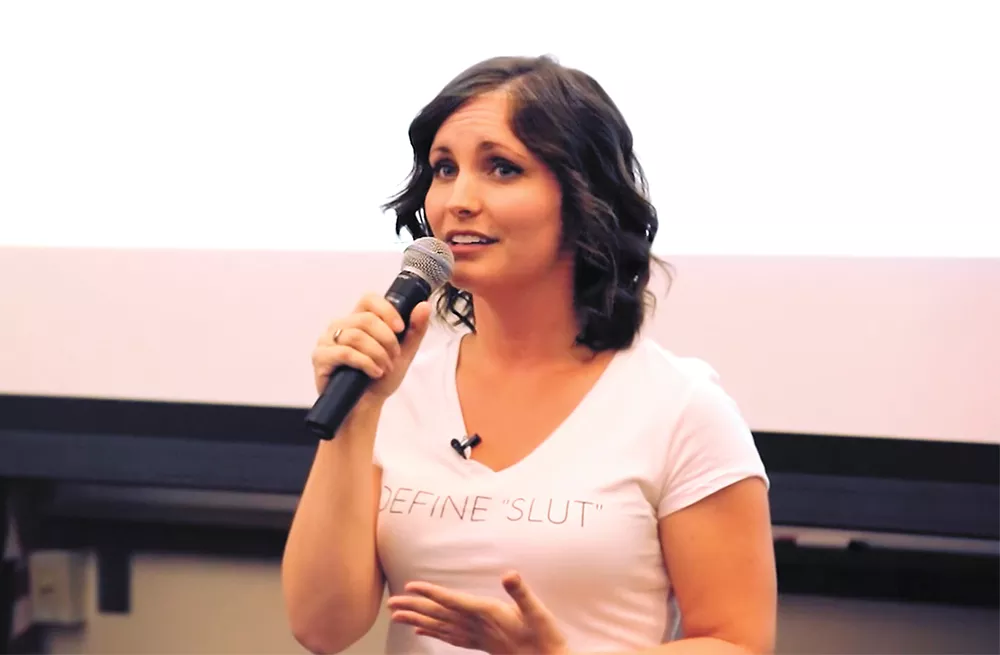 "Oh my god, she looks like such a slut." "She's asking for it." "She's a crazy slut."
If any of these phrases sounds all too familiar, you're far from alone. The term "slut" is everywhere — and has been since its etymological origins more than 500 years ago — whether in jest or in jab, and it's not OK. The frequency in which modern culture employs the gender-focused insult to shame or bully is the topic of UnSlut, a 2015 documentary that's been scheduled for a series of screenings over the coming weeks at Spokane County Library District branches.
It's inspired by the memoir of its director and UnSlut Project founder Emily Lindin; she essentially published an annotated version of her middle school diary detailing her experiences and reactions to being "slut-shamed" by classmates at age 11 for sexually experimenting with her then-boyfriend. UnSlut features six women sharing their own stories of being sexually shamed by those around them. Besides her personal experiences, Lindin was driven to examine the devastating effects of this gender-based — as it's mostly directed toward women — bullying and abuse after the tragic 2013 suicide death of a 17-year-old teen who'd been gang-raped by her classmates and blamed by her peers for what happened.
SCLD youth librarian Sheri Boggs first discovered Lindin's memoir and documentary in a conversation with her friend and local young adult author Kris Dinnison. To Boggs' knowledge, there haven't been any local screenings of UnSlut, and she wanted to bring the film to audiences here. She also feels that its subject matter holds extra relevance in light of the outrageous revelations that emerged during last year's presidential campaign.
"It's even more pertinent now to be getting this message out that women are human beings and to be sexual is a human need, and nobody should be shamed," Boggs says.
After each UnSlut screening, an expert panel will discuss its themes with the audience, and how we can create a culture that doesn't condone or ignore slut-shaming. Panelists include women's and gender studies professors from area universities, representatives from OutSpokane and the Spokane Feminist Forum, sexual trauma response counselors and others.
"It's such an easy thing to get the conversation started, and the film is approachable while not flinching from a very difficult topic," Boggs says.
UnSlut: A Documentary Film and Panel Discussion • Wed, Feb. 15 at 6 pm; Cheney Library • Thu, Feb. 16 at 6 pm; North Spokane Library • Mon, Feb. 27 at 6 pm; Moran Prairie Library • scld.org • unslutproject.com