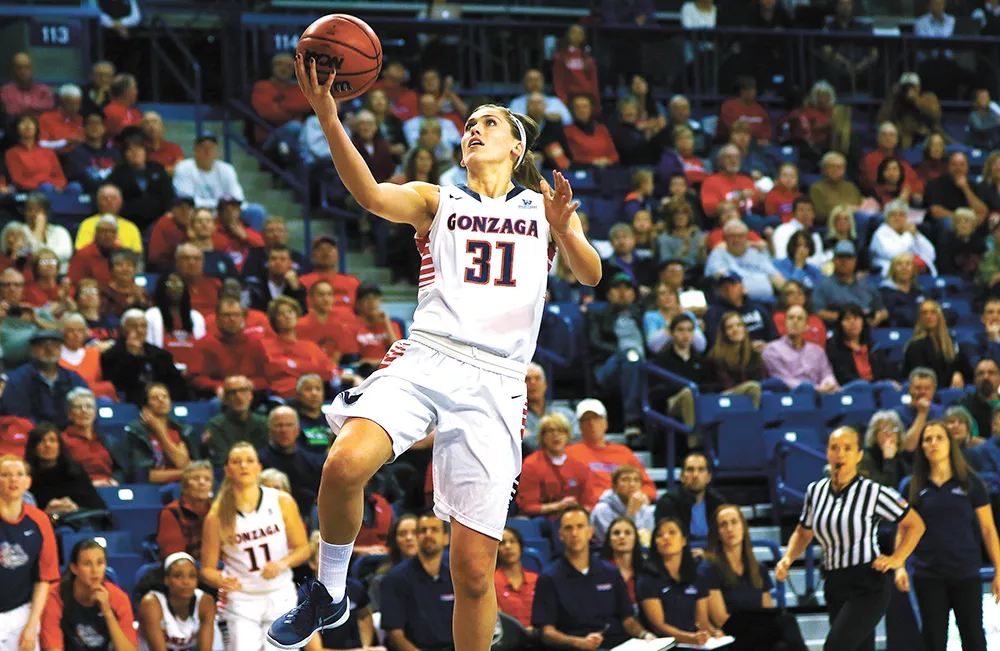 Gonzaga women's basketball redshirt senior Elle Tinkle grew up knowing basketball was in her blood, and says the work ethic that's made her a star in the West Coast Conference was learned both on and off the court.
But she had to adjust to a different role when a knee injury she suffered early in the 2015-16 campaign — she started the first 10 games — forced her onto the bench for the remainder of what would've been her final Zags season. As a player proud to lead by example, she shifted her leadership style to one more similar to that of a coach. Watching plays develop from the sidelines, Tinkle — confident that she must've sounded like her dad, Wayne Tinkle, the head men's coach at Oregon State — offered advice and support to teammates, especially the underclassmen.
"I tried to remain as optimistic as possible," she says. "I had a lot of conversations with the coaches about how it was going to work out, and they kept reminding me that if and when I got my year back, we were going to make up for all the lost time."
With her medical redshirt waiver approved by the WCC in April, Tinkle is most excited to be healthy this season, and end her career with a program she's grown up admiring in a more fitting way. She finds more reward in hearing appreciation for her hustle and work off the court than her points in each game, and hopes to graduate knowing she worked as hard as she could.
Tinkle's family life is steeped in basketball. At Oregon State, her brother Tres is about to begin his sophomore season playing for his dad. Her mom, Lisa, was inducted into the University of Montana's Hall of Fame after playing there, coaching both Tinkle and her sister Joslyn before transitioning into what Tinkle describes as a sideline coach who's still pretty good out in the driveway. And even after Joslyn, a former Stanford star, recently returned from playing abroad in Australia, Tinkle says she's already begun looking into a recreational or club league to keep playing.
"Basketball has been a great love for all of us to have, and we are constantly learning from each other as a family," says Tinkle, a 6-foot-2 guard. "Having parents as coaches and siblings as role models for me, I learn how I want to mold aspects of my game, even from my younger brother."
Growing up in Missoula, Tinkle attended Gonzaga basketball camps with her sister beginning in sixth grade. Her familiarity with the coaching staff and the success the program has seen first attracted her to Gonzaga, but its strong nursing program was what solidified her decision.
"I'd be absolutely lying if I said it wasn't a really challenging task handling practice, working in the hospital with 8-to-12 hour shifts, homework and studying," says Tinkle. "But as athletes, we know our career could be very temporary and now, especially being in the hospital every week and having my own patients, I'm reassured that I chose the right major."
After ending the 2015-16 season in the second round of the WNIT, the Gonzaga women have returned a strong squad of players returning from injuries, transfers done with redshirting and some new additions. Tinkle says this team feels new, in a way. Beyond the talent and versatility she sees in each position, she's impressed with how willing each player has been to work hard and together, to begin creating the team's identity this season.
"I'm looking forward to not so much statistics, but how I can involve my team and how we can have success, and hopefully buy into the same goal," she says, even though she's racked up nice numbers at Gonzaga, scoring 11.7 points per game in her junior year, a season which saw her team ride a gutsy Cinderella run to to the Sweet Sixteen of the NCAA Tournament.
Tinkle isn't sure if she'll pursue basketball or immediately begin her career as a nurse after graduation and testing for her nursing license, but she hopes that the right decision will become more clear as next May approaches. ♦