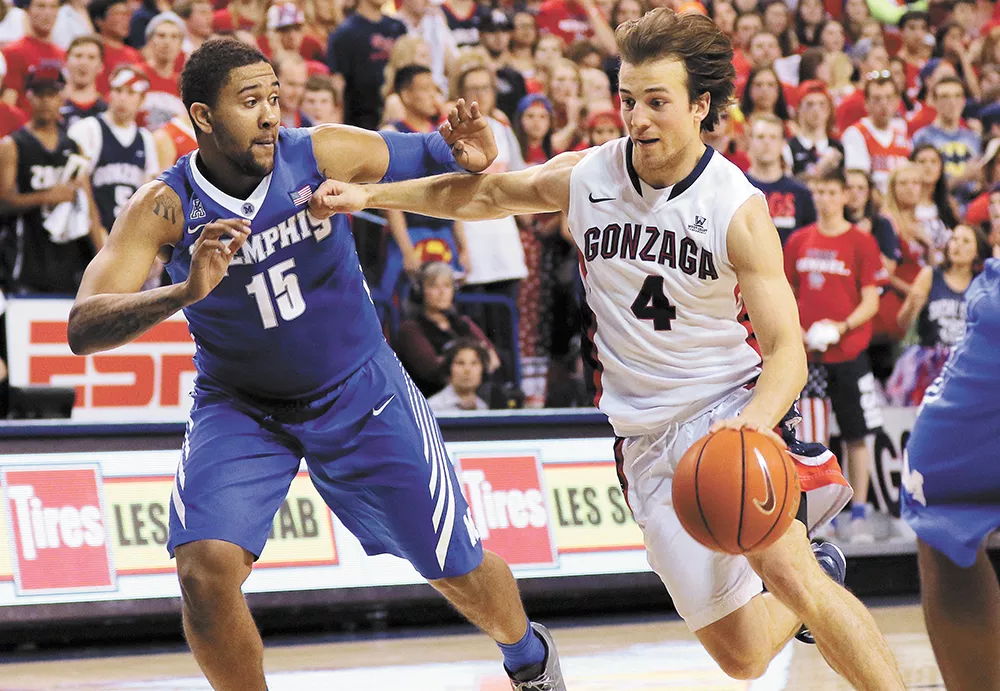 After his first game in a Gonzaga uniform, Kevin Pangos was told to shoot more.
That's your role, head coach Mark Few told the slim, clean-cut and cool-eyed kid before the Bulldogs headed onto their home floor to face Washington State.
Pangos was a freshman and was going to do what his coach told him, so when he got the ball 18 seconds into the much-hyped rivalry game, he let it rip. And he missed.
That didn't shake him. Yeah, he was 18, but the kid was raised on basketball. He'd already put on the uniform of the Canadian national team and earned a starting spot on a perennial NCAA juggernaut.
On the next trip down the court, big man Elias Harris found Pangos camped out 4 feet behind the three-point line at the top of the key. About a half a second later, the ball was arching above the floor of the McCarthey Athletic Center as 1,200 of Pangos' new classmates raised their hands to the rafters and watched the ball rush through the net. Just a minute of game time later, Pangos drilled another three. A few minutes later, another bomb — then another and another, some with a defender in his face, others wide open. The building grew more raucous with each drop through the nylon.
He hit nine threes that night and finished with 33 points in a nationally televised game. Kevin Pangos had arrived at Gonzaga. And he'd arrived on the college basketball radar. Talking heads began to wonder: If 33-point outings were to be the norm, how long before this kid goes to the NBA? The hype came quick with this guy.
Four years and about 300 three-pointers later, Pangos is standing on that same McCarthey Center floor after a practice in late February. His 6-foot-2 frame has filled out and the boyish face is now covered with a five o'clock shadow. The hair, of course, is different. It's long, parted down the middle, and puffed up enough to bounce along with his strides up and down the court.
"This is a special place for me," says Pangos just a few minutes after wrapping up a shooting session marked by the sort of accuracy that could make you question your belief in physics or probability statistics. He's talking about the arena where, in just a few days, his team will fall to BYU, and then he'll head to center court and tell his fellow students and fans over the PA system not to fret about this one loss. "We're going to have a special journey," he'll say. "Stick with us."
This week, that journey takes Gonzaga to Seattle for Pangos' final NCAA tournament. Sometime soon — hopefully not this weekend, but almost certainly in one of the next two weekends after that — the winningest career in Gonzaga history will come to an end.
But that November night in 2011 and those 33 points are hardly a distant memory to Pangos.
"It flew by so fast. I remember [former Gonzaga center, current L.A. Laker] Rob Sacre said to me when I was a freshman that it goes by so fast," says Pangos. "It feels like just yesterday he said that."
Chris Dooley is a little reluctant to honestly say when he first realized Kevin Pangos had something special.
"As ridiculous as it sounds, I would say that I knew when he was 5. I wasn't going to say he was going to be an NCAA player at the time, but he'd go up against 8-year-olds without a problem. It was almost cute, but his skill level was noticeable," says Dooley, a former coach at Canada's University of Guelph and the author of the forthcoming Pangos biography Can't Miss.
Dooley and Kevin's father, Bill Pangos, coached teams together beginning in the 1980s and the families have grown up close. During basketball games the two were coaching in, Dooley remembers his son and Kevin wandering the side of the court in diapers.
There is basketball in Kevin Pangos' blood. Bill played college ball and has been the head women's coach at York University in Toronto, while his mom, Patty, played for McMaster University. His older sister Kayla played for Bill's York team before moving to Spokane to enroll in graduate school at Gonzaga and work in the athletic department.
Like a hoops Partridge Family, the Pangos clan hosts a basketball camp in the summer at Dr. Denison High School in the Toronto suburb of Newmarket, Ontario, where Kayla and Kevin went to school and Patty taught. They run drills on the court where Kevin played much of his high school career, scoring with abandon. There's a YouTube clip of his high school squad going head-to-head with overall No. 1 NBA draft pick Andrew Wiggins, who also grew up in the Toronto area. Pangos dropped 42 points to Wiggins' 28.
That hot shot didn't come easy. Pangos would shoot for hours at a hoop set up on the edge of the street, where he'd measured tape marks for the free-throw line as well as both college and NBA three-point lines. First, though, he often had to sweep up the sand left from plow trucks over the course of the Ontario winter to make for better footing. In friendly Canadian fashion, one neighbor gave him a leaf blower to make the process easier. Sometimes someone would even clean up the street before the neighborhood hoops phenom could get his work in.
"He's always worked so hard. It's definitely enjoyable to see each accomplishment he's had in the last few years," says Kayla, who says she was the more talkative of the two as they were growing up and playing the occasional game of one-on-one. At least until Kevin grew up and started beating her — that's when she ended the games. Kevin, like any college athlete, keeps a relentless schedule, but the siblings found time during the course of the season to catch up over a home-cooked meal.
As you might expect, the topic of conversation usually is basketball.
Kevin Pangos spent a lot of time last fall doing the things nobody else wanted to do, because that's what interns are for.
Although he's one of the more recognized young men in all of Spokane, Pangos was at the bottom of the food chain when he interned at Hoopfest headquarters. He folded T-shirts and did a lot of data entry, boring stuff that needed to get done. His boss called him an ultimate team player around the office. And his boss knows a thing or two about teamwork. Matt Santangelo, Hoopfest's executive director who ran the point for Gonzaga's Elite Eight team in 1999 and continues to provide the color commentary on the team's radio broadcasts, gave his cubicle drone high marks.
Santangelo gives Pangos even higher marks when it comes to what he's done on the court at Gonzaga, especially this season when Pangos, surrounded by new offensive threats like Kyle Wiltjer, Domantas Sabonis and Byron Wesley, wasn't putting up big scoring numbers. The Zags didn't necessarily need him to score as much, but they have needed him to be the conduit through which the offense runs after freshman Josh Perkins, who ran the point in early games, broke his jaw in November. As in the office, Pangos gladly stepped up did the less glamorous stuff, scoring average be damned.
"To have the personality to accept that role is hard. Everyone wants to score. If he wanted to score more, he could," says Santangelo. "To have that maturity and selflessness has been pretty extraordinary."
Santangelo sees Pangos as one of the best in a line of talented point guards to play the position at Gonzaga and notes all his gritty performances, including playing most of his junior year while battling a nagging turf-toe injury as evidence.
"The guy puts his nose to the grindstone and keeps finding ways to win basketball games," says Santangelo.
His teammates have also benefited from his leadership and ability to be a source of calm on the court when things are anything but.
"I've learned from him how to be a better leader. He's one of the best teammates I've ever had," says fellow senior Gary Bell Jr., a tenacious defender known to be equally unselfish with the basketball.
Pangos is a man devoted to winning more than scoring. He has a team on his back a lot of the time, and someday very well might carry the weight of his home country's basketball hopes. There has been a lot of chatter over the years comparing Pangos to Steve Nash, to this point the greatest Canadian basketball player of all time. Although he idolized Nash as a youth, Pangos has shied away from the comparison.
But things have changed in Canadian basketball, even during Pangos' four years at Gonzaga. With Wiggins, Nik Stauskas, Anthony Bennett, and GU's own Kelly Olynyk making waves in the NBA, the country's profile is on the rise. And there's a chance that come the next Olympics and beyond, Pangos could be the man handling the point. He's not thinking that far ahead, but he's quite conscious of the fact that he's a Canadian player.
"I remember watching other [Canadian players] when I was younger who were in the NCAA or NBA and wanting to be them," says Pangos. "I try to carry myself the best way I can and represent the country the best I can. That's important, because everyone needs someone to look up to."
There will be more basketball for Pangos after the NCAA tournament, no matter how Gonzaga fares. He's not burning up any NBA mock draft boards at the moment, but he'll get an invite to show his game in the Summer League and likely the preseason. And even if that doesn't work out, there's plenty of professional basketball the world over for him to play.
But now, he's been savoring the end of college basketball and wrapping up his degree, which he'll receive in May. He's going to miss it all, though. And not just what happened on the court.
"Just walking through campus, whether it's freezing cold in the morning or whatever, is amazing. I've just loved the college environment," he says. "It's a home away from home. Or really, it's a home. It's where I've spent the last four years of my life." ♦
---
2 GONZAGA vs. 15 NORTH DAKOTA STATE
Friday, March 20 at 6:50 pm (televised on TNT) • Key Arena, Seattle
Short of somehow climbing into a miracle No. 1 seed, Gonzaga got what it wanted from the NCAA's selection committee last weekend.
First, the Zags are playing close to home and in a building where they already play a home game once a season. Then, they ended up in a region that — should Mark Few's team break the curse of the round of 32 and make it to the second weekend — looks relatively manageable for the Bulldogs.
And while Selection Sunday has become all but routine at Gonzaga, the players and coaches are still grateful to be dancing.
"It never gets old. It's always fun to make it to the national tournament," says guard Kyle Dranginis. "We definitely don't take it for granted."
But first things first: North Dakota State. The green-and-yellow Bison should be familiar to Spokanites who saw NDSU upset Oklahoma last season in an NCAA tournament round-of-64 game at the Spokane Arena. The team lost most of its scoring from that squad to graduation but still has an offensive weapon in Lawrence Alexander, a senior guard who is the deadliest three-point shooter (in terms of percentage) in the entire tournament field.
Few said he hopes to see a large contingent of Zag fans in Seattle over the weekend, and if you don't have tickets, you should jump on that. Tickets are sold out, and prices on the reselling sites are climbing. (MB)