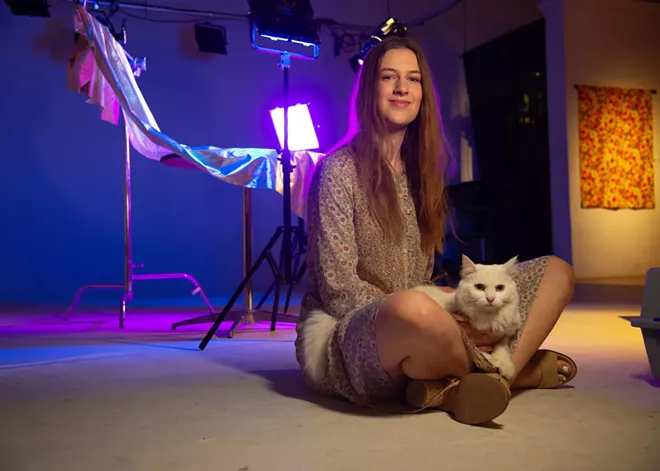 In a summer that found us all dizzy in anticipation of the release of the Barbie movie, it may not be a surprise that Inlander Cover Pet photo contest voters were dizzy with appreciation for a fluffy, feminine white cat with an adorable pink nose.
What may be a surprise is that this diva with such a refined presence is not from a breeder.
"A friend of ours found her in her barn," says Babette's owner, Jerusha Hampson. "She was with her brother, they were about a month old... They were screaming and crying. They had a mama cat who had a big litter, and evidently she just abandoned these two."
Though the friend took the cats in, she soon realized that she was allergic to cats, so the kittens went to live with Hampson's family in the spring of 2022.
Now Babette lives a life befitting her good looks.
"She really likes to go on walks outside on her leash and harness, she does really well with that... I've had cats my whole life, and she is kind of our first indoor cat," says Hampson. "We wanted that because it's better for cat health, and it's better for wildlife too... She has a very distinct, 'I want to go outside' meow that she does.'"
BABETTE
Born in 2022
Rescued from a barn
Resides indoors but enjoys outdoor walks
Speaks for herself on Instagram @bad_babette
Hampson entered the Inlander Cover Pet photo contest at the urging of a friend of her mom. Babette's short life has been exceedingly well-documented because, of course, Babette is on Instagram (bad_babette) and has nearly 900 followers.
But most of those photos are just "photos from everyday life," says Hampson. "I had a lot of photos, but the ones that I entered, I ended up taking the evening before the submissions were due."
For our cover photo, Babette obliged Spokane's Don Hamilton of Hamilton Studio with a photo shoot befitting a model such as herself. "Oh yeah baby!" exclaimed Hamilton when Babette overcame her initial nervousness and tipped that pretty face right up into the spotlight.
Asked if Babette's win came as a surprise, Hampson is candid. "A little. I've been kind of optimistic. She's pretty, and the shot was good... But there was some really good competition." ♦