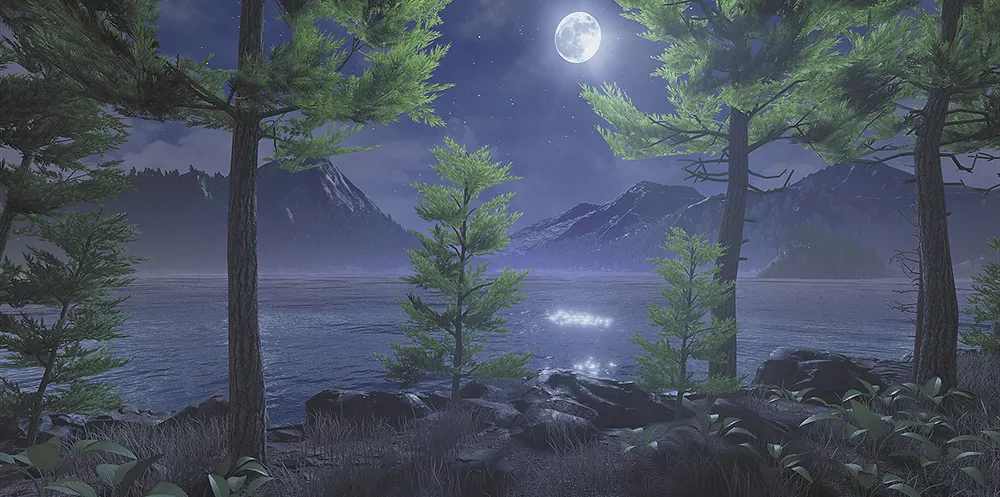 Robyn Miller, the multitalented co-creator of best-selling computer games Myst and Riven, is back at Cyan, Inc. for the first time in nearly 20 years, creating the soundtrack for Obduction, the Spokane company's highly anticipated return to form, which was released this week.
Miller left the company in 1998 to try different media, mostly film. He recently wrote, directed, and starred in his first full-length feature film, The Immortal Augustus Gladstone, and scored the soundtrack as well.
After years away from the computer game world, he was ready to score Obduction's soundtrack, especially when he saw what Cyan's small team had accomplished.
But Miller — who founded Cyan with his brother Rand in 1987 — says that film and game soundtracks differ greatly, because movie soundtracks require tracking with a linear story with what is happening on the screen.
"They have themes that repeat at key moments," he says. "A game soundtrack is a bit more in the background. You don't want to walk into a room and be like, 'Oh, there's CW's theme again.'"
CW, by the way, is a character played by Miller, harkening back to his 1993 role as the holographic Sirrus in Myst. He says Obduction is totally new, though, with zero connection to the old stuff.
"It is its own animal," says Miller.
It continues Cyan's legacy of challenging puzzles, intriguing stories, immersive graphics and compelling music. Again, there's the feeling that you've suddenly appeared on a strange world. Yet while Riven was more fantasy, says Miller, the feel of Obduction "is more sci-fi."
Miller's part in the game is highly focused. In contrast to the old games, he has no involvement in world building or writing, but was tasked with creating the world's musical underpinning, the key to its emotional appeal.
"My role is to make the game more profound," he says, "to evoke the feel of the landscape and provoke you emotionally." There are a number of very dramatic moments, he says, and the music matches that.
Yet that must all happen in a way that never overwhelms the player. With the abundance of music software at his disposal — he has an extensive synthesizer collection — he found it a tricky balance to strike.
In order to orchestrate the "massive world" Cyan has created, he often had to impose limits on himself.
"I love limits. I'm a big believer in creative constraints. The issue is I have too many sounds to choose from. The number of pianos I can use is nearly endless," says Miller.
There's also the temptations of instant modifications and tweaks.
"For instance, I can extend the size of a piano from 10 feet to 15 feet, and get a totally different sound," he says. That lack of limits, he says, can hamper creativity.
Consider his old Roland synthesizer.
"I composed the soundtrack to Myst entirely within that synthesizer; there was nothing else." That soundtrack, it turned out, proved so wildly popular it was released by Virgin Records.
"It's not what you have, but what you do with what you have," Miller says. "What melody can I do with this one sound?" he asks himself, not how many sounds he can pack in.
If it sounds like Miller has gone minimalist, that's not far off the mark.
In an attempt to replicate the constraints of the Myst era, Miller's studio has been stripped down to the very basics. Gone are his banks of mixers, speakers, multiple keyboards and fancy instruments. "I never used that stuff," he says with a dismissive laugh.
"Obduction is amazing," Miller says. Especially when using Oculus Rift's Virtual Reality headset.
Especially stunning, he says, are the exterior shots. The landscapes give a sense of scale unparalleled in VR, especially for a small team like Cyan; he reminds that he played no part in the game design. Towering mountains seem so close you can touch them, he says, and mist drifts by right in front of your face.
"At Cyan they were laughing at me. I just kept saying, 'This is amazing, this is amazing.'"
With Obduction all wrapped up, what's next? Miller says his Seattle-based company, Zoo Break Productions, is staying busy. There's a TV pilot called Daffodil (a "techno-thriller" set in Seattle) and a short virtual reality project, as well as a music app for iPhone and iPad.
A new kids' game, designed with Rand, may be in the works. That would mark the brothers' first kids' adventure game since their 1988 classic, The Manhole. ♦
Cyan's Obduction is available on PC, Mac and Oculus Rift.