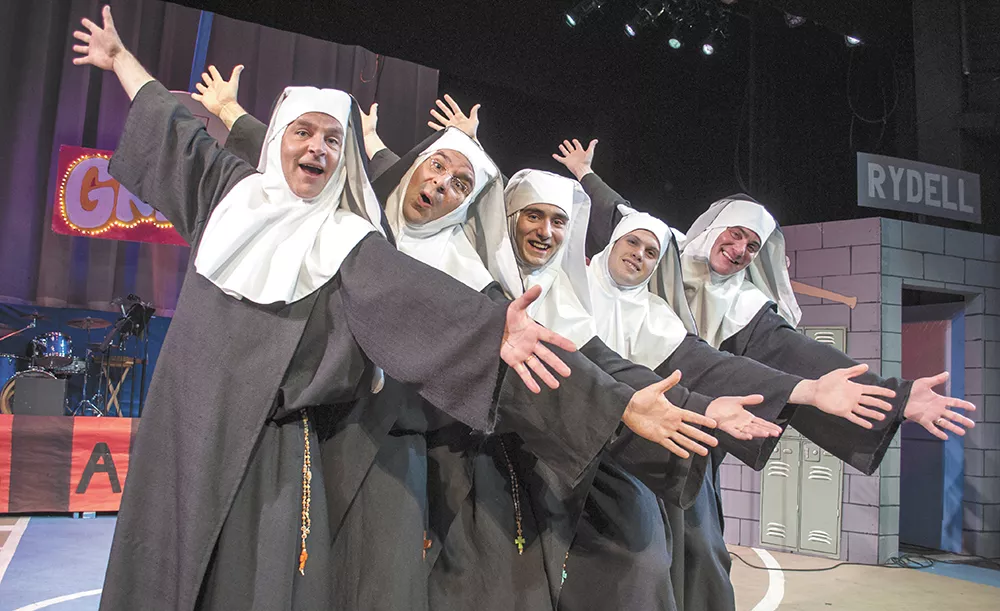 For hundreds of years after the dawn of theater in ancient Greece, female roles were played by men. It wasn't until opera appeared in the late 17th century that the notion of women on stage became possible, then accepted, then customary.
Today gender reversal in theater — as found in British pantomime or all-male acting troupes like Ed Hall's Propeller — is clearly a novelty rather than the norm. It's a throwback that, paradoxically, is often used to put a fresh spin on familiar productions. Take Nunsense A-Men. First imported to America via Brazil in 1998, the show swaps out the all-female cast of Dan Goggin's ever-popular 1985 musical Nunsense while keeping everything else the same — including infamous scenes like the vulgar puppet and the innuendo-laden cooking segment.
"It's not a drag show," says Mark Pleasant, who plays Sister Mary Hubert in Spokane Civic Theatre's upcoming production of Nunsense A-Men. "Even though we're men, we believe we're female nuns. At one point in time, I talk about when I was a little girl. And if we do the job right, you're slowly going to forget that it's five men up there. But that makes it even funnier, because you're not going overboard."
Director Troy Nickerson, who has a long history overseeing and performing in local Nunsense productions, has reined in the cast when there's a temptation to camp things up.
Pleasant has observed Nunsense from the wings ever since it was first performed at the Civic in 1990. To him, Kathie Doyle-Lipe, a doyenne of the Spokane stage, has a definitive claim on the character of Sister Mary Hubert.
"Those are some big tap shoes to fill. I'm hoping to do her proud," he says. "I've seen these women do it for so many years — Kathie, Jean Hardie, and back in the day Marilyn Langbehn. I'm excited to have them come and see our little testosterone take on it."
His Sister Mary Hubert is deputy to Mother Superior, played by Ricardo "Rick" Ibarra-Rivera. Unlike his fellow cast members, this is Ibarra-Rivera's Civic debut — and his first time performing in a musical since 1989.
"Musical theater was a huge part of why I fell in love with acting, but when I got to college, we did Jesus Christ Superstar my freshman year, and that was it," he says. "We did plays after that. Then you get to the graduate level, and singers start separating from actors. So it's a little scary," he laughs.
Before studying acting in college and graduating from the American Conservatory Theater in San Francisco, Ibarra-Rivera says he was "a product of Catholic school from kindergarten all the way through university," which gives Nunsense in all its iterations special resonance for him.
"What I love about the show is, yes, it pokes fun, but it honors and praises in so many ways. There are some really beautiful, touching moments, and then you add the craziness of their predicament."
It's a reverence that mirrors how the cast is approaching the production itself.
"At Civic Theatre," says Pleasant, "Nunsense is pretty sacred." ♦
Nunsense A-Men • Feb. 27 through Mar. 22: Thu-Sat, 7:30 pm; Sun, 2 pm • $22-$30 • Spokane Civic Theatre • 1020 N. Howard • spokanecivictheatre.com • 325-2507