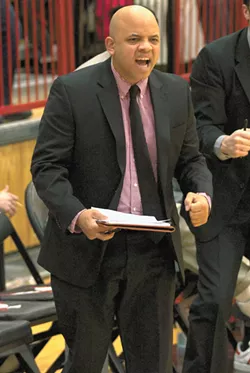 New Eastern Washington University head coach Shantay Legans never foresaw this opportunity over the better part of the nine years he's spent in Cheney.
It's not common for assistant coaches to stay at a university when their head coach leaves, sticking with a program through changes at the top. And it's certainly uncommon to be given the head-coaching reins so quickly when word comes that the boss is moving on. But Legans (pictured) found a way to make it happen, through a work ethic and determination he says he got from some important people on his way up the coaching ranks.
Legans credits the help he received from his Big Brother mentor, Ray Lopes, who at the time was an assistant coach at UC Santa Barbara. Legans wanted to play for Lopes so badly, he transferred before his senior year in college from Cal to Fresno State, to play for Lopes, who had moved north to Fresno. He went on to be a graduate assistant for Lopes.
Less than a decade ago, Legans was living in California, trying to figure out how to break into the closely guarded collegiate coaching fraternity. He'd been working in the private sphere and coaching high school and AAU basketball, but needed the help of an old friend again.
"Coach Lopes asked if I'd be interested in an assistant coaching job," Legans recalls, "and I said, 'I'd be interested in anything.'"
The job: coaching under EWU's Kirk Earlywine for $19,000 in 2009. It represented a pay cut, but Legans leaped at the chance to begin his coaching journey.
"It's funny, because there's a lot of stuff I thought I was going to get right when I got here and started coaching," Legans says, joking. "I thought I was going to get an office."
Working under Earlywine, Legans learned how to install a defense and work meticulously. But after two seasons, Earlywine was fired, and Legans was dreading unemployment. After some preliminary talks with newly hired Jim Hayford, Legans didn't know where he would be next.
"I didn't know what I was going to do," he says. "My house was packed up and I was just helping out until the new staff came in."
Legans went above and beyond in aiding the transition to Hayford, which led the former Whitworth head coach to hire him as the bottom assistant on his preliminary staff in 2011. Legans continued grinding, moving up to becoming Hayford's right-hand man, until Hayford moved on to Seattle University in March.
Unlike the spring of 2011, Legans didn't have to wait long to learn his next destination. Athletic Director Bill Chaves prepared a course of action if Hayford were to leave, putting his trust in the young coach who has always stuck around.
"When I came up here, I was a California kid and people told me, 'You need experience,'" Legans says. "And I thought I'd get that experience, and go back down and go coach at Cal, or go coach at UC Santa Barbara. But when I came up here, I fell in love with the place, the four seasons, the family atmosphere."
That atmosphere is also what Legans hopes to impart to his players as he takes over the program. "We build everything on family, trust and commitment," Legans says. "Those three things are our pillars."
Legans begins his tenure with an Eagles team that will be led by committee after Jacob Wiley, last season's Big Sky Player of the Year and an honorable mention All-American, graduated. Offensively, much of the burden will fall on 6-foot-6 senior swingman Bogdan Bliznyuk, a native of Ukraine who averaged 20.6 points per game last season.
An experienced backcourt group supports Bliznyuk; 6-6 Serbian sophomore Luka Vulikic is poised to become the primary point guard. Juniors Ty Gibson and Cody Benzel, a former Ferris High School star, also hope to continue their torrid three-point shooting — 49 percent and 45 percent respectively — this season.
The biggest unknown and breakout possibility is senior Benas Griciunas, a graduate transfer to Eastern from UNC Charlotte. The 7-foot Lithuanian possesses great potential inside and out. Griciunas, a coveted prospect coming out of high school, has moved around due to coaching changes at Charlotte and at Auburn his freshman year.
Griciunas couldn't be happier playing for Legans: "Him trusting me, and trying to help me play through my strengths, have really helped. His confidence in me has been great." ♦
---
EASTERN WASHINGTON
Head coach: Shantay Legans
Last season: 22-11 (13-5 Big Sky Conference)
Preseason predictions: 6th place in Big Sky media poll; 7th place in coaches' poll
First game: vs. Walla Walla University, Fri, Nov. 10 at 1:05 pm
---
EASTERN WASHINGTON WOMEN
Head coach: Wendy Schuller
Last season: 19-14 (12-6 Big Sky)
Preseason prediction: 6th place in Big Sky media poll; 7th place in coaches' poll
First game: at Fresno State, Fri, Nov. 10 at 7:30 pm
The big picture: Coaches love having players like Delaney Hodgins. The 6-foot senior forward, voted preseason MVP by Big Sky coaches, will lead an Eagles squad with high expectations. Hodgins averaged 17.5 points a game last season, and she'll have to do even more this season to help Eastern compete for the Big Sky title. Contributions from freshmen like 6-3 center Cailyn Francis will be key, but this team will go as far as Hodgins takes them. (DAN NAILEN)