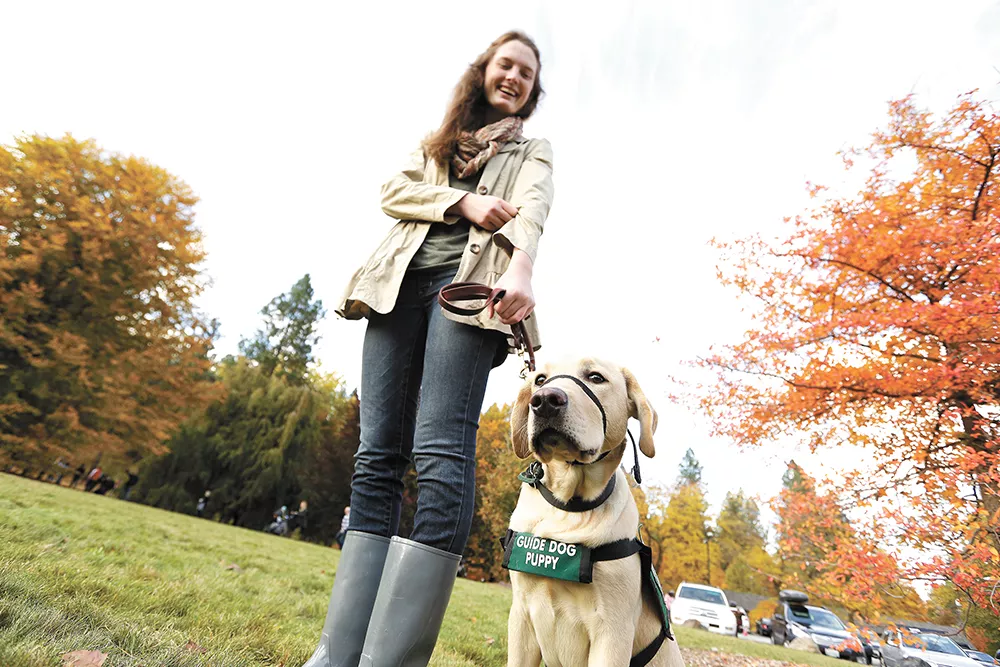 Limerick's senses are overwhelmed. The 6-month-old yellow Labrador puppy really wants to greet the laughing children running through the fall leaves. Spotting a speckled, black-and-white Australian shepherd in the distance, he stares longingly. Still, he maintains perfect restraint — Limerick doesn't bark, whine nor pull on his leash, as any other puppy might, to encourage 17-year-old Alyson Galow to give in.
As they meander through the picturesque autumn landscape of Spokane's John A. Finch Arboretum, Galow occasionally stops to gently tug Limerick's green "puppy in training" vest and reminds the pup to heel.
Limerick is practicing to become the guiding eyes of a sight-impaired individual. If all goes as planned and he passes tests proving he has the mental aptitude, he'll enable that person to live independently, safely and confidently. Already, he is trained to relieve himself on command, to walk along his handler's side, and to respond to all the basic commands: sit, stay, wait, down, let's go.
"He should know how to remain calm in every situation, because if the dogs are not able to as guides, it could end badly," says Galow, a senior at Spokane's Saint George's School.
With Galow for seven hours a day at school, Limerick must sit or lie quietly on the floor by her desk through every class. Despite being in this bustling environment five days a week, Galow says he does well.
"Labs are really dependable dogs," Galow remarks. This trait is partly what makes them ideal guides.
"As puppies, especially, they are really intelligent, and once they know something, they're constantly looking to you for a reward for it. Because of that behavior, it's good to teach them to work," she continues.
During his year with Galow that ends in August 2017, if Limerick proves to have what it takes (not all dogs in training end up as service dogs; the success rate is just above 40 percent), the puppy will graduate to official guide dog training school with the national nonprofit Guide Dogs for the Blind.
Puppies who don't turn out to have the right temperament to become guide dogs often become happy family pets, finding permanent homes with their initial trainers, or go on to train in other capacities, like becoming diabetes alert dogs, explains Joanna Myers, co-founder of the Spokane-based Puppies of Promise service dog training club. Most important, the dogs need to be happy doing the work, she adds.
Galow has always loved animals. Her family's pets include a border collie/blue heeler mix, two miniature Labs, a cat and a horse. Even so, one day she pleaded with her mother to allow the family to adopt another dog.
"Because I'm going to college in the fall, my parents said I couldn't adopt a puppy," she recalls. "But my mom suggested raising a [guide] puppy, because one of her co-workers had done that. We immediately looked it up, and within an hour I was scheduled to go to a meeting that weekend."
Before Limerick was assigned to her, Galow attended weekly meetings and practiced with other local trainers with the Puppies of Promise club.
"You borrow other puppies from the club to see if your lifestyle can fit in the program, and if you can actually handle having a dog with you 24/7," she says.
Right now, Limerick is one of six puppies being trained by the club's members.
Before the puppy arrived this past June, Galow also proposed to Saint George's staff that she use the experience to fulfill her Creative Activity and Service project, a requirement for graduates of the school's international baccalaureate program. The service-learning project requires students to write a 4,000-word essay reflecting on how their project impacted the community, and how it affected them personally.
While Galow plans to attend the University of Portland in the fall as a pre-medicine student, she hopes to raise more guide dog puppies in the future, possibly after her first year of college wraps up. But for the rest of her final year of high school, Limerick will be by her side every step of the way. He gets his own picture in the yearbook, and his own special "most likely to" category.
"He is the star of every class," Galow says, smiling.
Even though Limerick didn't turn out to be the permanent family member Galow originally hoped for, she doesn't worry too much about having to say goodbye.
"I consider it like I'm puppy-sitting for someone," she says. "You're getting them ready to go on to formal training, which leads to them helping a visually impaired person. It'll be hard, but I'll go on to the next puppy, or I'll wait for his eventual handler to write us, and I'll see him again." ♦
For information about training guide dog puppies, visit facebook.com/PupsOfPromise or guidedogs.com.