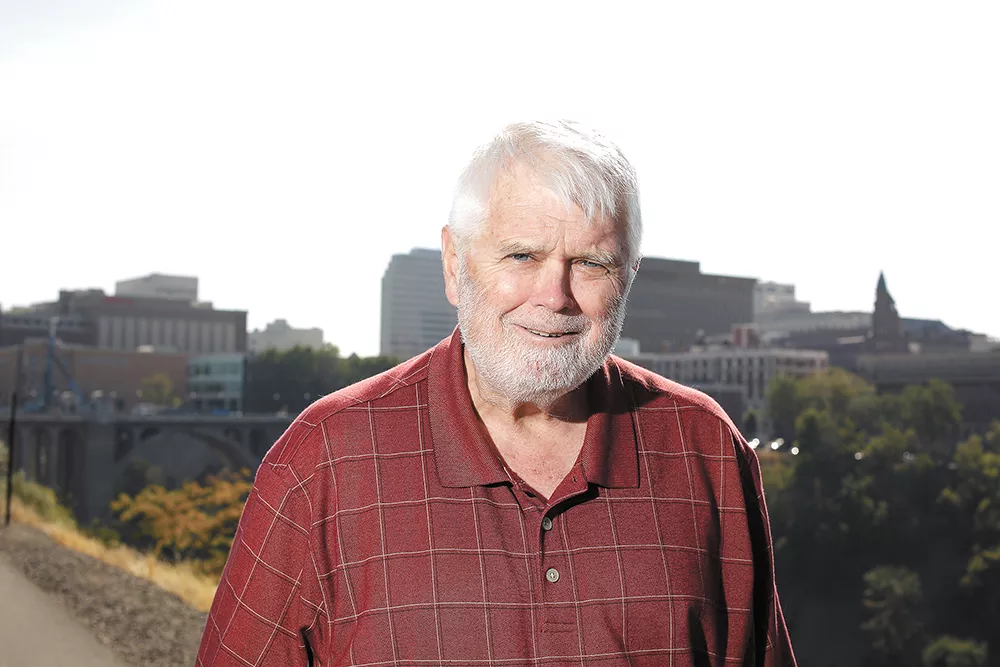 Spokane has undergone a great deal of change over the past quarter-century. Robert Herold has weighed in on most of it, registering his take on history and helping to make it happen.
A member of the Inlander family since 1994, Herold has been an editorial pillar of the newspaper, a voice of conscience — and prescience — for a then-fledgling weekly finding its wings. His mission mirrors that of the Inlander: to help make the Inland Northwest a better place to live.
And if there's anything that comes through in his writing, it's how passionate he is about Spokane, how much he cares about this city and region.
"The progress this city has made, I did not see coming in 1993," he says. "It's been heartwarming to see what we've managed to accomplish since then. Back in the early '90s, we were going to lose the Davenport, the Fox was going to be torn down, Eastern was in danger of being absorbed by WSU, Gonzaga's enrollment was about 4,000 [now, it's close to 7,500].
"What amazes me is the progress that has been made, with no significant change to the economy; it's still a service economy. Look at what's happened here; it turns out that River Park Square was a good idea after all. Spokane abandoned urban renewal in favor of restoration and preservation."
The Inlander has published a compilation of some of Herold's most memorable columns — words that resonate and stand the test of time, that speak to our future, not just our present and past — as the newspaper approaches its own quarter-century of reflecting life in Spokane and the Inland Northwest.
Robert's Rules: Selected Columns: 1994-2017 is a reintroduction to Spokane's not-so-distant past, from the rise of the strong-mayor system and the fall of Jim West, to the (thankfully) never-built Lincoln Street Bridge.
"To me, it vindicated a lot of the work I had done over the years," says Herold. "This assignment was a lot more difficult than I thought it was going to be."
Herold grew up in a Navy family, moving around a lot and eventually settling on the East Coast, including a stint as a Washington Post copyboy. After majoring in political science, he served his country in Navy research and development in D.C., picking up a master's degree and Ph.D. along the way.
Following a decade of service, he opted for academia, moving to the other Washington and starting his teaching career in Cheney, at then-Eastern Washington State College, when the Beatles were still together and man hadn't yet set foot on the moon. After more than three decades at EWU, having risen to executive vice provost, he departed for Gonzaga's political science department, where he remains a professor.
The American institution of election-night commentary brought Herold to the Inlander's attention; Publisher Ted S. McGregor Jr. reached out, offering him the opportunity to freelance; six years later, he took on the responsibility of a regular column.
"I'm appreciative, that Ted would want to do this," says Herold of Robert's Rules. "I'm very humbled by this."
The book's 87 entries are divided roughly into thirds, with 9/11 as the first line of demarcation and the Great Recession as the second; the book's latter two-thirds moves beyond Spokane and the Inland Northwest to address national and international politics.
"I hope a kind of panoramic view of recent Spokane political history emerges from a reading of these columns," Herold says. "Spokane, to some extent in the last 20 years, has benefited from a string of positive unintended consequences." ♦
Robert Herold reads from, and will sign copies of, Robert's Rules • Wed, Nov. 29 at 7 pm • Free • Auntie's Books • 402 W. Main • auntiesbooks.com • 838-0206