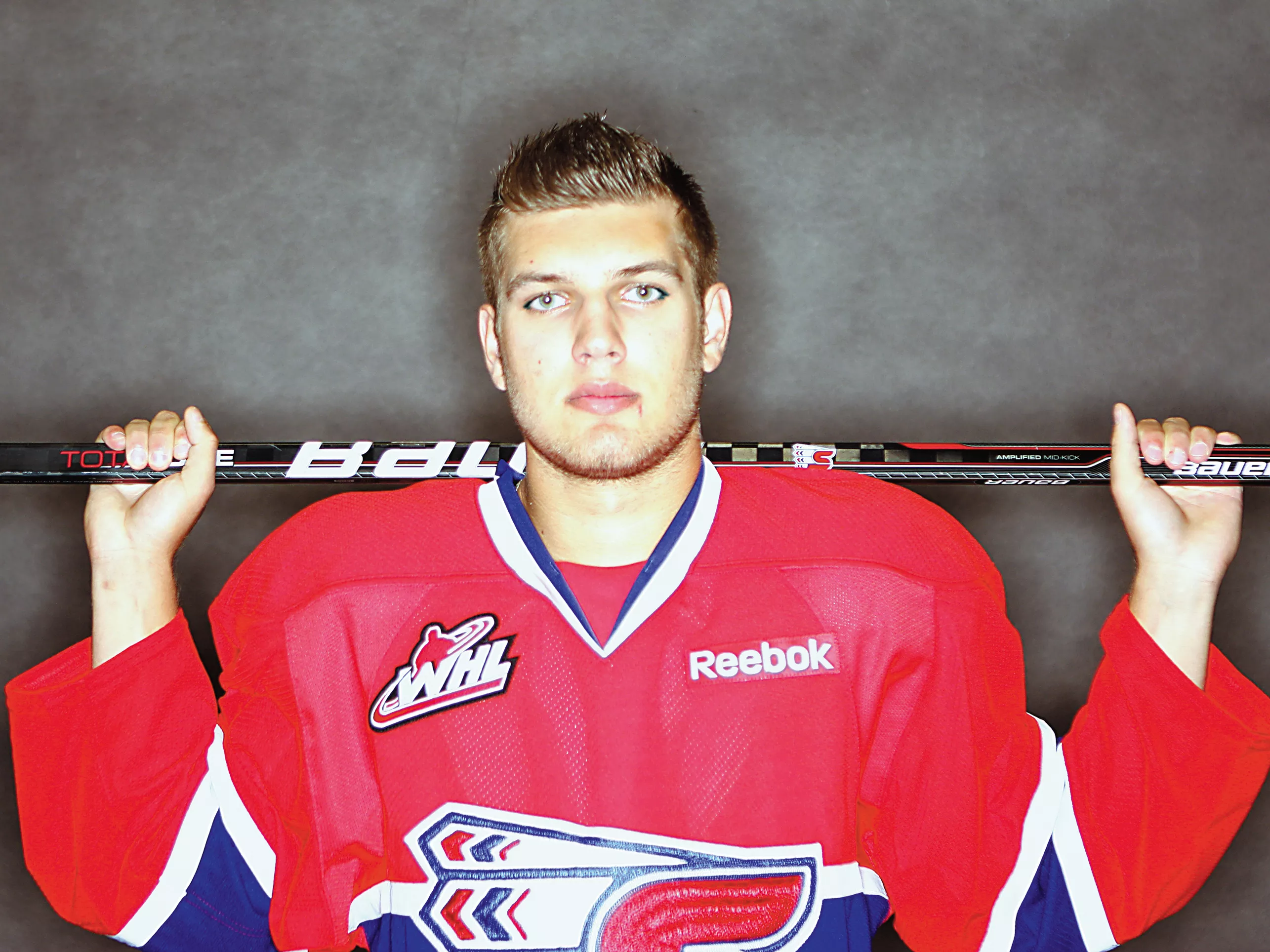 Mitch Holmberg arrived on the scene with a sparkle in his eye and mayhem in his heart.
Word had reached Holmberg, the Spokane Chiefs' colorful right wing, that a newspaper reporter was working on an article on teammate Brenden Kichton.
Holmberg and Kichton, please understand, are close friends. Hockey players being hockey players, however, the gloves come off in a hurry when the opportunity presents itself to rip on your buddy.
"Where to start with this young man," Holmberg begins in a philosophical tone. "He's a little bit of a geek. By geek, I mean electronically. iPad phenom, I believe is the right word.
"He loves his books and just reading in his spare time on the bus. Kind of a boring guy."
The sarcasm was still dripping off Holmberg's tongue when defenseman Tyler King cheerfully added, "He also likes to write poetry." Of course, King went on to say that center Liam Stewart has "blossomed" like a "a majestic rose," but that's another story for another time.
Kichton accepts the verbal darts with an impish grin and a shake of the head. Later, Kichton does seem eager to point out that: a) he does not write poetry, and b) if he did, he'd probably have long, flowing, golden locks of hair.
Like, say, Holmgren.
"That hair!" Kichton fairly screams. "Oh my God! Sometimes when I look at him from the back, I think he's a girl! Geez! He's always whining: 'Kich [he adopts a chalkboard-scratching, high-pitched voice], can I borrow your laptop? I want to watch a movie!'"
All joking aside, Kichton is an extremely popular and well-respected member of the Chiefs. The 20-year-old from Spruce Grove, Alberta, serves as team captain in his fifth and final year of Western Hockey League eligibility. He holds the franchise records for career goals, assists and points by a defenseman, and he's the reigning Defenseman of the Year in the Western Conference.
"He's a huge part of their team, if not the main cog," Seattle Thunderbirds coach Steve Konowalchuk says.
"He's a really good captain," Stewart says. "He keeps guys going, keeps us motivated and he's a good leader."
Kichton credits his father, Fred, for instilling a strong work ethic in him. Kichton said his father "didn't have two nickels to rub together" growing up, but now owns a large construction company.
"He just preached to me, 'Work hard and good things will happen,'" Kichton recalls. "That's what I try to do."
Kichton isn't particularly big (6 feet and 190 pounds) or physical (just 18 penalty minutes in 46 games through Sunday), but he has excellent puck skills. He came into the week leading the Chiefs with 42 assists and 57 points, and he leads WHL defensemen in both statistics for the second straight year.
Kichton was drafted by the New York Islanders in the fifth round of the 2011 National Hockey League amateur draft, but he remains unsigned. Konowalchuk, who played in the NHL for 14 seasons, says Kichton "has the hockey sense and vision" to fulfill his childhood dream of playing in the NHL.
"He's going to have to win his [physical] battles with his smarts," Konowalchuk says.
For the time being, Kichton will have to be content to utilize his smarts to try to win the daily battle of wits with Holmgren and company.
The Spokane Chiefs Upcoming Games: Fri, Jan. 25 vs. Portland; Sat, Jan. 26 vs. Medicine Hat; Wed, Jan. 30 vs. Kelowna. All games at 7 pm • $10-20 • 535-PUCK or (800) 325-SEAT • TicketsWest.com