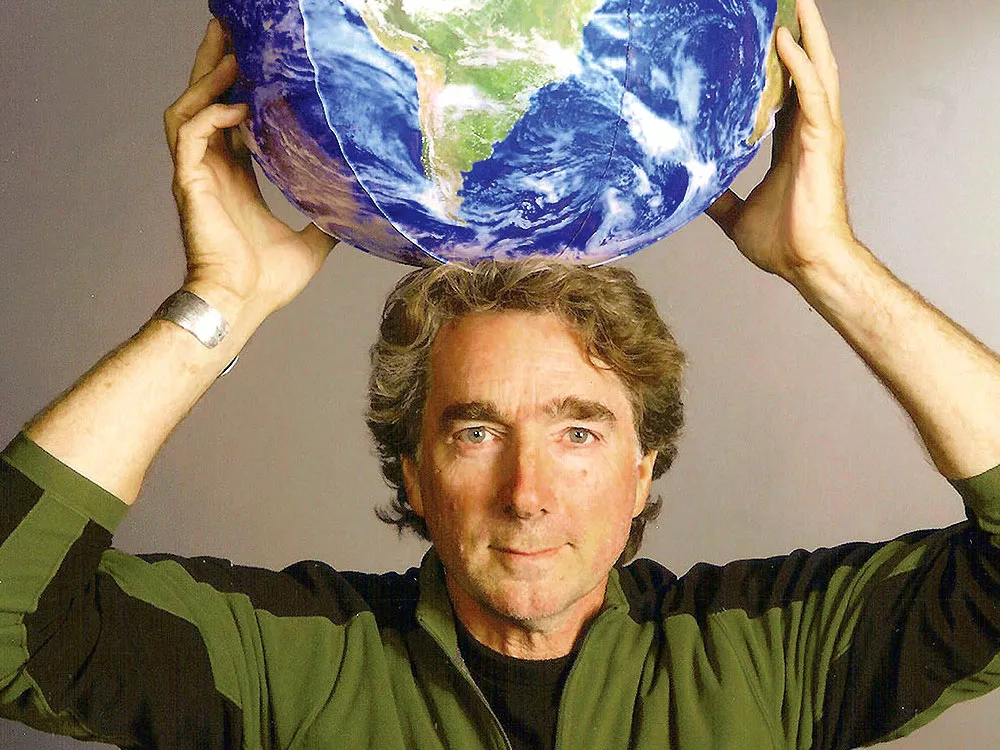 It was 1988. Back then, the simple act of cutting the plastic rings that hold six-packs together was lauded as Earth-friendly behavior. If you were cutting up rings, you were really doing your part to save the planet.
That year was also the year filmmaker Kevin Tomlinson and a friend hopped in a 1964 Mercury and took off on a road trip, eventually winding up in the backcountry of Eastern Washington filming people who went far beyond cutting plastic rings. At the peak of Reaganism, he found a pocket of honest-to-God hippies. After spotting an announcement on a co-op bulletin board in Tonasket, Tomlinson wound up at a "healing ceremony" where people came together to share ideas and celebrate community. There, he followed people around with his camera, asking them about their off-the-grid lifestyles, filming their drum circles and watching them spin-dance in fields. "I was the only one there with a camera," says Tomlinson. "I wasn't blending in. They had to trust me and they had to trust each other."
But when he was finished, he tucked the footage away. Tomlinson didn't want to show it to anyone.
"I looked at the footage back then and I thought, no one is going to take this seriously," says Tomlinson. "I felt very protective of those folks. I felt that if no one is going to listen to them, I'm just going to hang on to this thing."
He felt the people he filmed would be seen as whack jobs — people who were trying to live out a long-dead dream. They talked about the importance of caring for the planet, loving one another and living simply in the country. And in 1988, that idea was still radical. And Tomlinson was floored by the weight of undertaking such a lifestyle.
"The commitment to going back to the land was something that I would not have been able to do," he says. "I don't think I had the courage or the commitment that it takes."
Nearly 20 years later after some urging by a friend, Tomlinson looked over the old footage and was stunned by the prophetic nature of it. The theme of environmental awareness and the importance of community that the people professed back then are now commonplace ideas.
After watching the footage, he was curious if the people had carried on their lifestyle. Tomlinson left his home in Seattle set out to track them down — literally walking through a barter fair with his laptop footage until he found them again — spending the next two years filming his original subjects and their families.
Finally, he fused both the old and new footage into his documentary, Back to the Garden.
The characters more or less have stayed the same, some advancing their off-the-grid lifestyle by building elaborate eco-friendly homes with solar power and expansive gardens. And others have become less so: One woman took on a job at a software company in the time since Tomlinson first interviewed her.
But the critical dialogue in the film comes from the reflections that Tomlinson gleaned from them: His subjects are living this way for health, to honor philosophical beliefs. Some want to avoid becoming casualties of capitalism. Avoiding the mainstream is the solution they all subscribe to, which is why they choose to "insulate" themselves from mainstream culture rather than isolate.
Although not the first filmmaker to delve into the hippie lifestyle, Tomlinson pulls off a truly unique end product still alive in our backyard. Back to the Garden doesn't fall for the normal pitfalls — his angle is not about drugs or the lack of toilet paper. Instead, Tomlinson aims to explore the lifestyle without sensationalizing it.
"One of the things that has come out of the experience is I really got tired of the over-used, over-worked Cheech and Chong hippie stereotype. … It was something that you could amuse yourself with that had no basis in reality," he says. "I wanted to expand on that stereotype and show that these are intelligent, articulate, hard-working, determined people."
Unlike many films dealing with environmental and "green" issues, Tomlinson does not rely on fear or guilt to persuade his audience into a new way of thinking. Instead, he uses the lessons and life experiences of the hippies to explain what it means to live on the fringe. Rather than being seen as radical, their stories are more like advice. And therein lies the value of this film.
"It's not that the film wasn't ready 20 years ago," says Tomlinson. "It's that we weren't ready for the film."
Back to the Garden • Sat, April 23, at 5 pm and 7 pm • Magic Lantern Theater • 25 W. Main Ave. • magiclanternspokane.com • 209-2383