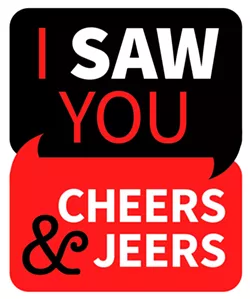 Kendall Yards curls: I saw you at the Kendall Yards Night Market on Wednesday night. Your curls were slipping from your hair tie and your pensive look was captivating. I noticed you were painting a fantasy seascape. You are quite talented. I'd love to buy you a scoop or some of that amazing smelling brisket next time. I was the one carrying the heavy load while gawking at the flowers. See you next week?
Sushi girl: I saw you, it was incredible.... I still see you every night when I go to sleep. You are still the first person I think about in the morning. We met at a house show, you sang for my band, we fell so deeply in love, it was the best thing I have felt in my life. I left my former life in the dust for you and would do it again. I love you so deeply. I could drown in your eyes. You are my soulmate. I love you Ski.
Skee ball rejection apology: Just wanted to say I'm sorry because no "hottest chick at the bar" has ever asked me to play skee-ball. For me to pass on that was probably a bit insulting to you — it's my loss and FYI you sing amazingly. And this is the weirdest post ever.
Another chance, maybe?: I met you years ago at Pig Out at the Park. I was working at a booth wearing a black dress. You seemed interested, but I wasn't available. You popped in my head the other day. If I get the chance to meet you again I would like to see how things go!
Care to walk?: I saw you walking down main on Saturday, carrying a pink gift bag. You were in a pinstriped gray shirt and had the hair of a period piece actor, with the beard to match. Your dimples and gorgeous blue eyes are what really had me, however. Can I join you for a walk sometime? I was in the daisy print, waiting with my three shorter friends.
Holy Family Hottie: I came into the E.R. for a cut finger. My best friend and I couldn't look at the gore, but you assured me that it wasn't too bad. I told you I liked your sweet, sweet mustache and asked if you used your earwax to.
Vending Machine Dreamboat at Engie: I know you'll never know who I am. I've admired you from afar when you stock the breakroom at my work. You are so extremely gorgeous and I've been crushing on you hard. I am too shy to say anything to you. Please keep those pickles stocked for me.
Silver angel: Angels come in all forms.. Today my angel came to me in a silver 4Runner... My 11-year-old beagle got out of our fence... I looked for 2.5 hours up and down every road in Airway Heights... I asked every child, adult, bicyclist, restaurant employee and Wal-Mart cart pusher I saw. I whistled, I yelled, I cried and I prayed. In 2014 I lost my 19-year-old son in a horrific car wreck... Last month I lost my 10 month old granddaughter to SIDS and three weeks ago we had to put our other baby (our black lab-chow) down, who we loved for 13 years... I just am not ready to lose another one of my boys. I went driving looking again and I saw a 4Runner going very slow... For some reason it caught my eye... Just when I pulled in the driveway to call animal control, a silver 4Runner pulled up... He had my boy... He found him walking and loaded him up and searched the streets in Airway Heights for his owner... Sir you have no idea what your kindness did to me. You are my true angel. Thank you so so very much... I will forever pay it forward!!!!
Sexy lady: I still love you as much as the first day I seen you. And you have raised three wonderful boys, this last week's experiences have really helped me to see what kind of men you have raised. All I can say is you did great. Don't you ever forget that!!! They would not be half the men they are today if you weren't in their life. X. Love you sexy, get well.
To Toni & Terri: Thank you for your long support and friendships you have with my sexy lady, so glad you all are in her life!!! I think she needs your support and friendship now more than ever. Thank you for being a friend, both of you!!!
To my rooted group! I hope you guys are doing well. Sorry I've disappeared off Facebook and have stopped attending LifeCenter but I needed time to get my head right. My walk with Christ is far from over and this makes me happy. I miss all of you very much. Who'd have thought the lone guy in a group of nine women would have enjoyed it so much. Thank you all for your love. I pray your children have grown stronger, I pray whatever was/is ailing you be given up to God. If you're single may you be proud of it; "on the market" know what you want and don't compromise for loneliness, for He will deliver what was promised. Most of all, I pray for your happiness and safety, enjoy the people in your lives and never stop pursuing Him, for He has never stopped pursuing you. Always your fellow Christ-follower. —Brett
Clothes make the man: As someone who often goes to the courthouse for my job, I am always amazed at how both men and women alike dress so slovenly for their day in court. Ripped jeans, pajama pants, T-shirts with inappropriate logos and so on. And grooming... try taking a shower, combing your hair, shaving if you're a guy. Simple things! What happened to caring about appearance in front of the judge and jury? Does no one care or realize that this makes such a difference in how you are viewed and can ultimately influence your fate? Does no one have respect for themselves or for others anymore?
To who broke into Trent biz: Jeers to the criminals who broke into the business on Trent Ave on June 3rd. You stole some personal items that have no monetary value but meant so much to me. The wood barometer and red woven makeup bag. It would be wonderful if they were returned. Wishing you lots of bad karma if you don't.
Hamilton rant: In response to the person pissed off about the variable interval pedestrian light on Hamilton by Gonzaga, suggesting the reason to install it in that particular location was a political favor for the rich kids, I will offer some differing observations. I've worked in the area and know for a fact there are many students who are not from wealthy families. The most interesting thing is that a major arterial with heavy traffic doesn't have a single left turn signal on any of the intersections with traffic lights. Amazingly short sighted! I agree with the suggestion that each elementary school may benefit from a pedestrian light, in conjunction with the street crossing guards. Another interesting observation is how quickly Hamilton has deteriorated to a pot hole ridden, rutted piece of crap. How long ago was it repaved? How long was traffic fucked up, and how many millions of dollars were spent on a road which is already a total piece of shit? That's something to be pissed about!! ♦