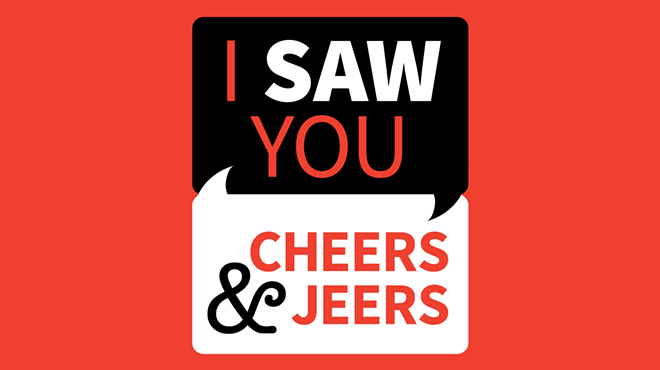 I SAW YOU
TARGET AQUIRED:
I am never positive you are flirting with me. I am positive when you see me, you are checking me out... Granted, you're behind a register... *Hah* If you read this: wink at me (or I'll assume that shipt has sailed)
---
YOU SAW ME
"BAD NEWS" MEETS "IMPORTANT THINGS": Dear Mr./Ms./Mx. "Bad news on the doorstep": We're connected, or at least we should be. I was reading your Jeers in the Feb. 16 issue and found — in your lamentation about the "downhill" slipping of our community's "semi-daily" paper — a kindred spirit. A reader. A critic. A mystic longing for something more. Not just "cute puzzles and games." Me, too. Did you happen to see "The 'Important Things' in Life" submission in the same issue about our beloved weekly? Let's talk. Restaurant Week? HMU at [email protected].
---
CHEERS
CHEERS TO SAFE DRIVERS:
Thank you to those who drive safely and responsibly in Spokane... and anywhere and everywhere out there! It's because of your safe driving that prevents accidents on our roads and keeps people safe. Thank you for your patience when traffic gets hectic and for waiting until a safe opportunity and enough space to change lanes and make turns. Thank you for being a smart defensive driver who anticipates the actions of other drivers, this prevents lots of accidents.. by just being alert and aware. Thank you for using your lights and turn signals to let other drivers know what you're doing. People of Spokane: whether you're a transplant, born and raised Spokanite, or just passing through, we all need to look out for each other and help keep each other safe. It doesn't matter who you are or where you came from; what matters is you be safe and respectful to everyone on the roads and life in general. Your respectful and courteous actions can prevent harm to others.
TRADER JOE MAN: To the guy bagging my groceries on Valentine's Day at Trader Joe's, Division. Thank you for singing along to Mowtown on the radio, you made my day, keep singing!
BABE, YOU ROCK: To the man who shows me what a healthy relationship is... every day. I love how we stay up half the night talking, how present we are with each other, how we read about love, how affectionate we are. No toxic masculinity, no games. I'm so thankful that the universe sat us next to each other, and I'll never forget that our friendship began with these four words : "I'll go with you." Yes, yes you will babe. I love you.
THANK YOU FOR MY DINNER: To the three ladies that bought my dinner at the Hwy 2 Azteca Restaurant, on Friday Jan. 27th, I don't know who you were, but I do thank you very much for doing this.
ANGEL AT WALGREEN ON 29TH: Thank you to the Angel who paid our bill, Jan. 31, 2023. My wife and I were at the register checking out when I realized I forgot my card. So we were going to put everything back till I got my card. I apologized to the lady behind us for taking too much time. She smiled and said she would pay for our purchases, which came to almost $100. She was only buying a couple of drinks. People like her are a rare breed. I was too blown away to properly thank you. May God bless you. You asked us to pay it forward, we most certainly will. P.S. We already called our pastor, who said give a testimony this Sunday; can't wait to tell everyone I can about you.
OFFICER WHO PULLED ME OVER: To the Spokane police officer who pulled me over last week for expired tabs. Thank you for being so patient and kind with me! I had septic shock in 2020, and my memory has suffered immensely! I also told you I have PTSD — some guy under the influence hit my car and ran me off the road in 2013. Then you guys found him in one hour! I was so nervous and was having such a hard time getting my paperwork together! You gave me a verbal warning. Just wanted to say thank you, you never get enough kudos for the good things you do. I have my tabs now!
HIDDEN GEM: From the outside, I would never have guessed. A little bar and grill tucked between two car lots on an industrial stretch of Sprague Avenue in the Valley. But by happenstance, a friend and I ventured inside the place, The Bearded Ginger, to discover a welcoming little hideout, with a nice-looking bar, but an even better looking menu of BBQ favorites. The staff was warm, the food was reasonably priced — and excellent. After one unplanned visit, I'm feeling protective of the place: Let's keep this local gem in business.
MOTORIST STOPS TO HELP: Thank you to the gentleman in the silver pickup that stopped to offer help Wednesday morning. I had a flat tire on I-90 halfway up Sunset Hill by Exit 277. AAA was on their way, but standing by the freeway waiting was stressful and your gesture of caring was greatly appreciated.
MOVIE THEATER CRIERS: Last week I saw "The Whale" at Regal in Coeur d'Alene. Some folks left immediately, but about six of us stayed and cried. We really shared a moment there! What a movie!
RETRO DONUTS CUSTOMER SERVICE: Cheers to the young ladies at Retro Donuts, great customer service, which is hard to come by nowadays! You brightened up this guy's gloomy day!!! And thanks to the owners for putting, great REAL bacon on the maples bars, and hiring people who clearly love their job!
---
JEERS
MORE BAD NEWS ON THE DOORSTEP:
Finally! Someone calls out the "daily" paper for what it's becoming. I have become so disillusioned with the paper. It gets thinner and thinner. And the price goes up. One more price hike and I'm out!
DEAD RIVER: The North Y's Lazy (now dead) river been dry since October! Do you realize how many senior citizens with hip and knee surgeries are being denied the lazy river for rehabilitation? It's time to put members over politics. Karma told me so!
RESOLUTION: America seems to have made a new year's resolution to have a mass shooting everyday.
ABCS OF ME: I would have thought our friendship was stronger than this. I'm heartbroken to find out otherwise. I would apologize for this snafu if you would listen. Instead, I'm resorting to this. Public self-flagellation. I've been a smelly a-, a real b-, a perfect c-, a big d-, even a mother f-, certainly a POS, a little s-, a gigantic t- and, finally, it seems an x-friend. Let me know if you want to meet up IRL.
WHAT COMES AROUND... A supreme jeers to "Mrs. Tiny House" for the way you chose to treat people you simply didn't like. It was borderline abusive and you're lucky we didn't file grievances. Sounds like karma has caught up with you since retirement. We all raise a glass and smile knowingly when we hear the updates.
CHRISTMAS WAS TWO-MONTHS-AGO: Jeers to Christmas lights still being up. I understand the appeal of living like Ebenezer and keeping the Christmas spirit all year long, but for all that is holy take down your Christmas lights. You had the motivation to put them up once upon a time back in some burst of November incentive that somehow existed during a heavy first winter snow. How about showing that same can-do spirit and take them down. What is the appeal of having them up past the epiphany, MLK, Valentine's and fast approaching St. Patrick's day? Are you trying to let people know that you're on vacation or just a special brand of lazy? Or? Perhaps you're hoping for the nostalgia of lights in the snow when the second winter hits? Either way? Christmas has long since passed and it's just annoying. Take them down.
PICK YOUR POISON—EXCISION OR EXORCISM? Which is worse — the oh-so-delicate Woke crowd redacting and replacing "offensive" words in classic children's works, or the Christian Nationalist mobs bent on banning "obscene" kids' books altogether? If forced to make this Hobson's Choice, I'd have to say the precious editors at Puffin Books who eliminated words like "fat" and "bald" (to name a few) from reissues of Roald Dahl books are WORSE than the Fahrenheit 451 troops storming our libraries. Sure, the Far Righteous book banners are ignorant crazies who don't know any better. Precisely. The Puffin censors bleeding Dahl's works dry with a thousand cuts KNOW what they're doing. Both literature cleansing methods are reprehensible, but I prefer a flat-out attack to an insidious inside job. ♦