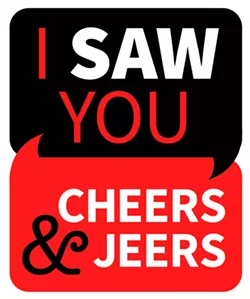 Hungry Guy You: A nice blue-eyed fellow having dinner at my workplace sometime around July 4th; ordered the pasta special and a beer and proceeded to inhale your food faster than I could say, "enjoy!" It was like that scene from Coneheads where the alien chick ate a subway sandwich in basically one bite and Chris Farley's character was all, "my mom's the only other woman I've ever known that can take a sandwhich like that!" Anyway, I guess that makes me Chris Farley (but a smaller female version) so, color me impressed. And come back for dinner again sometime. We got new specials ;)
Blue-Eyed Babe I saw you at the Pita Pit near the Gonzaga campus last weekend — orientation weekend. You had the most amazing smile — lit up the entire room. I love your curly brown hair, muscular shoulders and denim-blue eyes — those eyelashes too!! Do you think I would take you out for dinner sometime soon? I saw you carrying an Inlander- So, I thought there was a chance you might see this! I was the blonde in the light-wash jeans and Mariners tank top. Email me at [email protected] if you're interested. Please. ;)
Oranges and Oatmeal Cheers to the smartly dressed gentleman who paid for the oranges and oatmeal that I decided were outside my grocery budget. You saw me juggling my two-year-old, my wallet and my budget at Safeway on Francis the other day. It was a delight when you dropped into our cart a bag of oranges and oatmeal I selected but hadn't purchased. I said "Thanks," then let my big summer hat conceal my thankful, watery eyes.
LOVE IS WEIRD I just don't think I can get over you that easy. Though your gone, is it strange of me to say that I will always love you? I love you so much it hurts and now all I can do is pray to the Almighty that love will find you too, because I feel your pain and I feel you are apart of me, I can't "just get over it", I don't care what you said I know you didn't mean it, I know you have a good heart. xo
Sean the Leprechaun Sean Patrick Murphy, I love you. Even if you don't love back, I love you and I don't care who knows, but I told everyone I loved you. I don't understand why I shouldn't love you after all we have been through. You came into my life for a reason, and I know there is a deeper lesson and meaning to all aspects of our relationship as confusing and chaotic as it has been. I really wish you all the happiness in the world for you and may all your dreams come true. Love the crazy lady Reilly <3
Honesty is Rewarded You scraped the front of my car while parking in front of The Fieldhouse at Liberty Lake on 8/25. You left a note on my windshield telling me about it, how terrible you felt about it, and leaving your name (Leslee) and phone number. Even through the scratches are deep enough so I can't buff them out, I thank you for your honesty and as a reward for that, you or your insurance company will not be hearing from me about it. But please be a bit more careful in the future.
enough already Am I the only person in America who thinks that survey requests have gotten crazy? I buy a sprinkler, please fill out a survey (PFOAS). Get a haircut, PFOAS. Buy a burger, PFOAS. Now many ask you to take a selfie and post it. My biggest complaint is the business that requires cashiers to parrot PFOAS. It appears they are evaluated on how many responses they get. To be honest, it encourages me to not return. Please stop!!
Jaded Inlander anti-romantics How am I supposed to find the cute guy who eats fast if you don't post my I Saw You?! I'm pretty sure he's "The One" you guys! And the fact that he eats so fast is such a plus for me 'cause I'm not the best cook so the less time someone spends tasting my food the better. Who knows, maybe he would prefer to do the cooking! But I guess I'll never find out because somebody at the Inlander doesn't want to help me to find true love :(
Rude Sushi Crew Sushi Maru 8/23/17. I was absolutely astonished as I heard the conversations at the table next to mine. I was there having a special dinner with my boyfriend and his daughter and we were unfortunately sat by four young "adults" on a double date. They demanded specific special orders like princesses the second they sat down. They were rude when they were not served their order right away, were cussing and saying derogatory things about the waiter. The worst is that during it all, I truly believe they felt they were in the right to do so. I even gave the waiter props for putting up with it and keeping his cool. Who raises these young people? Who would allow their children to even think this kind of behavior is acceptable. They tried to top it off by leaving no tip to their waiter and writing "special messages" on their bills instead. I know they won't change but I would hope more parents would realize these children are becoming our young adults and what a shame that this is what is the result.
Red means STOP Many Jeers to the drivers that BLOW through the intersection of Lincoln and Main (going south taking a left turn) when the light is red. Myself and others who walk across that crosswalk daily have almost been hit numerous times! I know that sitting at a red light is soooo inconvenient, and slamming on your brakes because you're driving 40 mph downtown is even more inconvenient, but so is a negligent homicide charge (I'm assuming). Please, take the time to look up and see that the light is red, and that means STOP.
Rude customer Dear rude customer that came to the Mead Yoke/s grocery store, just wanted to know you ruined my day! You have no right to come in and yell at any of us employees! Leave your attitude at home!!!! — sincerely a hard working employee
BOOK HOG: I saw you at my Little Free Library, armload of children's books, hubby waiting in the car, son in the back seat. You said, "I think I found one you'll like" to your son as you proceeded to take about 15 children's books. What about the other 14 books? Do you think your child is the only one that might benefit from this wonderful FREE library? These Little Free Libraries are for everyone to enjoy- "Take a book, leave a book" means - don't take all of them and leave nothing! Please consider bringing some children's books back for others to enjoy. Also consider only taking one or two so others may also benefit from the free books. I spend my money going to thrift stores and yard sales, specifically looking for children's books. I believe that we need to encourage children to read, instill a love of books in them at an early age, and feed that love by making sure books are available to them. When you take all of the children's books in my Little Free Library, you are leaving nothing for the many other children in the neighborhood that might want a book.
LOVE IS BLIND I feel like I have been living a lie love you. I wish I had never met you. You played me and fooled me and you broke my heart and you will never say sorry. You don't know me and you never will. Goodbye El Scorcho.
HEY @$$hat! I KNOW garbages are too far & few between, but when my dog sneaks your melted kit kat off ze street (thank god i F'n caught him, chocolate is heroin×10 fer dogs FYI!) I wonder what person could be of this (inconsiderate, ignorant, evil, or just plain lazy) mind??? It's our world let's EXSIST w/ it. Please put your $#!+ where it belongs! Thanks:) ♦