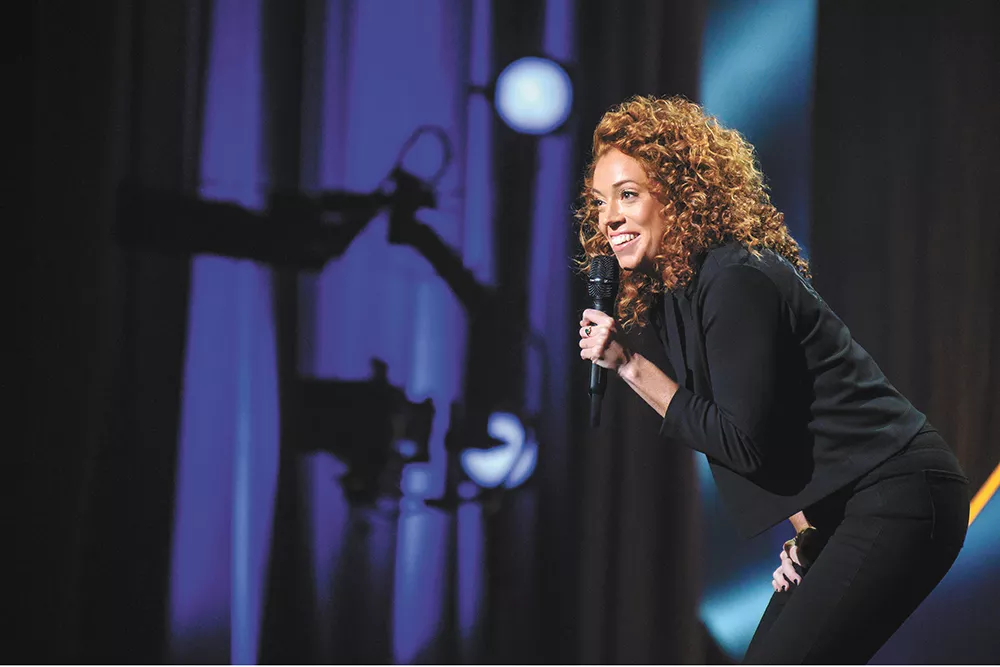 No one can accuse Michelle Wolf of taking it easy in her comedy career.
The 34-year-old Pennsylvania native and veteran comedian and writer (The Daily Show with Trevor Noah, Late Night with Seth Meyers) shot to fame/infamy on the heels of her incendiary headlining gig at the 2018 White House Correspondents Dinner, speaking hilarious truth to power to the politicians and media members in the room. (If you don't remember, find it on YouTube right now — the performance so unnerved the White House Correspondents Association that they quit booking comedians.)
Just a few days after that gig found her on newspaper front pages and in Donald Trump's Twitter crosshairs, she was filming the first test episode of her own Netflix talk show, The Break with Michelle Wolf. In the brief pause between the monumental career highlights, she took a couple days off to run a 50-mile ultramarathon in the Utah desert.
Likewise, just a month after her latest stand-up special, Joke Show, hit Netflix in December, Wolf is already on the road with a new hour of material she'll perform this weekend at Spokane Comedy Club. She called the Inlander just a few hours after returning from a trip to the Philippines and Thailand, where she opened for Dave Chappelle and "ate my body weight in mangoes every single day." The following has been lightly edited for length and clarity:
INLANDER: When did comedy first strike you as something you wanted to try?
WOLF: I'd always been such a big fan of comedy. I was a huge [Saturday Night Live] fan growing up. It never occurred to me that it was a thing you could do. After college, I got a job on Wall Street, and I was working and living in New York and some of my friends came to visit me and we went to a taping of SNL. So I was like, "How did these people start?" So I Googled them. And they almost all started in improv. So I just signed up for an improv class. And after that, I was like, "I just want to do more stuff like this." So I did more and more and eventually, that turned into stand-up.
Was there a lot of access for a beginner to get on stage in New York?
I know a lot of people start other places but I loved starting in New York because you could do three to five open mics a night if you wanted to, as long as you're willing to hustle around the city. I started at a time when there were a lot of good people around me that were either a couple years in or just starting as well. All the [open] mics were really good, you wanted to impress the other people there. I remember this one mic, it was on Saturday afternoons in Brooklyn, and you kind of worked on a joke the whole week to do it that night. Everyone went to that one. It was very much your peers watching you and judging you. You really wanted to get that joke to work there.
When did touring doing stand-up come into play?
I got a job working at Late Night with Seth Meyers and I didn't really do too much touring because I was working Monday through Friday. I didn't do too much road gigging then, just every once in a while. Then when I was at The Daily Show, that's when I was really getting on the road more and I really liked it straight from the beginning. I love doing jokes in new places. I love working on an hour. And when I got to start bringing my own opener, then it got even more fun because then you have someone to talk to you. You're not by yourself. It makes it a lot less lonely.
How odd was it to have your name become part of the political and culture wars after the Correspondents Dinner?
It was a little bit bizarre. I knew what I was doing going in. I was very aware that I wasn't doing exactly what they probably were expecting from me. I didn't really expect it to blow up as much as it did. I'm not mad that it did it all. The last time I was in D.C. I was just kind of reflecting on it. And I was like, "Oh, wow, yeah, there was a night I had a night in D.C. where I went in where not a lot of people knew me and I came out the next day on the front of almost every newspaper, and it's not because I did anything illegal or had some sort of illicit affair!" I said some jokes in front of some people and there you have it. It was very interesting. Someone made me a collage at some point of all the negative newspaper headlines, all the positive newspaper headlines, and it's fun to look at.
Had comedians who had done the dinner before given you advice beforehand?
A lot of people were like, "Oh, play more to the room" and all that stuff. But I didn't want to do it for the room. I wanted to do it for the people at home. That's what I did. Seth [Meyers], he knows me so well, he knows what kind of jokes I like to write. He probably thought I was easy on them. ♦
Michelle Wolf • Fri-Sat, Jan. 31-Feb. 1, at 7:30 pm and 10 pm • $28-$35 • 21+ • Spokane Comedy Club • 315 W. Sprague • spokanecomedyclub.com • 318-9998