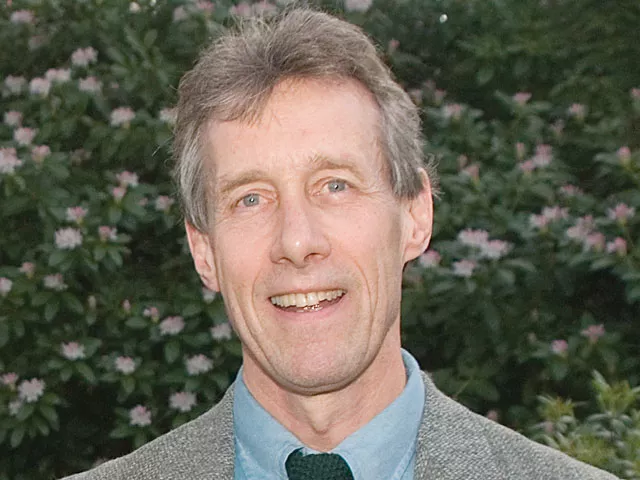 The Richard Kenney file: Poet and professor at UW. Awarded a MacArthur genius grant back in the '80s. Six years later, he wrote a third book of poetry that was, as even he now admits, too obscure and erudite. So he spent 15 years writing more poems before collecting them into his fourth book, The One-Strand River (2008).
Kenney's knowledge of topics like ancient history and quantum physics, along with his vocabulary, is way beyond yours and mine. And he knows that his poems can involve heavy lifting. In a rushed, on-deadline phone call, he envisioned students being compelled to attend Monday night's reading "with the JV men's lacrosse team, in handcuffs, somewhere in the back."
So will creative-writing majors and interested community members glean anything from the reading at Gonzaga?
Probably. The poems dabble in accessible satire before launching into ruminations on big ideas.
"Challenges & Opportunities," for example, mocks university meetings: "Like gas dirigibles,/ Endowed professors drift about the room./ Development officers nibble cheese."
A spoof of young narcissists — "At Abergroupie & Fetish/ The young people just/ Can't keep their pajamas/ Up" — veers from predictable middle-aged rant into an appreciation and then back into satire: The teenage models are like so many big-game animals, ready to be bagged and taxidermied.
A poem about an unexpected moment of understanding between a good ol' boy and a vegan hippie chick is entitled, "Lightning Strikes the Protein-Rich Postcambrian Tide Pool."
There's a poem about a cement truck waiting for a line of goslings to cross the road, and a reflection about taking his dog on a walk that leads to Kenney's self-indictment as "rich/ In little but the imaginary, bourgeois/ To the bone."
A poem called "The Judeo-Christian Tradition" reads, in its entirety: "Of course they'd need an/ Omnipotent god. Look whom/ He'd have to pardon."
Characteristically, however, Kenney takes on Big Ideas. In "Biographical," he scoffs at our obsession with trivial personal details; instead, he suggests, our lives are about the larger ideals we seek. Yet when visionaries indicate a path to follow, we are like dumb, uncomprehending animals: "Consider: why/ When I raise my arm to point …/ Does my dog gaze at my finger? Don't."
In "Imaginative Literature 101," Kenney warns us not to regard stories like Persephone's as just a myth, or as something to be interpreted purely in personal terms. With climate change — and because of our own excess and neglect — we are bringing "summer everywhere" upon ourselves. The myth offers more than just a pretty resonance.
One-Strand River also reveals a fascination with time-reversals, in which rolling back the clock hands signifies getting back to what we originally valued (not what has distracted us since). In "Balancing," for example, everything goes up, briefly, then declines: "Most falling's less Icarus-/ Like than acornlike: the pitching up to oak-and-/ Over, oopsy, slow. Romelike. So, despite appearance, then,/ All standing's falling, really."
Similarly, "Judgment" goes forward to the past: war graves fly open, a Nazi returns to being an infant, a fighter pilot reverts to the grinning man he was before he got shot out of the sky. Even a graveyard, in a sense, was once full of life, as in Kenney's reference in "Asymmetries" to "a cemetery's/ Serried teeth, and live nerve at each root."
None of this is pessimistic, exactly, any more than it's disparaging to say that poems ask for repeated readings. Sometimes getting your mind blown is complicated. Rick Kenney has his verbal detonators ready.
The Gonzaga University Visiting Writers Series presents poet Richard Kenney on Monday, March 1, at 7:30 pm in Cataldo Hall, 502 E. Boone Ave. Free. Write [email protected] or call 313-6672.