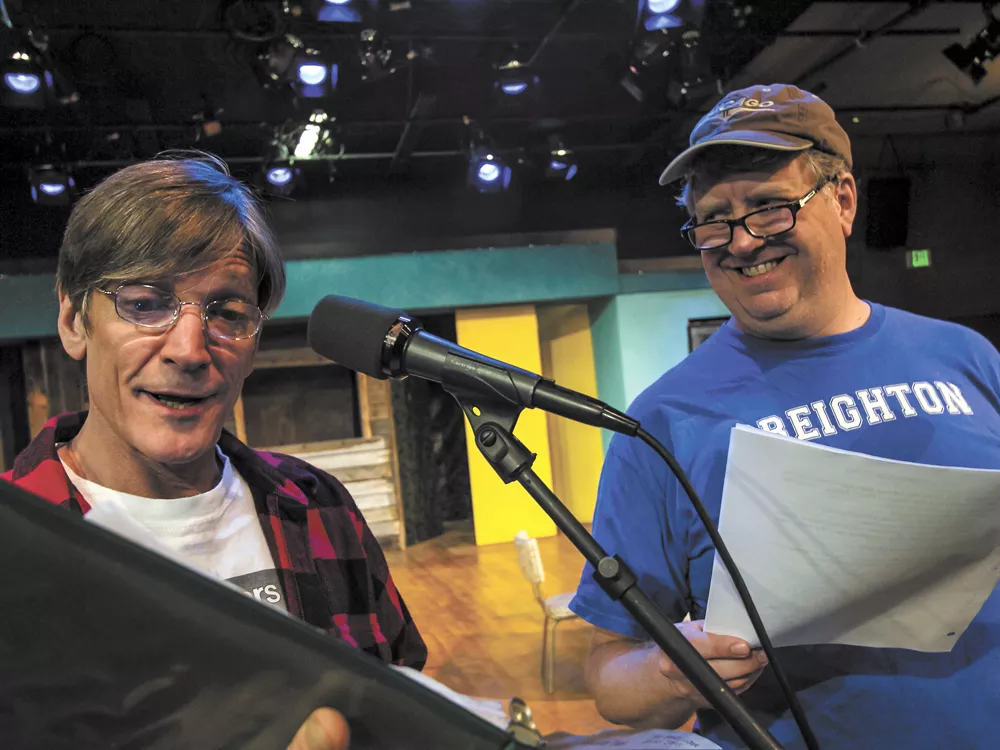 "T
he show must go on."
It's a theatrical phrase that signifies the resolve and determination to carry on, even under the threat of abject failure. At any price, circumstances and consequences be damned, the show must go on.
Except when it can't.
After David Gigler's sudden death during rehearsals for Ruthless, Interplayers Theatre couldn't simply patch the hole and forge ahead. Not only was Gigler the longtime life partner of Ruthless director Troy Nickerson, who was naturally left reeling after such an abrupt end to their 21-year relationship, but also Gigler's presence was integral to the dynamic of that particular black comedy.
"David was just hitting his stride," laments longtime friend Patrick Treadway. "He'd always been really talented, completely and uniquely his own. To imagine him tackling Sylvia [in Ruthless] would've been such a treat."
And so, with just four days left before opening, Artistic Director Reed McColm cancelled the show.
"Ruthless is a musical about a young starlet who wants a part so badly she kills another cast mate. It's very David and Troy," says McColm, but it was "a particularly tasteless show to do after David's passing."
"I decided to close the show so that Troy would not have to be associated with it anymore. Even having the cast come back to the stage to clean up the things they left behind was a challenge," says McColm.
McColm, however, didn't only have the loss of his "growing friend" and colleague to contend with. There were also pressing financial concerns. Ruthless was to have been the season finale, drawing audiences who were eager to see Gigler in Nickerson's latest work, not to mention child star Sophia Caruso fresh from her run as the lead in Annie at the Civic.
Within hours of Gigler's passing, a call came from Michael Weaver, erstwhile director of the acclaimed but now defunct Actor's Repertory Theatre, and a familiar face to local theatergoers.
"I was doing Annie, Get Your Gun in Lancaster, Pennsylvania," he says, "and I'm sitting at my computer at 4:30 in the afternoon and I start seeing odd things on Facebook. Suddenly, I get the news. So I called Reed and said that I had these five weeks open. I'm playing the rabbi in the national tour of Fiddler on the Roof, and rehearsals start again in Pennsylvania on July 26. So I had five weeks, bang — Patrick and I can do Tuna."
Just five months ago, Treadway and Weaver were together on the Interplayers stage in Tuna Does Vegas, the fourth (and currently final) installment of the Tuna franchise. For this impromptu production, they opted to revisit the pilot, so to speak, with Greater Tuna.
"Because the last one we did was the latest one written and now we're doing the first one, there's this serpent-eating-its-tail kind of thing now that we're back again at the start," says Treadway, who's stepped up to direct.
For the two actors, even something this comfortable is no cakewalk. Their marathon rehearsals are actually pre-production runs. The set is being built around them, and Treadway is blocking — that is, choreographing their onstage movements — as they go.
McColm thinks it both suitable and expedient.
"I wanted something comic to reflect David's sense of humor. But we also wanted something that we could do quickly. And because we're doing the original Tuna with the same actors, there's a sense of continuity," he says.

Greater Tuna • July 5-21; times vary • $24, $20 seniors/military, $15 students/groups of 15 • Interplayers Theatre • 174 S. Howard • Interplayers.com • 455-7529