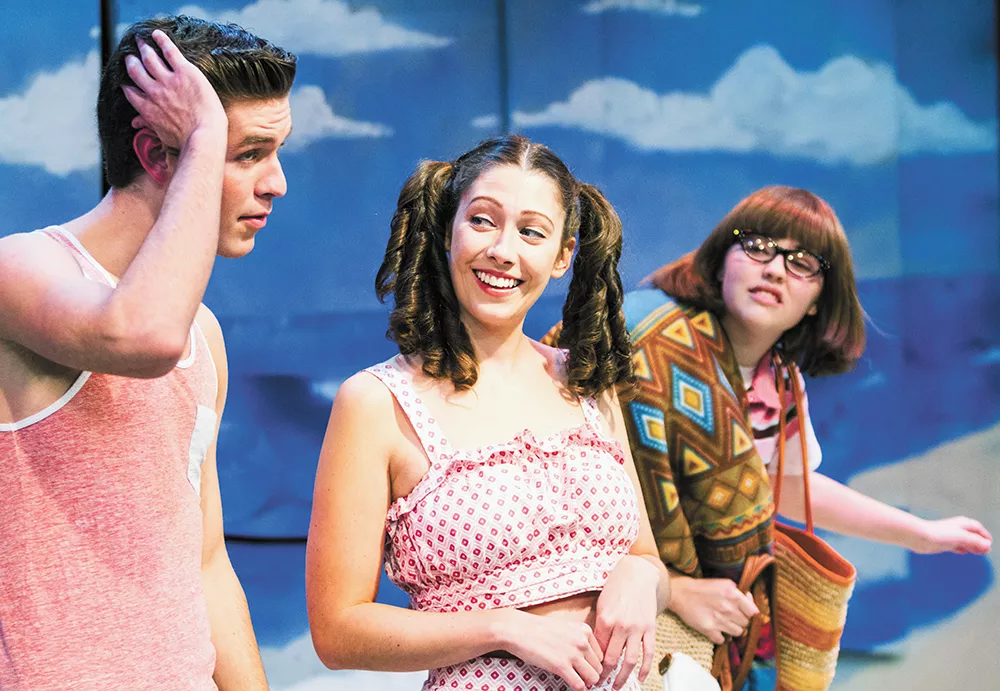 Charles Busch's Psycho Beach Party started life as an invented title called Gidget Goes Psychotic — nothing more than a punch line, a throwaway joke in a nightly curtain speech at the Limbo Lounge in New York City's East Village.
After Busch had teased the upcoming show on enough occasions to huge laughs, his producer suggested that it might have something worth unpacking. The resulting play debuted in 1987 as a kind of late-show nightcap to Busch's Vampire Lesbians of Sodom, which was enjoying a long off-Broadway run at the time. Busch himself played Chicklet, the homicidal beach-bunny ingenue of Psycho Beach Party.
"It's a spoof, a parody of all the 1960s Frankie Avalon, Annette Funicello beach-blanket party movies, teenagers on the beach having a blast," says Jason Johnson, who plays Chicklet's mother, Mrs. Forrest, in a new studio production of the show at the Spokane Civic Theatre.
But in keeping with Busch's kaleidoscopically warped creative lens, there's the "psycho" part of all that frivolity, which Johnson adds after a carefully timed pause: "... if Annette Funicello had multiple personality disorder and Joan Crawford was her mother."
It's those two forces — an overbearing, overprotective, borderline mother and the exculpatory catharsis of split personalities — that put Chicklet at the center of a beachside murder spree while her peers are preoccupied with sunbathing and hanging ten.
That "fun, campy" and somewhat sinister twist is characteristic of Busch's penchant for "taking iconic images of Americana and putting a comedic spin on them," Johnson says. "His Die, Mommie, Die! takes a very bold stab at all of these icons of Hollywood from the 1950s and '60s. Vampire Lesbians of Sodom was very much a comedy about the B-grade horror movies from that time period. This is the same type of thing."
Best known locally as Nova Kaine, a star and longtime fixture of Spokane's drag community, Johnson is stepping into that sinister camp world for his first conventional theatrical role in years. With full-time drag-friendly venues like Dempsey's Brass Rail, Hollyrock and Stray now shuttered and hosting gigs less frequent, his return to this stage could be seen as a way of exploring another side of drag performance, not unlike Busch's motivation for dreaming up shows like Kiss the Blood off My Castanets and Psycho Beach Party in the first place.
"When he started in the early '80s in New York City, it really was, 'Gosh, we're tired of drag shows, how can take this to the next level and make it a legitimate — well," Johnson laughs, "pseudo-legitimate — theatrical production?' He was trying to take drag shows to a step where it wasn't just men flouncing around in dresses."
The effects of that ambition are visible today. As hard as it's been for Spokane's drag scene to find an enduring anchor venue in recent years, out in the wider world, drag is undergoing a transformative renaissance of its own.
"We have gone away from the big, burly bear with a beard, wearing a ballgown, prancing around on stage quoting Joan Crawford, to where you have individuals on RuPaul's Drag Race who are taking this to the height of fashion, the height of theater," Johnson says. "Drag encompasses such a huge spectrum now."
That spectrum won't be on full display during Psycho Beach Party, where Johnson, surrounded by cast members including Rushele Herrmann (Chicklet), Angel Cimball (beach pal Marvel Ann) and Jack Fogarty (surf pro Kanaka), will play the darkly comedic, over-the-top type that the role demands.
"You've got to keep within the author's intent, so Mrs. Forrest is going to be a caricature of the classic Leave It to Beaver housewife who's just a little bipolar," says Johnson, who heaps special praise on director Jerry Sciarrio's comedic instinct and Jan Wanless' costumes:
"She is able to take these rolls of fabric and recreate that period of 1960s high-waisted bikinis. The costumes that she's created — and, of course, I'm partial to them because of several costume changes — are just phenomenal. This play would not be the same without her." ♦
Psycho Beach Party • Oct. 13-Nov. 5 • Thu-Sat, 7:30 pm; Sun 2 pm • $27 • Firth J. Chew Studio at the Spokane Civic Theatre • 1020 N. Howard • spokanecivictheatre.com • 325-2507