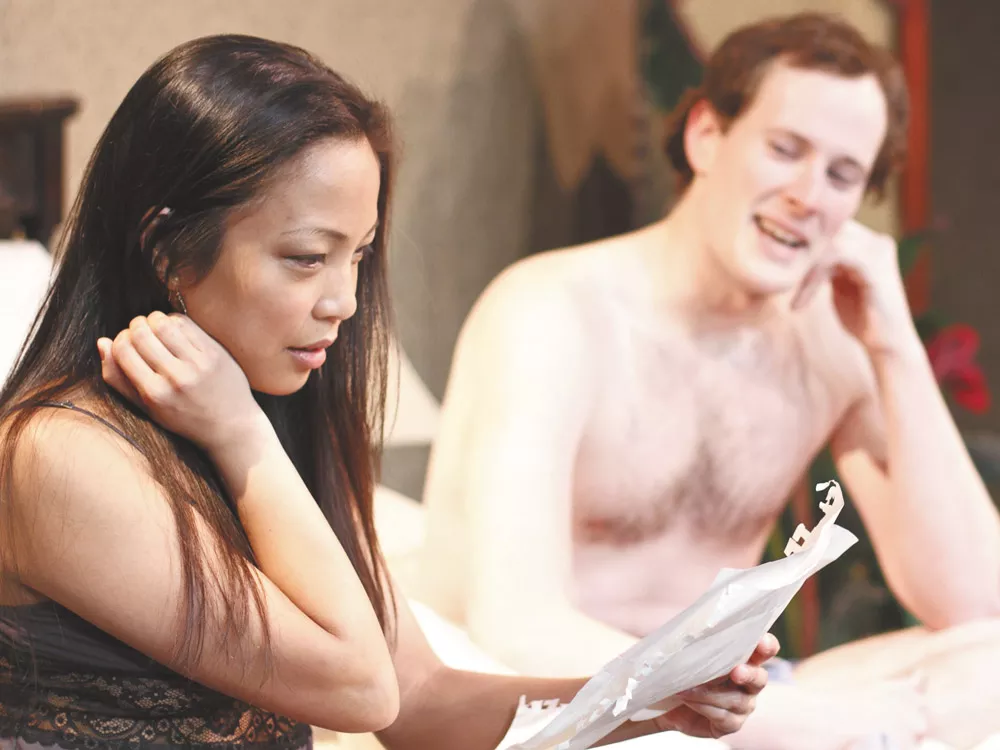 So this Jewish guy — a real nebbish, this one, his hands fluttering up to his forehead all the time — meets this nice Chinese-American woman. She's smart and demanding and nearly as neurotic as he is, so, of course, their first-date-which-isn't-really-a-date goes downhill. She actually gets nauseated, needs to lie down. And as she slumbers — not exactly the way the nebbish had hoped to get her into his bed — he indulges himself with a vision of how, just maybe, they could fall in love. He idealizes things, this guy. He's lonely.
Somehow, his wish gets its fulfillment: Hope and Charles fall in love, then their relationship bounces between can't-live-without-you and can't-live-with-you. Next thing you know, they're wrinkled and forgetful, shuffling around and wondering where they left their glasses.
David Schulner's An Infinite Ache tells this story in snapshots, one after another, often switching contexts in mid-sentence. Hope walks across the room, and before she's gotten to the other side, she's started an argument, ended it, and time-shifted into another. The payoff is audience involvement: In Todd Kehne and Yvonne Same's portrayal, Charles and Hope alter moods so quickly that you have to sit up and take notice. And with director Marianne McLaughlin doing a wonderful job of blending and timing all the sudden shifts of circumstance, we start to see ourselves in all the bickering over chores, arguing during sex and worrying about the future.
You know those scene-shifting doldrums in which stagehands come out in the dark and schlep furniture around while the play goes dead and you start looking at your watch? This play is nothing like that. In Schulner's dramatic world, the props advance the plot. When Kehne, as Charles, delivers a long monologue, fretting that nobody ever knows what they're getting into when they get married — maybe you should go through it and get divorced on purpose, he says, just to gain some experience — Same is busy in the background as Hope, spreading out throw rugs, arranging knickknacks, making a home. Her actions form a visual retort to his skepticism.
Grandma's generation had its own two-hander plays about the entire course of a couple's marriage, The Fourposter and I Do! I Do! But Schulner's serious 2001 comedy updates its forebears by deleting the prissy discomfort about sex: When Charles and Hope pop their heads up from beneath the sheets, all sweaty and hyperventilating, you want to light them some cigarettes. Even better, his rapid pacing assumes a perceptive audience and intensifies the experience. Through all their characters' insecurities, Kehne and Same succeed in showing us the resilience and idealism that keeps a marriage functioning.
Some quibbles: Schulner's script sometimes gets preachy at the emotional high points; in the darker moments (arguments, breakups, tragedy), Same stretches for emotional intensity too soon, leaving her nowhere to go; and the closing sequence feels prolonged. But for such an accomplished portrait of a marriage, these are minor blemishes. An Infinite Ache is insightful and satisfying in ways that most romantic comedies strive for and fail to reach. It's Interplayers' best show of the season.

An Infinite Ache • Wed-Fri 7:30 pm, Sat 2 pm and 7:30 pm, through April 14, with talkbacks after every show • $24; $20, seniors and military; $15, teachers and students • Interplayers • 174 S. Howard St. • interplayers.com • 455-PLAY