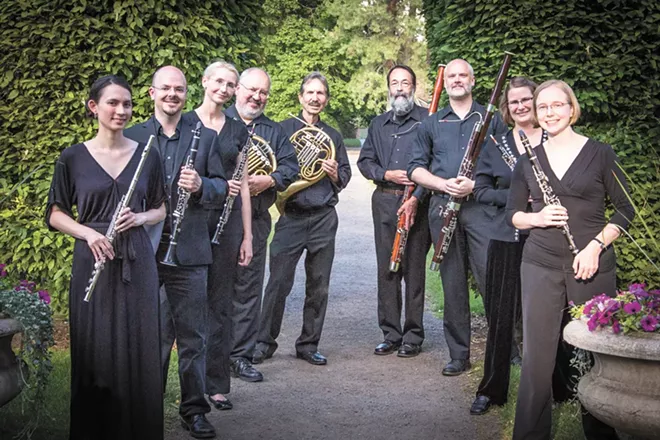 He's been dead for more than 200 years, and still the celebration of his life goes on. Not just in Spokane, where the Mozart on a Summer's Eve concert series is celebrating its 25th anniversary next week, but around the world, classical music lovers hold festivals and elegant galas all in the name of Wolfgang Amadeus Mozart.
The Austrian prodigy/composer was most likely put on this earth to make us all feel extremely inadequate, but also inspired. He partied hard and made bawdy jokes (poop was hilarious even back in the 1700s). By 16, he'd written 25 symphonies. At 25, he premiered his 13th opera. By the time he passed away at 35 from a mysterious illness, Mozart had composed more than 600 works. In all of this inspiration, it makes sense why even today we want to know more about him — why the Spokane event has become so much of a tradition.
Music director and French horn player Verne Windham has his own take on why celebrating Mozart in Manito Park is so popular.
"It defines summer for so many people," says Windham, also program director for local public radio station KPBX. "Forever, any civilization needs something like this to celebrate themselves and the really lovely things. It's become an event that Spokane has come to depend on."
Still, he never expected the event to run for 25 years.
"We live in a world where there's less and less mutual shared experience, and this is a way we can keep having those," Windham explains.
The first half of the program features Spokane Symphony concertmaster Mateusz Wolski, violist Jessica Lee and cellist/Northwest Bach Festival Artistic Director Zuill Bailey taking on Mozart's only string trio, Divertimento in E-flat Major. The second part of the evening starts with the Connoisseur Concerts Wind Ensemble playing the overture to the Mozart opera, Cosi fan Tutte — a tribute to the very first Mozart on a Summer's Eve concert in 1990, where it was played — and continues with audience favorite selections.
Last month, beloved American conductor and longtime Bach Festival Director Gunther Schuller passed away at 89. Windham has two works planned in his memory, including the Schuller-penned piece Sandpoint Rag.
As a speaker at the recent commencement ceremony for the Cleveland Institute of Music, Schuller left the students with this: "You will find that life is very short. Don't waste a minute."
You could do worse than spending an evening in a park listening to the music of a composer who made the most of every moment he was given. ♦
Mozart on a Summer's Eve • Tue-Wed, July 14-15, at 7 pm • $10 lawn seating/$30 table seating (limited tickets left) • Manito Park • 1800 S. Grand Blvd. • mozartspokane.com • TicketsWest.com • 326-4942
For those reserving tables, Luna restaurant will cater dinner by separate request (call 448-2383). For lawn seating, bring blankets and/or chairs to sit on. Picnics are encouraged. Seating opens at 5:30 pm. In case of rain, the program will be moved to St. John's Cathedral (127 E. 12th).