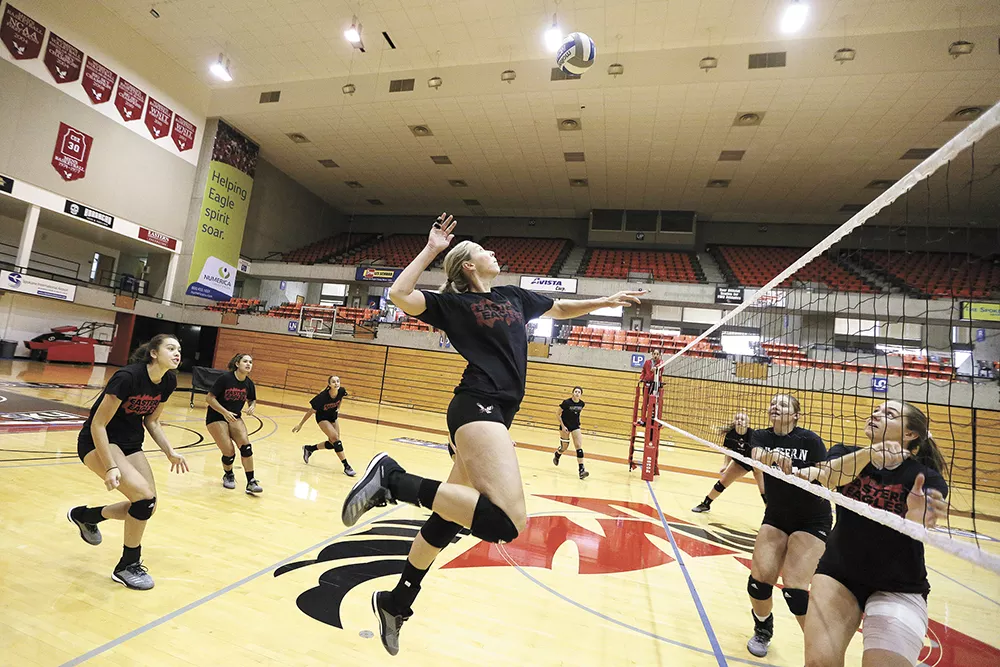 Each practice, before the Eastern Washington University volleyball team takes the court, before any stretching or drills or scrimmages, the team gathers around and listens to coach Leslie Flores-Cloud read.
It's a book about personal transformation. It's a book about change. It's called Chop Wood Carry Water: How to Fall in Love with the Process of Becoming Great. And for Flores-Cloud, who's taking over the volleyball program following an era of turmoil for the team, it's a book the team needs right now.
"We relate to it a lot, because this is the first year for EWU volleyball that we're starting to change culture. And it's hard. And it will take a while. But you have to love the process, and that's kind of what that book's all about," Flores-Cloud says.
Coming off a losing season is the least of the team's problems. In spring, head coach Michael King and assistant Nathan Fristed were fired following an investigation into the coaches trying to secretly pay a player $300 in cash. And the investigation revealed deeper issues with the program that led 18 players to leave the team in King's three years as coach.
Flores-Cloud says she's heard enough about what happened before her. Her focus is on the future.
"We're about to turn the corner," she says.
Flores-Cloud glances over her shoulder, where her team marches across the court for agility exercises. Shoes screech against the hardwood and medicine balls bang against the wall.
It's mid-August, and the team is coming off a 4-12 season, but Flores-Cloud shows optimism for the upcoming season. She has her sights set on the Big Sky tournament.
"I think that's something we can strive for," she says.
Success isn't new to Flores-Cloud, especially as a player. She was the setter at the University of La Verne team that went to the Final Four each year from 2003-2005.
Even then, she knew she wanted to be a coach someday.
"It's never been important to me what level I was coaching, I just wanted to be coaching," Flores-Cloud says.
Through the years, she's tried to model her coaching from her own mentors. She knew she wanted to be a strong female role model for women because of Randi Smart, the only female coach she ever had. She learned how to "teach" volleyball from Tom Black, now the head volleyball coach at University of Georgia. She learned how to lead, she says, from former University of Southern California coach Mick Haley.
By 2013, she accepted a job at Drake University as associate head coach. It was there that she decided she was ready to lead her own program. Eastern Washington University had always been on her list, because her husband went to school at Whitworth and living here allows them to be close to family. When the job opened up, it was a no-brainer.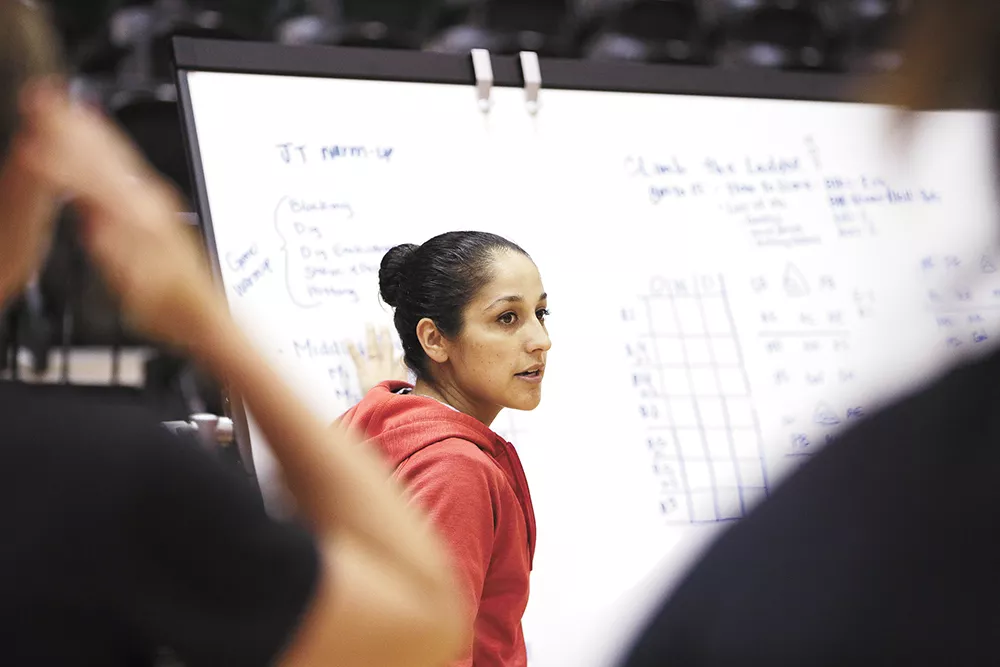 "It's awesome here," she says. "It's absolutely where I wanted to be."
During her interview with Lynn Hickey, EWU's new athletic director, Flores-Cloud says she didn't ask questions about what happened in the program previously.
"I really don't want to hear any more," Flores-Cloud says.
What Flores-Cloud would bring, however, is a passion for mentoring the players.
"I told her I'd love on these girls, that it's really important that they feel loved and appreciated for who they are, not just what they do on the court," she says.
Moving forward, she promises to recruit women with high character and who do well in the classroom. That's the kind of program she wants to build on.
And Flores-Cloud says it's already starting. In meetings with seniors, they told her they've "never been so excited to be part of EWU volleyball," Flores-Cloud says.
"To hear that they're loving what they're doing, it just means we're moving in the right direction," she says. "Because I don't think that they've always loved it in the past." ♦