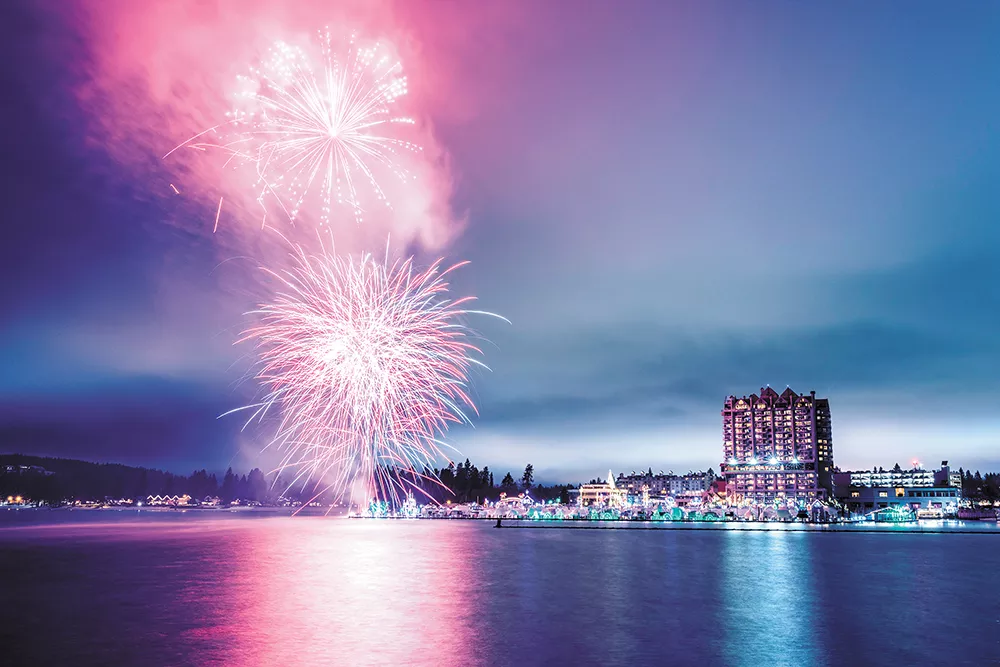 To party or not to party — that is the question that ties many of us in knots each year when New Year's Eve rolls around.
Sure, there's something to be said for ringing in a new year with your fellow humans, tipping some champagne at midnight after a quick smooch with a consenting loved one or stranger. At bars or friends' house parties, I've had some great times on New Year's Eve. On the other hand, I also understand the instinct to just avoid the whole thing. New Year's Eve invites a bunch of amateurs to the bars, and it can be the toughest night of the year to catch a cab or Uber home come 1 or 2 am.
As you consider your options for how to spend your transition into 2020, here are a few of the noteworthy temptations happening in the region that might prove too entertaining to resist:
FIND YOUR '80S GROOVE
The good folks at Lucky You Lounge know that a costume can really help make a night something special and different. While their '80s New Year's Eve doesn't require you to sport that Members Only jacket and/or legwarmers, dressing for the era is certainly encouraged. They'll have an '80s cover band playing, a DJ spinning some of the best dance tunes of the era, and a photo booth to capture your look. At just $10, it's just a good economic choice, too. Visit luckyoulounge.com for details.
CLASS IT UP
I checked out the Spokane Symphony's annual New Year's Eve performance of Beethoven's Ninth a couple years back. Not only is the night an exhilarating showcase for the musicians and Spokane Symphony Chorale, it also has the added advantage of ending a couple hours before midnight. That means you can either get home well before the ball drops on Dick Clark's New Year's Rockin' Eve, or you can treat the show as an appetizer for more celebratory shenanigans downtown — perhaps the symphony's own Puttin' On the Ritz gala at the Historic Davenport. Visit spokanesymphony.org for details.
LIGHT UP THE SKY
For some people, you can't have New Year's Eve without a fireworks show. The Coeur d'Alene Resort is here for you, with two fireworks shows just in case you (or your kids) aren't going to make it until midnight. The first is at 9 pm and the second at midnight, both over the lake so you'll want to find a good spot at the resort or on the beach for viewing. You can make a whole night of it with a dinner buffet and dance party at the resort, too. Visit cdaresort.com for details.
BLUES DUDE
If you didn't catch Sammy Eubanks ripping at his annual Christmas show, you have a couple of options for hearing the local blues guitarist tear it up on New Year's Eve. At the Bing Crosby Theater, he'll go acoustic for an early show at 6 pm, where he'll be joined by Trailer Park Girls and Low Class Bluegrass. That show will end by 8:30 pm so that Eubanks can run over to the Ruby River Hotel to rev up the party from 9:30 pm until midnight. You can pick either show, or make a whole night of it and spend the night at the hotel, too. Visit bingcrosbytheater.com for details.
ROLL THE DICE
I'm not going to suggest gambling is for everyone, but if you're going to hit one of the local casinos for their New Year's Eve festivities, you might as well throw a couple bucks down on a table or in a slot machine and see if you can really start the new year off right. At Northern Quest Resort & Casino there are several New Year's events, including a Roaring '20s Party in the Riverbank Taphouse, but the Bootie Shakers playing a heaping bunch of disco in the Pavilion is surely the highlight. Visit northernquest.com for all the options.
Over at the Coeur d'Alene Casino in Worley, Idaho, you can catch CeCe Curtis' tribute to local jazz legend and tribal member Mildred Bailey. And at the casino's Nighthawk Lounge, catch local legend Donnie Emerson (of the Fruitland Emersons) along with the Nancy Sophia Band. Visit cdacasino.com for details.
Of course, there are many more parties and celebrations worth your consideration on New Year's Eve. Be sure to check out the calendar listings for Dec. 31 on Inlander.com for a wide array of '20s-themed parties, live music, special dinners and trivia nights, and more. ♦