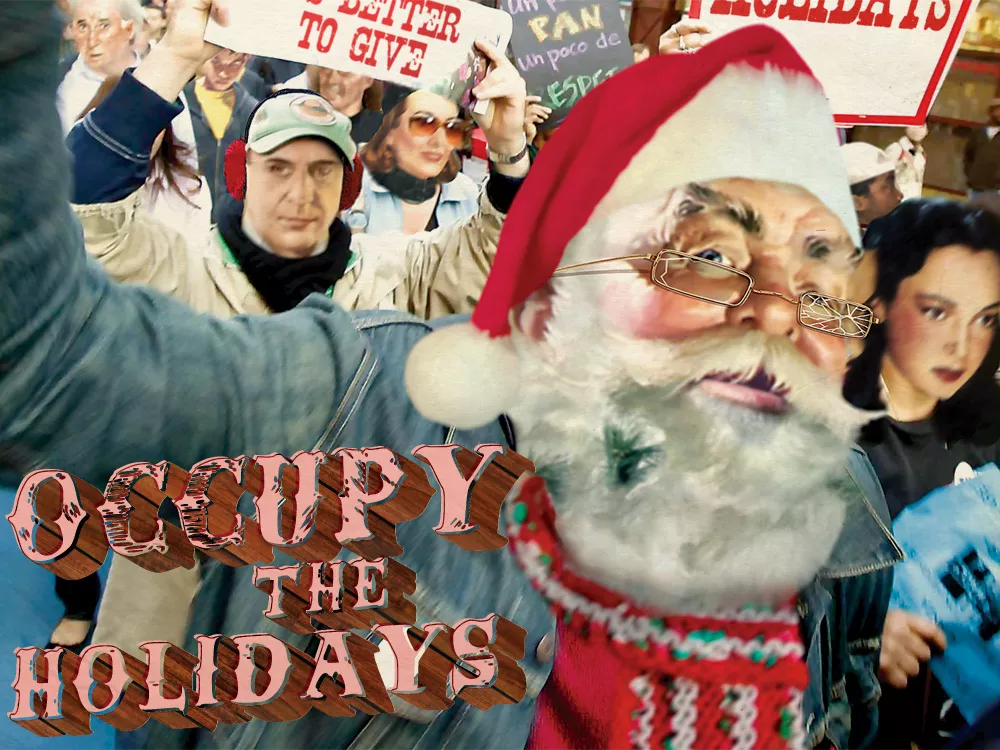 This year's Holiday Highlights package has been assembled in honor of Occupy Wall Street, the grassroots, anti-greed movement that has been on display in New York (and around the world, including in Spokane) for months. The movement is a reaction against America's shocking disparity in wealth — between the 1 percent who have more than they need and the 99 percent who are struggling.
No, it's not. A lot of the fun, holiday-related stuff we recommend in this issue is pure capitalistic materialism. On the very next page, we recommend a $55 Thanksgiving buffet at the Davenport Hotel!
Yes, it is. We also advocate caroling for the poor, practicing random acts of holiday kindness, and learning about other religions. It's about multiculturalism and peace in the Middle East.
No, it's not. It's about protecting the environment!
No! It's about saving labor unions!
No more war!
No more lobbyists!
OK, OK, fine. We can't possibly address in one frivolous holiday issue all the ills that Occupy is fighting in Zuccotti Park and elsewhere, but can we all at least agree that stuff is messed up right now, and that something needs to be done, and that pumpkin pie is delicious, and that spiced rum is tasting especially good all of a sudden, and that the cold, dark holidays are, if nothing else, a good excuse to look for peace within ourselves, our families and in our community?
We hope so.
Thursday, Nov. 24
Thanksgiving at the Davenport
Your turkey is toast, the kitchen's on fire, and at least one relative has already broken down in tears. Forget Thanksgiving — head to the Davenport Hotel. The downtown Spokane icon is one of a handful of local restaurants that are glad to do the work for you. (Others include C.I. Shenanigans, Clinkerdagger, and the Twigs locations at Wandermere and in the Valley.) Of course, it comes at a price. Their buffet (12:30 pm-5 pm) runs $55 per adult and $21 per child (kids 5 and under eat free). But check it out: turkey with cranberry relish, honey-roasted ham, prime rib, roasted salmon, smoked salmon, green lip mussels, green beans, mashed potatoes, cornbread, six different salads and a chocolate fountain!
Too rich for your blood? Try the T-Day buffet at Max at Mirabeau. The buffet (11 am-4 pm) costs $26 for adults and $14 for kids between 4 and 10, and the menu looks just as good as the Davenport's: slow-roasted turkey, smoked pit ham, green beans with boursin cheese sauce, saffron risotto, cranberry orange relish, Cougar Gold salad, the works. (JOEL SMITH)
Friday, Nov. 25
Trans-Siberian Orchestra
When I was kid, my dad and I would take ski trips to Mount Baker. Right when we got up past the snowline, he would invariably pop in his cassette of the Pet Shop Boys' Discography. Their cold, subdued, electronic mash-up of Frankie Vallie's "Can't Take My Eyes Off of You" and U2's "Where the Streets Have No Name" seemed, at first, totally inappropriate to the winter wonderland around us. (I wanted to hear hammer dulcimer, bells, strings.) But after the third or fourth trip, it started to make a weird kind of sense.
The same goes for the unlikely combination of Christmas and prog rock, but Trans-Siberian Orchestra has become a holiday institution. The group has done an entire trilogy of big, over-the-top, windy, symphonic Christmas albums, and they take it on tour each year, including regular appearances in Spokane.
If you haven't caught on to the tradition, check it out at the Arena today. It's not sleighbells and organs but, somehow, weirdly, it works. $30-$60, 4 pm and 8 pm, all-ages (JS)
Saturday, Nov. 26
Hit the Slopes
The snow hasn't accumulated a ton in town yet, so it's hard to believe that ski season is upon us. But Lookout Pass opened on Friday, Schweitzer opened on Saturday, and the other mountains are opening this weekend. And all of them are psyched by forecasts of a La Niña winter that could dump megaloads of snow on the region. You're not working today, you survived Black Friday, and your turkey hangover has probably begun to subside. So what are you waiting for? Get out there. (JS)
Sunday, Nov. 27
Infuse Some Booze
Homemade gifts are great, mostly because they're cheap and can make you appear more thoughtful than you probably are. Win-win. Being on the receiving end of a homemade gift can be rough, though, mostly because they're normally crotcheted and non-returnable. But there is a big, gaping loophole: infused booze.
Infusing your own booze is ridiculously easy, and it makes for quick, personalized gifts. Here is how you become everyone's new favorite relative.
1. Pick your booze. Vodka is probably the easiest to work with — just think of how many flavors you see at the bar.
2. Pick your infusion. This is pretty simple — think of what the person likes. Fruits are easy to do, but so are herbs, peppers or vanilla beans.
3. Prepare the infuser. Fruits, you wash and slice. Citrus, you zest. Peppers, you leave whole or slice. Berries, you leave whole.
4. Stick it all in a jar and leave in a dark place, shaking a few times a day. Infusing usually takes anywhere from a couple days to a few weeks, depending on your flavors — stronger infusers require less time than milder flavors, like berries. Use your common sense to taste-test.
5. Revel in your thoughtfulness. (Tiffany Harms)
Monday, Nov. 28
Christmas Tree Elegance
There are certain things that really kick off Christmas around these parts, like the Christmas Tree Elegance tree-lighting ceremony. Every year, folks gather in the Davenport Hotel to witness the 18 extravagant, themed trees. The best part is that you have the chance to win them. Just $1 gets you a raffle ticket for the opportunity to score one of the trees and all the lavish prizes that come with them, including trips, cash and electronics. You have until Dec. 18 to get one. Proceeds go to benefit the Spokane Symphony. Be at the Davenport Hotel at 5:30 pm. (TH)
Tuesday, Nov. 29
Become a Pet Person
The baby animals need you. Hundreds of them, tiny and fuzzy and lookin' for love. Now is a great time of year to ward of crotchety-ness by becoming a foster parent for one of these adorable, helpless creatures through the Spokane Humane Society. Many of the animals up for foster care are too young to be put up for adoption, and could use some love and attention. Go to spokanehumanesociety.org/fostercare to fill out an application, and if that goes through, the Humane Society will provide you with everything you need, including food, dishes, litter boxes and litter, leashes and collars. (TH)
Wednesday, Nov. 30
Make a Holiday Card
It's about time to send out holiday cards, if you're into that sort of thing. But rather than dressing the same as your relatives/spouse/partner/pet and posing for a nice picture that you'll send out, along with 500 words on how awesome you are, let's instead take a detour to the Land of the Lowbrow. Get dressed in silly sweaters, or all-denim outfits, tease your hair and head down to the JC Penny photo studio for a series of shots set to a blue marble background. Have your way with them — people can't resist this stuff. (TH)
Thursday, Dec. 1
Disney on Ice
Since the holiday season is about to suck your soul right out of your body, kick it off by making the kids happy. A good way to put your child in a gleeful state is to take them to Disney on Ice. This year, you can catch the Toy Story 3 performance. If you've kept up with the movies, you'll recall that in this installment, Andy's mom once again really boners it up, sending his favorite toys off to a daycare center instead of Andy's college dorm. Ugh, this woman. Seeing it live and on ice should be a great opportunity for your children to unleash any angst they have toward Andy's mom and her unparalleled insolence. Head down to the Spokane Arena between this day and Dec. 3. Tickets are $16-$150. (TH)
Friday, Dec. 2
Rent Something Absurd
It's the first weekend in December. Time to celebrate by renting something ridiculous, something you'd never in one million years have any use for but would totally enjoy. Like a whiskey fountain. A to Z Rental has you covered, with their wide range of beverage fountains for a mere $40. You can stick just about any liquid in there — three to seven gallons of it! — and enjoy the silliness. As a bonus, they are pretty to look at, and we're certain the novelty will absolutely not wear off. Visit rentatoz.com for the details.
It's winter and therefore the slow season in the bouncy castle industry, which means good deals on bouncy castle rentals. All-Star Jump will set up one of their castles in the snow, and take care of everything. Plus, for $165, they'll throw in a popcorn machine with your rental. Visit all-starjump.com or call 326-1725 for current rates. (TH)
Saturday, Dec. 3
Spokane Jazz Orchestra
Did you know that, according to the Spokane Jazz Orchestra, they are the oldest community-supported big band in America? I don't even know how you keep track of that kind of data. Anyway, get your jazz hands out for their special "Home for the Holidays" concert, featuring guest vocalist Charlotte Carruthers. Head to the Bing Crosby Theater tonight at 8 pm. Tickets are $24-$26.50. (TH)
Sunday, Dec. 4
See The Nutcracker
This is the last night to see The Nutcracker in Spokane, so you might as well get this out of the way. This enduring Christmas play, put on every holiday season in every town everywhere, is happening at the Fox. The Spokane Symphony is handling Tchaikovsky's iconic score while the State Street Ballet of Santa Barbara, Calif., will be doing the dancing. If you're ambivalent toward this seasonal play, think of it this way: This is one activity to which you can drag along the whole family. And some of Tchaikovsky's work is so stirring you can practically rock out in the audience.
The play is having a three-day run at the Fox Theater, 1001 W. Sprague. The cost is $16 to $22, starting Dec. 2 and ending tonight, Dec. 4 (CHRIS STEIN)
Monday, Dec. 5
Eat Lunch, Wear Hat
Tea partiers, get your tricornes. Ninety-nine percenters, your gas masks. Former birthday customers of Chevy's Mexican restaurants, your sombreros. The annual "Holiday Hat Luncheon" is going down at the Davenport, and if you're the type who doffs his cap at the door, don't bother showing. For $25, you get to dine in the Grand Pennington Ballroom with other folks who are fanatical about their hats. The program calls for dressing nicely, so get your suit pressed, too. Remember: small fork for the salad, big fork for the entrée.
The affair lasts from 11 am to 1 pm at the Davenport Hotel, 10 S. Post St., in Spokane. (CS)
Tuesday, Dec. 6
Go Snow-Tubing
That tractor inner-tube you bought from the General Store to float down the Spokane River back in July? Get it out, head over to a local park and find a nice snowy hill to sled down.
Think of it as the poor man's skiing. There's no pass needed but also no chairlift to take you back up after a run. If you feel tubing lacks the gnar factor of skiing or snowboarding, then take to the streets. Find the nearest street that hasn't been plowed and turn it into your playground. You may want to post some spotters so you don't have a nasty encounter with another type of tire as you sail down the hill. (CS)
Wednesday, Dec. 7
Find a Caganer
You are looking for a little man. He has a surprised look on his face, or he may be smiling contently. He is made out of porcelain. He has his pants around is ankles and is defecating. This is a caganer, a figurine that shows up routinely in nativity scenes in the Spanish region of Catalonia. But why should that region and its rapidly imploding economy get to hog this treasure? You're right, it shouldn't. So spend this wintery day hounding the thrift and antique stores of Eastern Washington for this Catalonian treasure. (It makes a great gift!) Just walk in and tell the clerk you're looking for a man taking a poo. (CS)
Thursday, Dec. 8
Watch It's a Wonderful Life
It's a Wonderful Life is best known as a movie, but Spokane Valley-based MastersArts is putting on a stage interpretation of the classic for a four-night run starting tonight. MastersArts is a nonprofit arts company that often stages theater shows at local churches. The classic tale of a frustrated man's encounter with his guardian angel starts its run tonight in Spokane Valley. The show is free and starts at 8 pm. At New Life Church, 10920 E. Sprague Ave. Donations are accepted. (CS)
Friday, Dec. 9
Catch a Spy
The holiday movie season seems to breed long, drawn-out movies. The movies of The Lord Of the Rings trilogy were all released around this time. So were big-time biopics like The Aviator. Word on the street is that this is the time when movies that want Oscar awards start to show up for consideration. Or maybe it's just that people can rely on movie theaters to be warm. In any event, the film adaptation of John le Carre's Tinker, Tailor, Soldier, Spy is sure to be an exercise for the brain and, with a 127-minute run time, body. The film is based on one of the most acclaimed spy novels of the 20th century and features a whole bunch of British actors, like Gary Oldman and Colin Firth, looking for moles (the spy, not the animal.) The movie opens today. (CS)
Saturday, Dec. 10
Breakfast with Santa
Why let a brief lap-sit be your only time with the big man? Why not, say, share a meal with Santa Claus, he whose effective intercontinental gift delivery service is probably responsible for the downfall of the U.S. Postal Service. Yes indeed, you need some quality time with Santa. So head to the First Church of the Nazarane in Spokane for their Breakfast with Santa. Kids can get their faces painted and enjoy the church's activities. Adults can debate with the reindeer-mounted courier over which jet stream best propels flying sleighs. The breakfast lasts from 9 am to 4 pm, First Church of the Nazarene, 9004 N. Country Homes Blvd. in Spokane. $4-$5. (CS)
Sunday, Dec. 11
Read I'm Your Santa
If you aren't reading trashy holiday-romance fiction, we don't know what you're doing. This collection features a woman avenging her fiancé's infidelity with his best friend, a Hollywood actor stuck deep in Texas with a curvy local gal, and woman in Christmas crisis who is recruited to be a proxy bride for a jilted groom.
The bonus? The story collection, published by Brava, occupies 384 steamy pages. That means that if your significant other dumps you at the family holiday dinner, you'll have plenty of carnally enchanting leftovers for your lonely New Year's Eve. Huzzah! (JOE O'SULLIVAN)
Monday, Dec. 12
Find the Worst Christmas Song
You've been hearing them since before Thanksgiving. (By the way, whom do we have to thank for that?) So grab a notepad, fill your coffee cup with liquor, sit in a shopping mall and soak up the Muzak. Or lay in the fetal position on your futon and crank the radio. Will Justin Bieber top the list? Mariah Carey? "Little Drummer Boy"? One thing we know: Madonna's rendition of "Santa, Baby" is downright angelic. So don't let us catch that on your list. (JO)
Tuesday, Dec. 13
Take the Day Off
The holiday season is a marathon, so you'll want to pace it. Tell your boss you caught bird flu. Tell your significant other you've been drafted to collect turkeys for poor folks. Just sit at home and think of how much better your life will be in two weeks. That's when the entire country won't be counting on your last-minute shopping splurge to resuscitate the post-prosperous joke of an economy. When you won't have to hear blowhards yammer about "The War on Christmas." When you won't have to awkwardly interact with store clerks dressed as reindeer.
Don't think you need a break? Keep in mind: You might just return from your "holiday from the holidays" to get serenaded by a bunch of singing nuns. (JO)
Wednesday, Dec. 14
Enjoy Singing Nuns
Whatever was your choice for the worst holiday song, you probably won't hear it here. Why not? Because how can anything be awful when it's coming from singing nuns?
These habited ladies are traditional Catholic Sisters, from St. Michael's Convent, north of Spokane. They run a school, printing facilities, a bookstore and a mail-order depot. And when they're not doing that, they sing.
The "Light of Lights" annual Christmas concert will feature the Central Valley High School wind ensemble backing the heavenly melodies of these holy women.
They'll be at the Bing Crosby Theater tonight and tomorrow at 2 pm and 7:30 pm. Tickets: $10-$20. Call 227-7638 or go to mettheater.com. (JO)
Thursday, Dec. 15
Christmas at the Fox
Singing nuns not enough? We know. Check out "Christmas at the Fox," presented by the Upper Columbia Academy.
UCA, a private Christian academy operated by the Seventh-day Adventist Church, will be riffing on the theme "The Spirit of Christmas." The program includes a 70-piece symphonic band, 90 choir singers and a 20-piece string ensemble, among other things.You won't just get Christmas standards but jazz and classical. "A mix of sacred and secular," according to the Fox.This concert is free and open to all. This will be the academy's fifth annual Christmas performance. The show starts at 7:30 pm and is free to all. Call 624-5992. (JO)
Friday, Dec. 16
Feast of St. Adelaide
The holidays are feast season. So why not make your little feast? December 16 provides feast days for any number of Catholic saints: St. Adelaide, St. Ado of Vienne, St. Albina, St. Beoc, St. Valentine, St. Nicholas Chrysoberges.
We like St. Adelaide, since she's got an impressive portfolio. Born in 931 in Burgundy, Adelaide married Lothair around age 15 because her father paired them off when she was 2, according to Catholic.org. When Lothair — who became king of Italy — kicked the bucket a few years later (how old was this guy?), his successor and usurper, Berengar of Ivrea (sweet name!), imprisoned Adelaide, hoping she could be compelled to marry his son. According to legends, she escaped and appealed to Otto of Germany for help. Otto then invaded Italy and married her, and she went on to establish a whole bunch of monasteries and churches.
Also, she's the patron saint of abuse victims, brides, empresses, exiles, parents of large families, princesses, prisoners, stepparents, and widows.
Leave your baggage at the door, cook some fish and celebrate the mysteries of existence. (JO)
Saturday, Dec. 17
Cut Down a Tree
When else is it socially acceptable for John Q. Public to deforest the earth? Bundle up, grab some sharp tools and head into the hinterlands. You'll need a tree permit from the folks at Colville National Forest or the Idaho Panhandle National Forest, and there are rules on where you can find a tree and how to remove it. Once you're up to speed on the paperwork, follow these instructions. Step 1: Get an axe (or, if you dig convenience, a chainsaw). Step 2: Rock n' roll.
Call the Colville National Forest at 684-7000 or the Idaho Panhandle National Forests at (208) 765-7223. (JO)
Sunday, Dec. 18
Carol for Food
It's not quite the Christmas season without knocking on random strangers' doors and forcing them to hear your group hack up "Silent Night." But while you're preventing the entire neighborhood from sleeping in their heavenly peace, you might as well get in some heavenly good deeds.
As long as you're knocking on doors, take along a few bags (preferably of the reusable cloth variety) and ask for donations to a local food bank. It doesn't have to be much — and maybe the better the song, the better the donation will be. Just make sure that the canned cranberry sauce Jim is handing over was meant for Sally's big Christmas dinner next week — or else no one will be sleeping, peacefully or otherwise. (SCOTT A. LEADINGHAM)
Monday, Dec. 19
Pay It Forward
Cripes! Not another "case of the Mondays" — and less than a week before the big day. Work off your temporary bout of Scrooge Syndrome by doing something nice for someone, preferably a total stranger.
It doesn't have to be complicated, and the more stealth the better. Waiting impatiently in line at the Starbucks or McDonalds drive-thru? When pulling up to pay for your gallon-size mug of (unfortunately) schnapps-less peppermint mocha, pay in advance for the person idling behind you. Or at the grocery store, find the frazzled mom with several rambunctious kids in tow, or the senior citizen who may be stretching that Social Security check a little too far. Get in front of her in line and quietly ask the checker to run their groceries through on your tab.
See, doesn't that feel better? (SAL)
Tuesday, Dec. 20
Beginning of Hanukkah
Sure, Hanukkah is "the festival of lights." And, as Adam Sandler so wistfully reminded all non-Jews in his multi-version "Chanukah Song," "Instead of one day of presents, we have eight crazy nights."
But what do you really know about the holiday? What does it mean? What is it celebrating? What's a menorah? Why the different spellings?
Take time to learn from a source other than pop-culture references. Spokane has two Jewish congregations: the reformed Emanu-El (spokaneemanu-el.org) and the conservative Temple Beth Shalom (spokanetbs.org) that can provide more information and resources. Also see the website chabad.org for a good overview and explainer articles on the traditions and history of Hanukkah. (SAL)
Wednesday, Dec. 21
GI Holiday Jukebox
The first thing you'll notice about this season-long performance by the Coeur d'Alene Summer Theatre is that it's distinctly not in the summer. But even so, it sounds inviting and warm.
With World War II as a backdrop, it features Hollywood characters singing Christmas standards for the famed Greatest Generation of troops.
If you can't make it specifically on this date, don't worry. The performance runs Nov. 25-Dec. 23, Wednesday-Sundays, at the Coeur d'Alene Resort. $18-$20, 7:30 pm, 3 pm Sundays, all-ages. Visit cdasummertheatre.com. (SAL)
Thursday, Dec. 22
Gonzaga Bulldogs Basketball
It's the last Gonzaga men's basketball game — they face Air Force — before Christmas. Might at well splurge a little, right? Or how about giving a stocking-stuffer gift in advance and treating your little Bulldog fan to a night in the Kennel?
Bonus points if you dress up as Santa or an elf and try to dunk a basketball at halftime.
Of course, how you go about getting the sometimes-hard-to-acquire tickets is another story. Perhaps call it the Miracle on East Boone Avenue. (SAL)
Friday, Dec. 23
Santa Baby
There are few better ways to spend your last remaining day before the onslaught of true pandemonium than entering the belly of the beast. Today and tomorrow are your last chances to see Santa Claus up-close and personal at NorthTown Mall. His elves are on-hand to wrangle your little ones into a quiet enough state to stay still for 15 seconds for that all-important picture. Joy to the world!
It may be chaos (cynics might say holiday hell) in the mall as last-minute shopping is in its final throes, but there are a few niceties in it all. Grab your favorite mall-time snack (Cinnabon for everyone!) and cozy up on a bench while your kids wait breathlessly to speak with ol' St. Nick. What's more satisfying than watching other people become frenzied and overcome with pure exhaustion? Close your eyes for a second and tell yourself, "I'm sure glad I'm not one of those people."
Joy to the world, indeed. (SAL)
Saturday, Dec. 24
Midnight Masses for the Masses
One Christmas tradition that never gets old (other than 24 hours of A Christmas Story on TBS, of course) is the purity of Christmas Eve churchgoing. Midnight (or at least very-late-night) masses are particularly inspiring, especially when you throw in organ music and the standard O Holy Night rendition.
Even if you're not Christian, or even religious at all, the tradition of midnight mass is an experience that can offer a temporary reprieve from an otherwise jarring few weeks. And don't worry — when you get home, you'll still have about 18 hours of A Christmas Story left.
The Cathedral of Our Lady of Lourdes in Spokane has midnight mass. The Cathedral of St. John the Evangelist, on Spokane's South Hill, begins its Christmas Eve service at 10:30 pm. (SAL)
Sunday, Dec. 25
Hoist a Christmas Cocktail
However you celebrate the holiday, kick back and relax with a festive cocktail from Gary Cooper at downtown Spokane's Sapphire Lounge:
Winter Negroni: A Negroni cocktail is typically made with equal parts dry gin, Antica Formula vermouth and Campari. To bring out the fall spice in the drink, though, substitute Cardamaro for the Campari. Instead of a bitter onset, this give hints of pumpkin and dry leaves. Serve in a cocktail glass. (LYDIA ZURAW)
Monday, Dec. 26
Write Your Thank-Yous
Your mother used to nag you about it, and now we're nagging you: "Have you written your thank-you notes yet?" Showing someone your appreciation for their present is not just the polite thing to do — it makes them feel appreciated. And in case you failed to send out those impersonal Christmas cards en masse before Dec. 25, thank-you notes are your chance to update people on your life with a personal touch. (LZ)
Tuesday, Dec. 27
Cruise the Lake
If you didn't get around to it before Christmas, it's your last chance to see Coeur d'Alene's giant holiday light show. The Coeur d'Alene Resort organizes three cruises a night, Nov. 26 through Jan. 2, for you to get the best views of the magical light displays along Lake Coeur d'Alene. Highlighting this year's "Fantasy Cruise to the North Pole" is the world's largest living Christmas tree, rising more than twice the height of New York City's famous Rockefeller Center Christmas tree. Tickets are $16.95 for adults, $15.95 for seniors 65 and over, and free for children 12 and under. (LZ)
Wednesday, Dec. 28
Teach Your Kids to Ski
What better way to run off the little tykes' sugar-driven post-Christmas energy than teaching them to ski? Mount Spokane runs a three-day holiday camp Dec. 28-30 that offers lessons for children in three levels: Mini Mites, ages 4-6; Mighty Mites, ages 5-6; and Kids Club, ages 7-15. Ski lessons are available for all age groups, and snowboard lessons are also available or Kids Club. Both Mites sessions also include a daycare for parents who want to hit the slopes on their own. Be sure to register your kids at least a week before the session starts. (LZ)
Thursday, Dec. 29
Visit the Ghosts of Christmas Past
Touring Campbell House is like stepping back in time to the early 20th century, when mining mogul Amasa Campbell and his family resided there. During the holidays, the Northwest Museum of Arts and Culture decorates the historic house and opens it to the public to explore. This year, actors dressed as Campbell family members and kitchen staff will also be on-site to enhance the illusion of a 1910 holiday. Horse-drawn carriage rides will be available, and touchscreens in the house's new visitor's center will allow access to MAC artifacts, photos and documents of the Campbells' time. Campbell House is open for the holidays Dec. 21-24, 28-31 and Jan. 1 from 12-4 pm. Entrance is included in the museum's admission price of $7. (LZ)
Friday, Dec. 30
Sing Along
You're probably sick of the Christmas carols by now, but what about "My Favorite Things" or "Do-Re-Mi"? If you're in the musical mood and want to use those vocal cords, the Sound of Music sing-along is at the INB Performing Arts Center.
The classic Julie Andrews film comes to life as an interactive experience, projected in full-screen Technicolor complete with lyric subtitles. Every audience member also receives a Bag of Musical Moments containing various props to be used at strategic points throughout the film. There will also be a costume contest for guests in the cleverest outfits. Previous entries include nuns of both genders, girls in white dresses and blue satin sashes, the Alps, brown paper packages tied up with strings and many other favorite things.
Don't miss your chance to sing along with Maria, the Captain and the von Trapp children on Dec. 30 at 7 pm. Tickets cost $20-$30. (LZ)
Saturday, Dec. 31
First Night
Celebrate the dawning New Year with Spokane's winter arts festival, First Night — this year themed as "Dawn of Time: Year of the Dinosaur." The event has pretty much any entertainment you could possibly want: music, dance, theater, improv, visual artists, ice carving, Raku pottery and more.
Kick off the celebration with a masquerade parade, which leaves the convention center at 6 pm and winds its way to Riverfront Park for opening ceremonies. All venues open at 7 pm and close at 11:40 pm, and folks can embark on a treasure hunt called Yoke's Dinosaur Egg Safari. Just before midnight, there will be a countdown and "Dropping of the Egg," followed by a spectacular show of fireworks.
Admission buttons go on sale around Thanksgiving at Cenex Zip Trip, Sterling Savings Bank, Windermere Real Estate Offices and the First Night office. They cost $12 ahead of time and $15 on the day. Children age 10 and under get in free. (LZ)