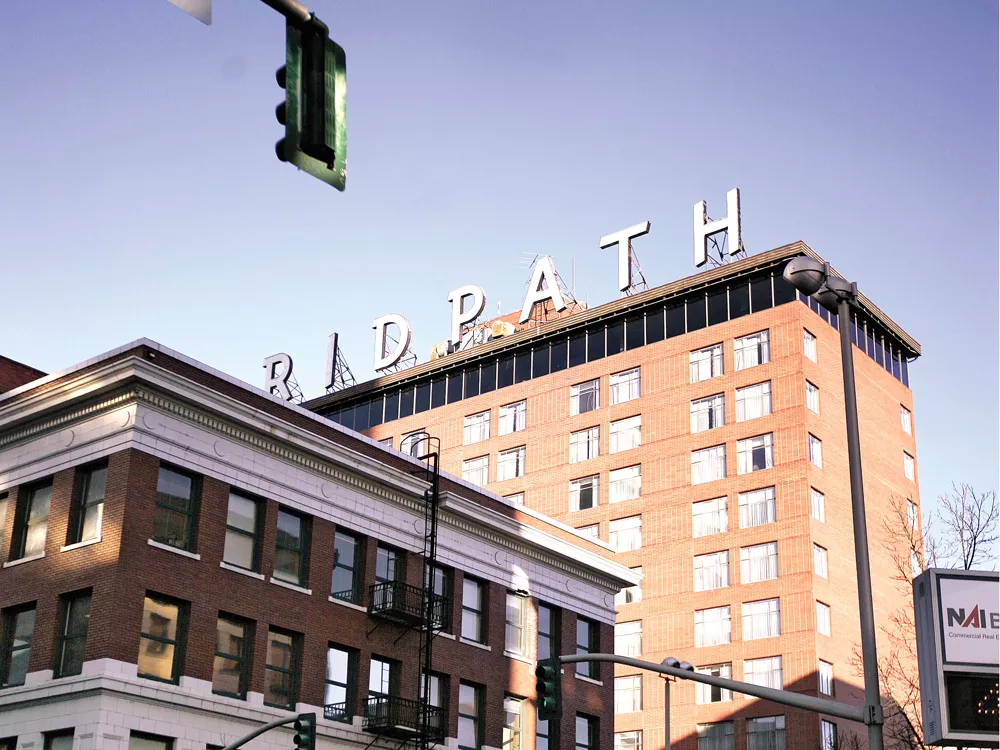 Watch Where You Pull That Thing
Voters looking for a distinction between two Spokane Valley legislative candidates have a new angle to consider: Which one will pull a firearm on a stranger?
Rep. Matt Shea, according to a Spokesman-Review report, pulled a handgun from his glove box last November and waved it at another motorist. Shea was charged by the city with one count of carrying a firearm in a vehicle and was order to pay a $75 fine. The charge will be officially dropped in January if he remains law-abiding.
According to the report, Shea let his permit for a concealed weapon "expire years ago."
Amy Biviano, a Democrat challenging Shea to his 4th District seat, says she's not the type of candidate to get all aggro at fellow passersby.
"I would be hard-pressed to copy that type of behavior," she says. "I don't think anyone could say that is appropriate behavior."
A day before the news broke, Shea's campaign posted an open letter on its Facebook page decrying attacks against him.
"Our founding fathers endured nothing less so what makes us think we would escape the ridicule and intimidation of those who will do anything to gain and maintain power?" stated the post.
Shea did not return requests for comment.
— JOE O'SULLIVAN

Unmasking Herself
An online commenter who was the subject of a controversial subpoena from an Idaho Republican official revealed her identity in a letter to a newspaper on Monday.
Linda Cook, a former campaign staffer for Republican congressional candidate Vaughn Ward, wrote that she is "almostinnocentbystander" in the Coeur d'Alene Press.
Cook is the subject of a defamation lawsuit by Kootenai County Republican Central Committee Chair Tina Jacobson over a comment made on the Spokesman-Review's Huckleberries Online blog using that moniker.
The comment suggested that Jacobson had stolen $10,000 from the committee by absconding with it in her shirt. Cook told The Inlander that the comment wasn't to imply that Jacobson was a thief, but to express her distrust of Jacobson's bookkeeping.
"If the intent is to stop the obstruction of information on the whereabouts of funds held in a nonprofit bank account, [and that] means that you're going to get sued, we'd better make sure the First Amendment stays strong," Cook says.
A Kootenai County judge earlier this month disagreed, ruling that the comment was probably defaming and ordering the newspaper to turn over the commenter's identity.
The newspaper announced on Monday that it would not appeal the judge's ruling.
— CHRIS STEIN
The Ridpath and the FBI
The Ridpath Hotel may have a few new interested parties: The U.S. Attorney's Office and the Federal Bureau of Investigation. One local businessman confirmed that he had been approached by both agencies and questioned about Greg Jeffreys, the controversial owner of several pieces of the hotel. The businessman showed business cards given to him by James Tilley with the U.S. Attorney's office, and FBI Special Agent Lisa Jangaard, an investigator who specializes in fraud.
Jeffreys, who did not return phone calls, lost the upper two floors of the building in a recent bank foreclosure, but sold two other pieces he partially owns to Buckhead LLC. (Buckhead LLC, based in Las Vegas, is also managed by Jeffreys.)
—DANIEL WALTERS
The Final Appeal (Someday)
The hearing on two appeals to save the Jensen-Byrd Building has been postponed until early October, though an exact date hasn't yet been decided. Representatives from WSU, Campus Advantage (the contractor hired to build a new building in the spot) and Spokane Preservation Advocates (the group filing the appeals) agreed to push back the hearing because the advocates are still gathering documents related to the plan, says SPA's attorney David Bricklin.
— HEIDI GROOVER