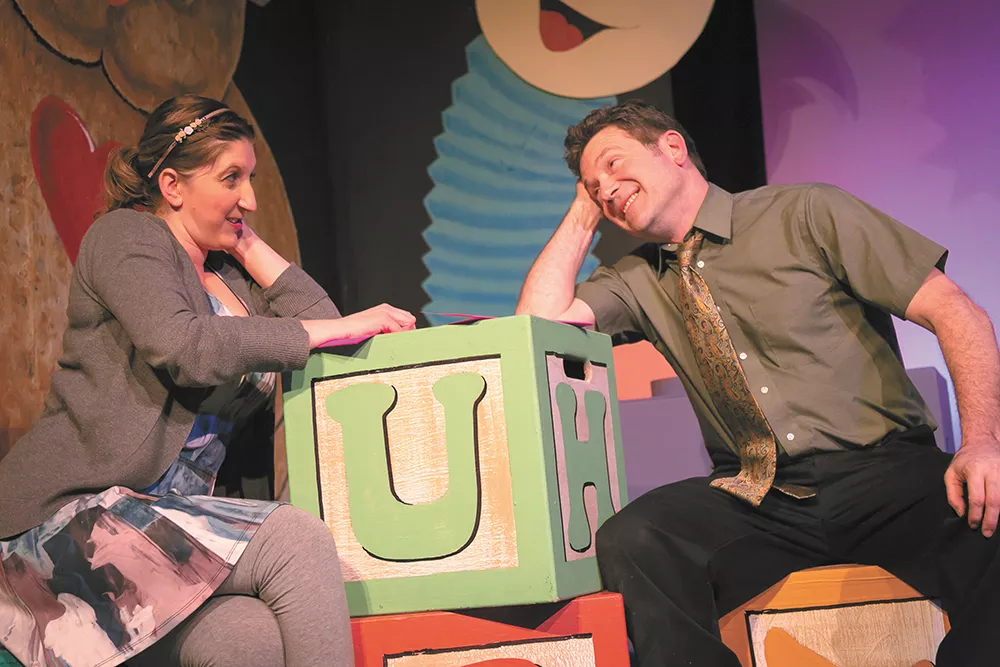 Matthew Harget's Maybe Baby is the product of The Modern's nascent playwright-in-residence program, which intends to bring the long-form work — as opposed to, say, the short pieces showcased in the Fast & Furious festival — of local writers to the stage as fully fledged productions. Prior to opening night, the play is workshopped with the help of cast and audience participation for the better part of a year.
Maybe Baby isn't a ringing endorsement of that process. Loosely based on his own experiences, Harget's play is about a couple trying to conceive. With the exception of one tiny plot twist that's telegraphed soon after "adoption" is mentioned, there isn't a great deal more. About 20 minutes' worth of material and garden-variety chuckles have been stretched and padded to fill just over an hour and a half.
The padding primarily takes the form of monologue. Maybe Baby isn't acted so much as it's recounted to the audience in the first person by George (Todd Jasmin), a life-insurance salesman and everyman who seems to have only a reluctant involvement with his own life. Between stretches of static narration there are vignettes incorporating four other cast members — George's wife Diana (Kristen Nauditt), his father (Gary Winterholler), his younger brother Chip (Brandon Montang) and a barista named Taylor (Aubree Peterson) — one of whom is all but superfluous. This format is similar to Wit, which played on this stage exactly two years ago, the major differences being that George is amicable enough and, however hard the script tries to find folk wisdom in selling life insurance, he has nothing particularly original to say.
There are other holes. The brief second act is little more than a reverse highlight reel of the first. Diana is contained by the fourth wall, that invisible barrier between actor and audience, until she suddenly isn't. The onset of her baby fever — a crucial moment for this play — is just as sudden and poorly developed. Had George and Diana narrated Maybe Baby from beginning to end as equal partners, it might have fleshed out their relationship through different perspectives while providing welcome sources of vitality and humor.
Director Hannah Paton shows some growth with this production; it's less of a free-for-all than last year's The Nerd. Jasmin deals adequately with the weight of his line load, yet his emotive emphasis is spotty. His pre-intermission closing line, for example, sounded more like an aside than a poignant act break. Jeremy Whittington's set of pastel-colored oversized baby toys is a visual treat, though it requires the actors to reconstruct chairs and tables repeatedly out of alphabet blocks. It's excess activity to mask the fact that not much is happening.
Couples who have struggled or are struggling to conceive might be glad to see their tribulations superficially reflected in George and Diana. But Harget's play is less successful at speaking to an audience beyond the obvious one. Though not without a tepid earnestness, Maybe Baby is anodyne, unexciting, disappointingly disposable stuff.♦
Maybe Baby • Through March 20; Thu-Sat, 7:30 pm; Sun, 2 pm • $20-$24 • The Modern Theater Coeur d'Alene • 1320 E. Garden Ave., Coeur d'Alene • themoderntheater.org