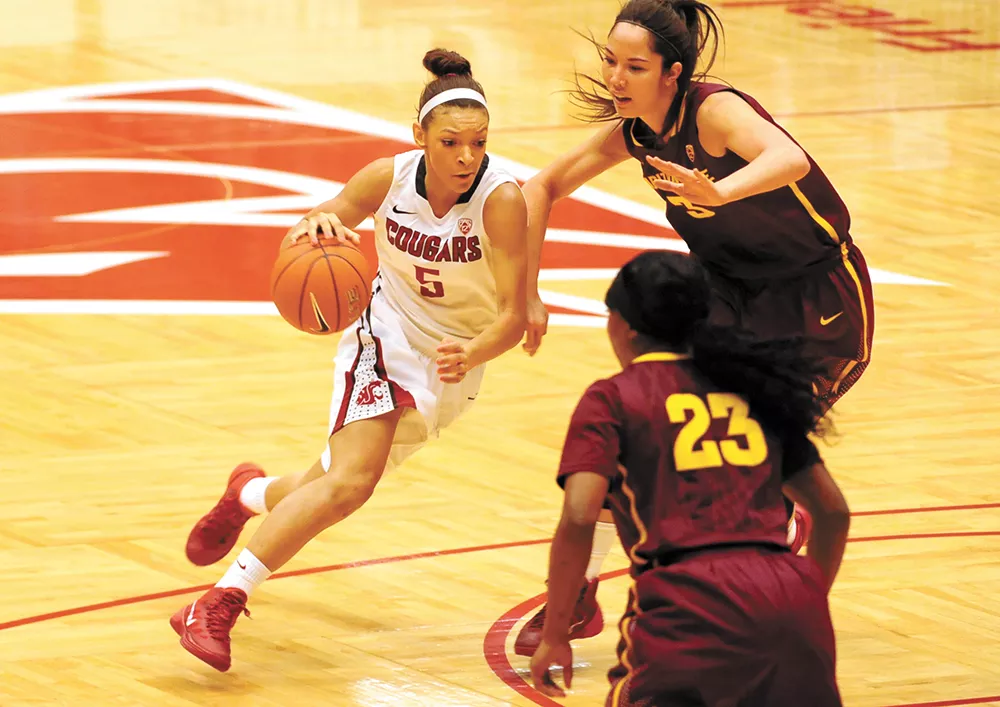 Most Washington State basketball fans only know scrappy Cougars guard Tia Presley as an athlete. A fearless, hard-nosed, relentless athlete.
It would be safe to say that most fans would be surprised to learn about the "other" Tia Presley.
"I'm pretty girly," Presley says, a huge grin pasted beneath mischievous brown eyes. "I like to do my hair. I like to sit at home and watch Netflix. I'll get hooked on shows and find myself staying up until 4 in the morning with practice at 7. I'm a big online shopper, too."
WSU fans are grateful that Presley is also a big scorer. The junior, a former Gonzaga Prep standout, has scored 32 points three times in the past six games. Her 18.9 scoring average ranks sixth in the Pac-12 Conference this season and third in school history heading into Thursday's first round of the Pac-12 tournament in Seattle.
"My teammates have so much trust in me to score, so they always get the ball to me in places that's easy for me to score," Presley says modestly.
Presley is shooting the ball more often and more efficiently than just about anyone in WSU women's basketball history. This prompts Presley to reveal another surprising fact about herself.
"Mom used to have to pay me to shoot," Presley says.
Presley was referring to her grade-school days, when she first played basketball.
"I remember being terrible," she says. "So bad. I remember not wanting to go in. Like, sitting on the bench: 'Please, don't put me in.'"
Mom's pay plan changed all that.
"Then you couldn't stop me from shooting!" she says with a laugh.
Presley shot herself to fame at Gonzaga Prep, where she was All-Greater Spokane League four straight years and set the GSL career scoring record that still stands. All of which resulted in surprisingly few scholarship offers, and not even a hint of interest from Kelly Graves, coach of the traditionally powerful Gonzaga Bulldogs.
"He just said, basically, I didn't fit his system," Presley says. "Which is fine. I'm happy here."
Presley, who picked WSU over Oregon State, acknowledges that recruiters had trouble judging her college potential because she often played down low as a 5-foot-7 high schooler. She remains surprisingly effective in the paint, even though the lean-bodied Presley says she's still just 5-7½ (despite being listed at 5-9) and 145 pounds.
"All the post stuff I learned in high school has actually benefited me in college," Presley says. "I'm able to post up against smaller guards. I'm crafty inside the lane. I can get to the free-throw line, and that's helped me."
Presley now plays her natural wing position after two injury-shortened seasons at point guard. WSU coach June Daugherty, who labels Presley "a fierce competitor," recalls how Presley reacted when she tore the anterior cruciate ligament in her left knee last January.
Quoting Presley, Daugherty said, "I will come back better than ever. I'll come back quicker, and I'll never wear a brace."
Presley's sterling play has been instrumental in one of the most impressive seasons in the traditionally sordid history of WSU women's basketball. The Cougars, bidding for their first winning season since 1995-96, are 15-15 overall (3-5 versus Top 25 teams) after finishing 9-9 in the Pac-12. A postseason berth is not out of the question.
"It's a great start to something big over here," Presley says, "but we're definitely not satisfied." ♦
Seventh-seeded Washington State (15-15) takes on 10th-seeded Oregon (15-14) in the opening round of the Pac-12 Conference tournament at KeyArena in Seattle. Thu, March 6, at 6 pm on Pac-12 Networks.