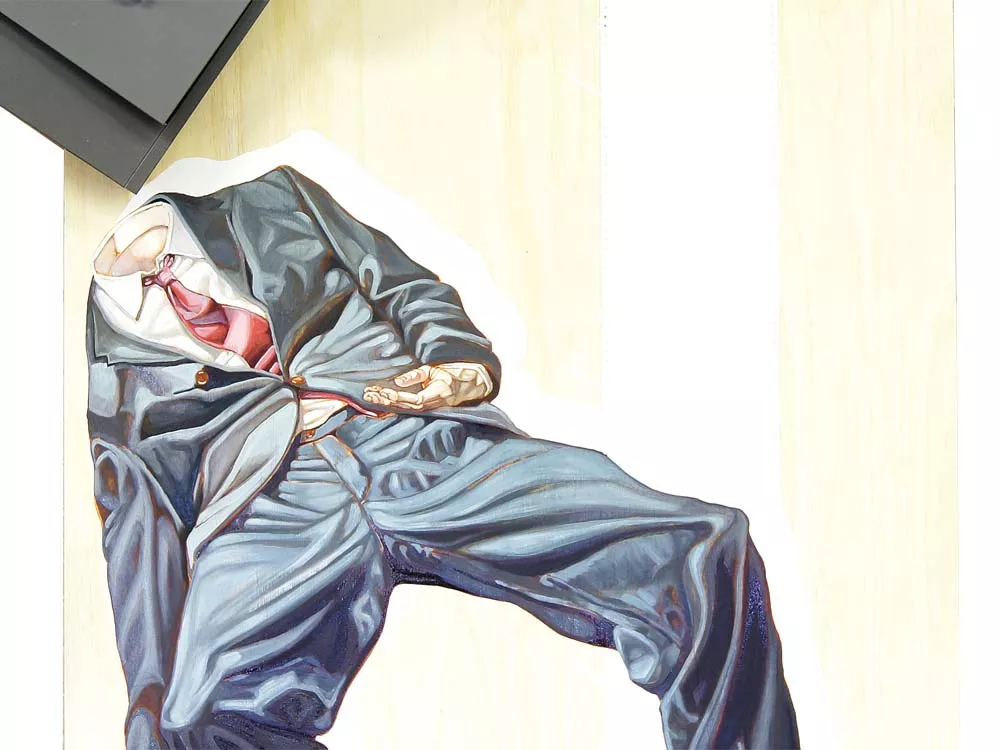 Sex trafficking and modern slavery aren't typical subject matter for artists, especially Coeur d'Alene's Mary Dee Dodge. She's better known for her brightly colored, whimsical works, often made with her husband and fellow artist, Allen. Yet her mind turned to the sex trade when interpreting the prompt "pleasure without conscience." It's one of Mahatma Gandhi's social sins that are the focus of the Human Rights Education Institute's new art installation.
Dodge resurrected the impact of a book she read, The Road of Lost Innocence by Somaly Mam, which detailed the Cambodian woman's escape from the Asian sex trade. On an eight-by-fourfoot panel, Dodge conjures images of an anti- Eden: A pregnant woman covers her head and belly in fear and Cerberus — the three-headed hound guarding the gates of Hades — binds women with chains made from snakes. Another woman submits but cries a river of tears.
Dodge's work is one of nine artist-made panels featured in "Peace Lives Here Now: A Challenge for the 21 st Century."
The exhibition serves as a backdrop for two years of community programming, which will explore the social sins originally put forth by Ghandi in a 1925 Young India article. Those seven sins became eight when Gandhi's grandson, Arun, later added "rights without responsibilities." (Arun Gandhi will be the keynote speaker for the annual human rights banquet in April.)
For artist Rhea Giffin, this last concept prompted a lot of soul-searching. In addition to the aesthetic challenges of working on a flat panel (Giffin is known for her meticulously constructed papier mâché sculptures), she found herself contemplating the impact of her art-making on the environment.
"Everything humans do affect something else," Giffin says.
On her panel, an elephant dozes on the branch of a feeble tree, clutching a tiny bird in its curled trunk. The tree stands alone in a forest of stumps, a city skyline just out of sight.
The exhibit has spawned ethical debates in middle school classrooms, too. "Science without humanity" was a challenge for Canfield Middle School's Marci Wing and her community arts
class. The several dozen inquisitive 11- to 14-year-olds discussed ethics and considered nuclear war and genetic engineering as topics before eventually focusing on the positive aspects of science.
"Even though they enjoyed the robot-takeover ideas," Wing says, the students chose to portray ideas "anchored in hope."
Young artist Austin Stiegemeier tackled "knowledge without character": in his panel, a headless businessman lies slack under a file
cabinet. In Barbara Pleason Mueller's "politics without principle," the names of important figures — Albert Einstein, Nelson Mandela, Maya Angelou — intermingle with photographs of historical injustices: concentration camps, chained slaves, gagged prisoners.
And yet in others, these messages sometimes take a different form: Allen Dodge's monochromatic "commerce without morality" features a villainous figure — like a bad guy from a Batman comic — floating among images of spilled oil, prescription drugs, weapons and, of course, money.

"Peace Lives Here Now: A Challenge for the 21st Century" • On display from Thursday, March 10 through December 2012 • Human Rights Education Institute • 414 W. Mullan Rd. • Coeur d'Alene • Open Mon-Fri, 9 am - 4 pm • Free • Artist's reception: Thursday, March 10, from 6:30-8:30 pm • hrei.org • (208) 292-2359