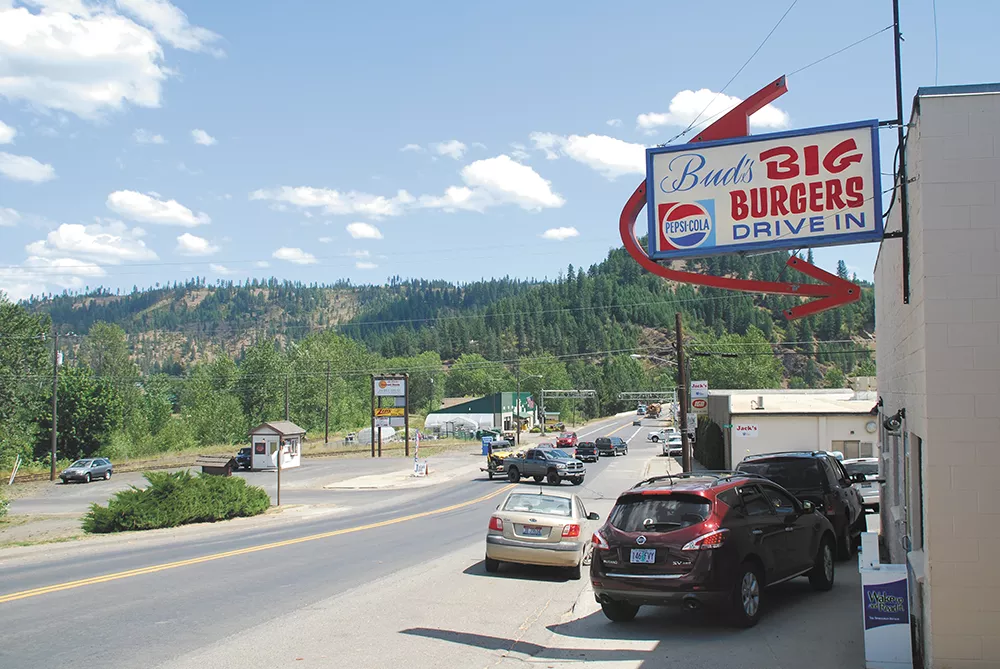 Enormous trucks packing loads of timber zoom past, one after the other, whipping around tight corners and navigating the narrow two lanes of Highway 5 with familiarity. On weekdays, residents of St. Maries, Idaho, are accustomed to the roar of the trucks their main industry sends out to distribute their most precious export. The timber industry was the lifeblood of St. Maries back when it was founded in 1913 and still is today, despite a disaster in 1961.
"I do remember the night that the old sawmill burned down," resident Kay Sather says. "That was a really big thing."
At the time, the St. Maries Lumber Company was the largest employer and biggest mill in the area. Its demise left people unsure of the future.
"A lot of people moved away, but luckily we didn't," Sather says. Her husband had been working at the mill but was fortunate enough to find a job the very next day. For Sather, that means 75 (76 this month) years of living in the rural town surrounded by conifer trees and the St. Maries and St. Joe rivers. She graduated from St. Maries High School in 1957, married her high school sweetheart, raised seven children and watched her eight grandchildren graduate from the exact same school.
"I just like the closeness of people. You know your neighbors, you know who your children [are friends with], you know the teachers, we know our elected officials personally," she says.
As the clerk auditor, Sather became quite familiar with elected officials, including State Senator Cy Chase. She recalls the time a person unable to pay overdue taxes came in while Chase was in the office.
"He just took some money out of his pocket and gave it to that person. I bet people don't know that," Sather says.
According to Sather, generosity is a town attribute. She volunteers her time helping with the Hughes House Museum and the Senior Meals Site program. Sather says that Paul Bunyan Days, the town's biggest event and a sight to see, couldn't happen without people donating their time.
"We have the biggest and best fireworks. They're better than Coeur d'Alene," she says, laughing. "There's a group in town that keeps it going. Just volunteers, like everything."
Go up one street from Main to College Avenue and you'll find St. Maries City Hall, a small building easily overlooked in comparison to the stately Benewah County Courthouse across the street. Inside, City Hall is quaintly simple, with two desks in the main room and four other rooms. City treasurer Celia Sibert occupies the desk nearest the door.
Sibert, a third-generation resident of St. Maries, knows the town as well as anyone. She recommends an old favorite for lunch — Bud's Big Burgers.
"They've remodeled it a little bit from the old Bud's, but their hamburgers are still the same way as Bud used to make them," Sibert says.
She frequented the joint as a kid and used to sit up at the soda fountain counter. "They always throw their hamburger in a sack to go, and you pick it up and the hamburger isn't on the bun. That's kind of like their signature hamburger."
Back on Main, Richard Schumacker listens to Ray Charles at the jewelry store he's owned for 37 years. Before that, it belonged to his father for 32 years. A woman walks into the shop and asks how much for the little plaque she's picking up.
"What did I tell you?" Schumacker asks. "Five?"
"Four or five," she replies.
"OK, we'll make it four!" Schumacker hands her change for a $20. During his 45 years in St. Maries, Schumacker has participated in multitudes of fundraisers.
"People here help each other, and it's way beyond anything that I've ever witnessed anywhere. I got this thing this week," Schumacker turns to grab a flyer. On it, there's a photo of a mom with an incurable, life-threatening disease. The flyer publicizes a fundraiser for her.
"It is not uncommon for many of the fundraisers to raise anywhere from $15,000 to $30,000 in one night, and it happens sometimes when the economy is not so good, but people find it in their hearts to do it."
When asked to explain the remarkable generosity, Schumacker is blunt.
"I think small towns have to do that," he says. "It's a great place to live, and I even hate to let the secret out, it's so damn good." ♦
---
ST. MARIES
Population: 2,402 in the 2010 census
On the map: 53 miles south of Coeur d'Alene
Annual event: Paul Bunyan Days takes place Labor Day weekend, and the town celebration includes a fireworks show and parade.
Notable names: Vernon Baker (1919-2010), the only African American World War II veteran, among seven honorees, who was still alive when he belatedly received the Medal of Honor in 1997. Clyde Edward Pangborn (1895-1958), the first person to fly nonstop across the Pacific Ocean, and the second person in the U.S. to "wing-walk" on a plane.