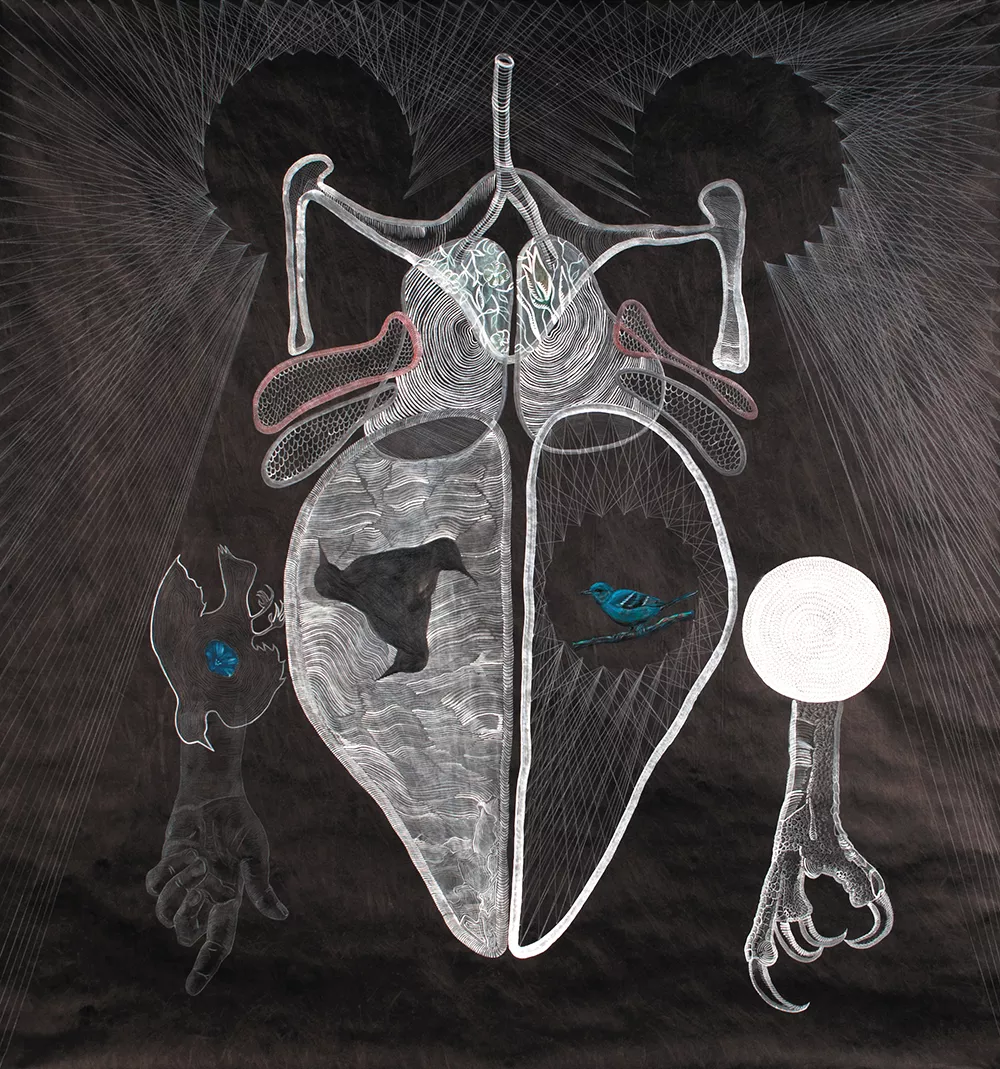 Ellen Picken was nervous about sharing her idea to highlight people of color for Spokane Arts' expanded arts showcase, the Visual Arts Tour, in February.
"I grew up here, and when I came back [two years ago], I saw that the art scene was really growing and there was so much energy, and people were doing things they'd never done before," she recalls. "But one thing that was really missing was diversity in the arts."
Inspired by programs in other large cities, Picken wanted to call attention to the Inland Northwest's diverse collective of artists who identify as a member of any cultural or ethnic minority. Even though her intentions were sincerely rooted in inclusivity, she still worried about being misinterpreted as patronizing or insensitive to the groups she sought to include.
"My pals were like, 'No, as people of color, we are not visible in Spokane,'" Picken says, continuing, "I had to get uncomfortable to discover this about Spokane."
She then set out to encourage local art venues to reach out to artists of color for this weekend's event. She emphasized not choosing artists based on their skin color alone, but also to consider the quality of their work, and if they'd ever had an opportunity to publicly show their art in Spokane.
"The point is to show the public and the venues and other artists that there are artists of color in our city, and they are available to show year-round," she explains.
While Saturate emphasizes artists of minority backgrounds, Picken made sure that other venues which were already booked for the month, or that couldn't find an artist who fit the event's focus, weren't excluded.
"I'm so proud of Spokane, I can't even believe it," Picken reflects. "We busted that myth" that the city is not diverse. "This is the truth — we have people here." (CHEY SCOTT)
---
SATURATE HIGHLIGHTS
Reservation X
Richmond Art Gallery, 228 W. Sprague
Feb. 2, 5:30-8:30 pm; Feb. 4, 10 am-9 pm; Feb. 5, 9 am-noon
What does it mean to be an artist in contemporary society? And what does it mean to be a Native American artist, particularly in the context of Western institutions? These questions are challenged in "Reservation X," whose title is a nod to a 1998 exhibition of contemporary Native American/First People's artwork that explored the power of place — life on and off the reservation — as well as the concept of community.
Hailing from the Columbia River Plateau, sisters Ryan and Carly Feddersen, both members of the Confederated Tribes of the Colville Reservation, and Lee Sekaquaptewa, from the Yakama Nation, bring fresh voices to the conversation about Native identity and community. Their employment of humor and pop imagery give the work a collectively lighthearted feel, while at the same time exploring complex, universal issues. (CARRIE SCOZZARO)
Boxed Out Bottled Up
Trackside Studio Ceramic Art Gallery, 115 S. Adams
Feb. 3, 5-8 pm; Feb. 4, noon-4 pm
Exhibition organizer Gina Freuen chose the show's theme to reflect those who are "boxed out" or excluded because of their race, religion, appearance or social status. The exhibition features 11 artists, some of whom interpreted the theme literally, others conceptually, like Chris Lamb's YouTube video, shot mostly in black-and-white with a pivotal scene in color. Meanwhile, Medical Lake artist Dennis Smith responded with "Blended," inspired by recent newspaper articles that featured people of varying ages, genders and ethnicities who positively impacted the community. (CARRIE SCOZZARO)
Drawn Away
Chase Gallery, 808 W. Spokane Falls Blvd.
Feb. 3, 5-8 pm; show runs through March 30, gallery open Mon-Fri, 8 am-5 pm
In "Drawn Away," six artists push the boundaries of drawing through unusual mark making, media, and content, simultaneously investigating what cultural identity is and is not. Korean artist Jeemin Kim, for example, explores the Eastern aesthetic through negative space, and the powerful presence of something expressed through its absence.
May Kytonen incorporates elements from her Taiwanese heritage — rice paper, paper lanterns, gold filament — sometimes assimilating them together cohesively, other times weaving them so that a single element speaks louder than the rest. (CARRIE SCOZZARO)
Rez Life
Philanthropy Center, 1020 W. Riverside
Feb. 3, 5-8 pm; Feb. 4, 10 am-4pm
Spokane tribal member Jeff Ferguson had already been organizing an exhibit depicting life on regional Indian reservations when he heard about Saturate.
"I think it's a wonderful thing for our city to be doing," says Ferguson, a photographer/videographer who has coordinated several local events featuring Native American art and artists, including last fall's One Heart Native Arts & Film Festival.
Ferguson chose artists for their ability to depict the beauty, complexity and harsh realities of reservation life. One of his own photos, for example, is of an old pickup truck surrounded by refuse, including bug-ridden mattresses donated by hotels, outside the home of a tribal elder who passed away shortly after the image was taken.
"Rez Life" also features the work of photographer and filmmaker Bob Charlo, of the Kalispel Nation, and Colville tribal members Diane Covington and Cheryl Grunlose. (CARRIE SCOZZARO)
---
MORE SATURATE EVENTS Events featuring artists of color are denoted with an asterisk. For more details, visit spokanearts.org/saturate.
*Avenue West Gallery, 907 W. Boone
Robert Lloyd and Denise Robertson; Feb. 3, 11 am-6 pm
*Auntie's Bookstore, 402 W. Main
Reading by poet Robert Lashley; Feb. 4, 7 pm
*The Bartlett, 228 W. Sprague
Art by Christopher Malsam; Feb. 3, 5 pm-midnight
Barrister Winery, 1213 W. Railroad Ave.
The Best of Art Spirit Gallery; Feb. 3, noon-10 pm; Feb. 4-5, noon-5 pm
*Blue Door Theater, 815 W. Garland
Art by Shantell Jackson; Feb. 3, 5:30-7:30 pm
*Bistango, 108 N. Post
Music by Kosh; Feb. 3, 3 pm-2 am
Bozzi Gallery, 221 N. Wall
Tom Quinn; Feb. 3, 5-8 pm
*Cougar Crest Winery, 8 N. Post
Art by Amy Alicia Charbonneau; Feb. 3-4, 12-8 pm; Feb. 5, 2-6 pm
Dean Davis Photography, 216 W. Pacific
Julie Gautier-Downes; Feb. 3, 5-10 pm
Dodson's Jewelers, 516 W. Riverside
Victoria Brace; Feb. 3, 5-8 pm
Echo Boutique, 1033 W. First
Emily Flynn; Feb. 3, 5-8 pm
Free People, 865 W. Main
"La Primavera" by Michaelanne Foster; Feb. 3, 5-9 pm
Express Employment Professionals, 331 W. Main
Landscape photography by Tim Connor; Feb. 3, 5:30-8 pm
Garageland, 230 W. Riverside
"Intersections" by Grace Larson and Brittany O'Neal; Feb. 3, 11 am-2 am
*Iron Goat Brewing, 1302 W. Second
"Música, Emoción y Color" by Nic Vigil; Feb. 3, 5-9:30 pm
*Jundt Art Museum, 200 E. Desmet.
"Images About the American West"; Feb. 3, 5-9 pm
*Kolva-Sullivan Gallery, 115 S. Adams
Ric Gendron and Karen Mobley; Feb. 3, 5-9 pm
*Kress Gallery, 808 W. Main
Art by Central Valley High School students; Feb. 3, 5-7 pm
Liberty Ciderworks, 164 S. Washington
Frank Knapp; Feb. 3-4, 4-9 pm; Feb. 5, 1-6 pm
Marmot Art Space, 1206 W. Summit Pkwy.
Mixed media sculpture by Michael Dinning; Feb. 3-4, 5-9 pm
New Moon Gallery, 1326 E. Sprague
"Adornments" group show; Feb. 3, noon-9 pm; Feb. 4, 11 am-5 pm
Pottery Place Plus, 203 N. Washington
Hannah Raper and Sheri Queen; Feb. 3, 10 am-9 pm
*Saranac Art Projects, 25 W. Main
"Desire Lines," curated by Rachel Smith and featuring Nicole Pietrantoni, Juventino Aranda, Stasia Burrington, Remelisa Cullitan. Feb. 3, 5-8 pm
Saranac Commons, 19 W. Main
"Abstract Workings" by Jason McKinney. Feb. 3, 5-8 pm
*Skywalk, at 221 N. Wall
Installation by Aziz Jamal, Olivia Evans, Jennifer Acevedo Nunez. Feb. 3, 5-9 pm
*Spark Central, 1214 W. Summit Pkwy.
An interactive event with A.M. Darke. Feb. 3 at 5 pm
*Spokane Art School, 811 W. Garland
Ric Gendron; Feb. 3, 5-9 pm
*Spokane Library, 906 W. Main
Salik + Friends; Feb. 3, 5-9 pm
*Terrain, 304 W. Pacific
"Range" by Heather Hart; Feb. 21 to May 14
*William Grant Gallery, 1188 W. Summit Pkwy.
"Landscapes and Wildlife" by Crystal Martin; Feb. 3, 5-8 pm; Feb. 4, 10 am-4 pm