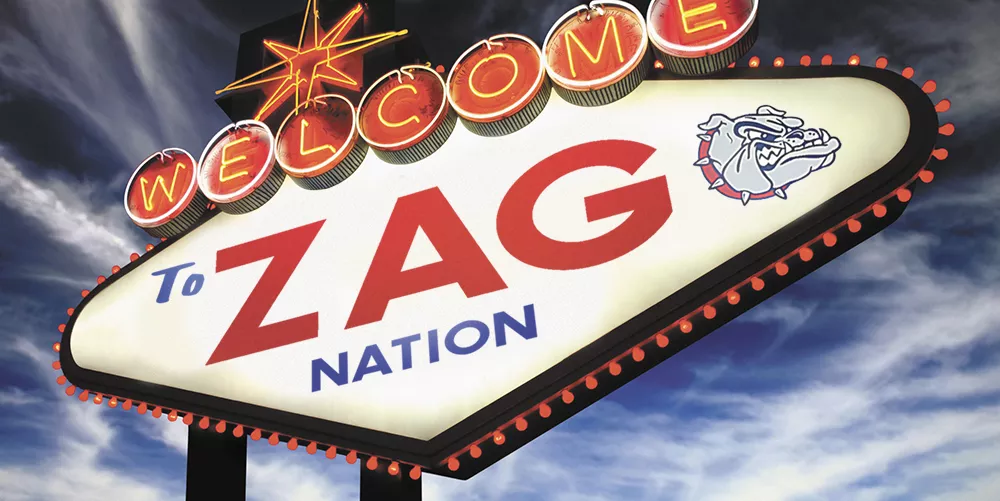 No West Coast Conference campus lies as far from Las Vegas as that of Gonzaga. Yet for one week each March, Sin City may as well be Spokane South.
Since 2009, the West Coast Conference tournament has been held at the Orleans Arena, about a mile west of the Las Vegas Strip. This weekend, both the men's and women's Gonzaga teams head to Vegas as the top seeds in the tournament, and you can count on fans following them down there. Last year's championship game, between Gonzaga and BYU, drew 1,900 more fans than Gonzaga's final home game of the season, also against BYU, on Feb. 28.
"I wouldn't say it's as good as the McCarthey Athletic Center, but I would call it the Las Vegas Kennel," says Gonzaga season ticket holder Ellen Klohe.
Klohe is one of the many Gonzaga fans who make the yearly trip south, a tradition she has taken part in each year since the WCC settled on the Orleans Arena as the site of its tournament.
"Zag Nation really turns out," Klohe said. "The arena isn't so big that you don't have a great fan experience. You get the intimacy of this crowd that is there going crazy."
That crazy crowd isn't quite the same as it is when the Zags play here in Spokane. The most obvious difference is the travel-sized, TSA-approved version of Gonzaga's student section, the Kennel Club. At home games the Kennel Club stretches from one basket to the other, loudly dominating the arena's north side. In Las Vegas, student sections are limited to the triangular slivers extending from behind each basket.
With fewer seats set aside for students, the opportunity arises for those not lucky enough to find a way into the always sold-out McCarthey Athletic Center.
"We've got lots of friends who have gone over the years," Klohe said. "They're not season ticket holders, so they make the trip because they know it's a way they can see the Zags play."
Getting a chance to see Gonzaga isn't easy. Of course, there's the annual Battle in Seattle at KeyArena and the yearly Zags-Pilots conference matchup in Portland. But those are just single-game events. The WCC tournament is a college basketball fan's paradise — located technically in Paradise, Nevada.
Not only do fans get anywhere from one to three Gonzaga games, but the die-hards can take in say, Santa Clara vs. Loyola Marymount, or do some advance scouting on Saint Mary's or BYU.
"The other schools simply don't travel as well," Klohe said. "In fact, for some of those games there are more Gonzaga fans than fans of the teams playing."
Gonzaga fans do travel well, and this weekend in Las Vegas they'll be out in full force. If you plan on interacting with one on the street, be warned that the social customs aren't the same down there.
"There are lots of fans all over Las Vegas," noted Klohe. "When you're walking around, you just look for people who have their Bulldogs apparel on. You don't say 'Hi!' You say 'Go Zags!'"
Zags fans near and far can take pride in their high level of support, because it helps.
"It means a lot to us to have that kind of support and help us out to get the win, hopefully," former Gonzaga forward Elias Harris said during the 2013 WCC tournament.
Coming off a loss on senior night, this is a team that needs to get a win. ♦
Gonzaga's first men's game is Sat, March 7 at 6 pm against the Pacific vs. San Francisco winner (ESPN2). The Zag women play Fri, March 6 at noon against the Loyola Marymount-Pepperdine winner.