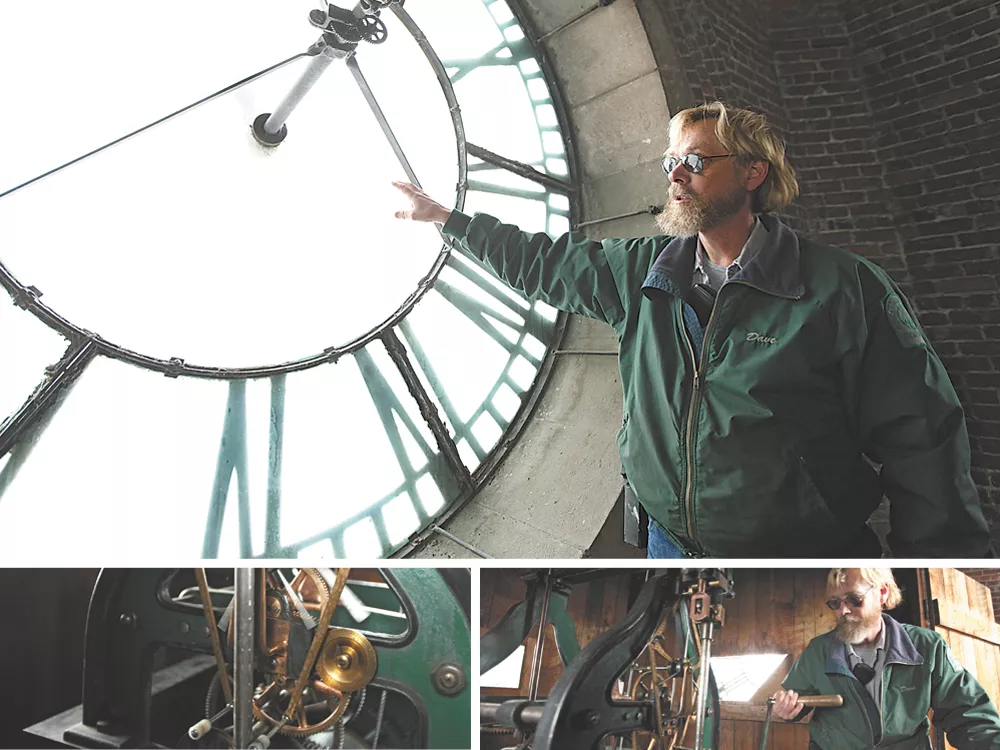 High above the heart of Spokane, the city's timekeeper fits a crooked handle into place among the gears of the 110-year-old clock. A steady clicking sounds through the tower as Dave Randolph ratchets several dusty counterweights up to the ceiling.
"Every Wednesday, it's 99 turns," he says. "You just want to be careful you don't overwind it."
His blond beard going gray at the chin, Randolph, 53, has tended Riverfront Park's clock for more than half his life. Dwarfed by immense clock faces on all four sides, he eases the crank handle to a stop and sets the tension against the gears. The intricate steel and bronze clockwork spins round, quietly ticking away.
The 155-foot tower had stood over the Great Northern Railroad Depot for 70 years before the station was eventually demolished. Thousands of travelers — industrialists, homesteaders and tourists — had crossed below it. "They called it," Randolph says, "the most grand depot west of the Mississippi."
Its last remaining visitor, Randolph climbs alternating ladders and stairs to the top of the tower every week, 113 rungs and stairs in all, he notes proudly. He cranks the handle another 99 times. Without him, the clock would slow after just eight days.
Randolph wound the clock through the early years of his marriage. He greased its gears as his two boys grew into fathers with children of their own.
When a cancer diagnosis threatened to cut his time short, Randolph found renewed purpose. Whether scrubbing off spray paint or sweeping leaves, he pushes his co-workers to take pride in what they will pass to the next generation. He arrives early and works hard. His time is precious.
"It makes you appreciate every day of your life," he says.
From the top of the tower, Randolph can gaze out across the ever-changing streets of downtown and the low hills beyond. Faded graffiti stains the nearby brickwork. But in one archway, he points to where the original masons carved their initials.
"It ran before I got here and it will run after," he says. "My job is to make sure it runs while I'm here."
Click here to view even more photos of the landmark clock.