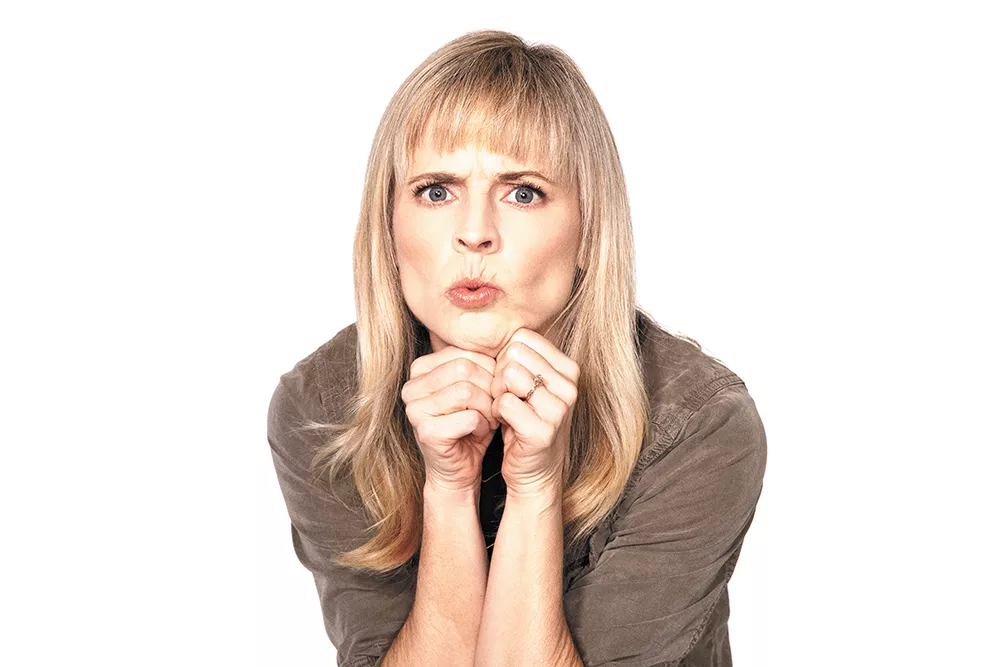 Thirty years after first getting on stage to try stand-up comedy, it's safe to say Maria Bamford's had the kind of career most comics dream of.
Bamford starred in a sitcom, Netflix's delightfully surreal Lady Dynamite, based loosely on her real life. She's toured the country as a headliner and with friends and peers like Patton Oswalt, Zach Galifinakis and Jackie Kashian. Shows like Arrested Development and the animated Adventure Time have tapped her for guest spots and voice work thanks to her incredibly pliable way with accents and characters. And she's done several stand-up specials for the likes of Comedy Central and Netflix while winning the American Comedy Award for "best club comic" a few years back.
Despite all that, Bamford says the confidence to go on stage and deliver jokes to an audience, as she will Sunday at Spokane Comedy Club, remains something that "comes and goes."
"I still can have an off night and think, 'Oh, gosh, I am not sure if I'm doing this properly," Bamford says in a call with the Inlander, a 20-minute conversation in which the Duluth-raised 49-year-old personifies the concept of "Minnesota nice."
I've seen Bamford perform probably five times over the last 15 years, and I can't imagine what an "off night" looks like. While many know about Bamford's struggles with depression and anxiety that fuel many of her stories and jokes, on stage with a microphone in her hand she is masterful in bouncing between personal anecdotes and voicing characters like judgemental Midwestern beauty queens or, seriously, a pterodactyl.
The way Bamford tells it, getting into stand-up was a means of taking control of the scenes in her head that often left her scared back before years of therapy and "fantastic meds" helped her out.
"I think the reason I did stand-up was because I had pretty intense OCD, and I preferred being by myself. So stand-up was perfect for that," Bamford says. "It's a real feeling of control. You're up in front of everybody. Everybody's paying attention. Everybody wants you to do well, at least for the first 30 seconds ... I found out through doing sketch and improv that [stand-up] was very satisfying because I could write all my own material, do anything that I wanted to talk about, and I didn't have to wait to be given a role. That is very freeing."
Bamford's taken that freedom to hilariously far-reaching degrees in her recent stand-up specials. In The Special Special Special, Bamford performs her hour set in her living room — to an audience of just her two parents. In Old Baby, she performs hit-and-run stand-up sets to unsuspecting "audiences" on park benches, in bowling alleys and in bookstores.
Both specials are streaming on Netflix, as are Lady Dynamite's two seasons that earned Bamford critical praise and the kind of mainstream attention she hadn't seen since she was the shopping-obsessed "Target lady" 10 years ago for a couple of Christmas commercial campaigns. While she didn't write the show, her life figured prominently in the episodes' plots. She looks back fondly on Lady Dynamite, but probably won't do something like that again.
"It was the best it could have possibly been," Bamford says. "Television, the way it's done is extraordinarily long hours, and a lot of work. And I'm not trained to be an actor, so to memorize and have all those lines, and having to be the main person, it was a little bit beyond what I'm capable of doing. I think I'm better as a guest star, just in terms of me having a good life."
For Bamford, the good life remains doing stand-up. She's an evangelist for the form; her husband started doing open-mics after they got married in 2015, and she encourages her interviewer to try it. And compared to her time spent doing TV, stand-up is a perfect outlet.
"What do you want to spend your day doing?" Bamford asks. "That's another reason to do stand-up! It's two hours a day, tops! The rest of the day you can lie down." ♦
Maria Bamford • Sunday, Sept. 8, at 7 pm • $30 • 21+ • Spokane Comedy Club • 315 W. Sprague • spokanecomedyclub.com • 318-9998