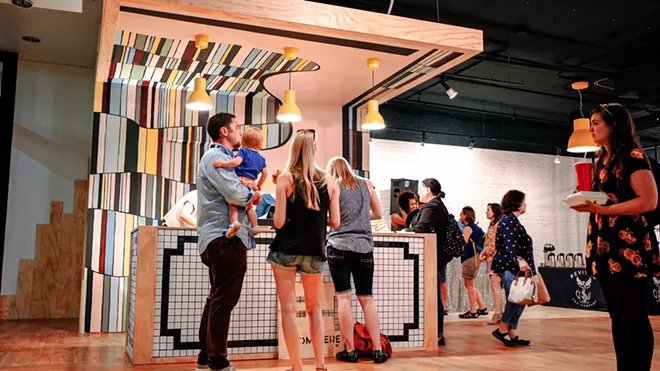 T
he Terrain retail storefront
, which was previously housed in the Steam Plant, has officially moved to a larger and more permanent location in River Park Square.
With a new location comes a rebranding. Formerly called Terrain's Pop Up Shop, the new store is named From Here, which represents the locality of its goods. Every item for sale within the store was either designed or created by hand in the Spokane region.
Kimber Follevaag is a local artist whose fiber art is featured in the shop. She creates hooked rugs, hand-stitched greeting cards and stitched leather hot pads, among other fiber art items.
From Here has been open in its new home since June 12. Since its opening, Follevaag says the biggest difference she has noticed is sales.
"I sold more cards in three days than I did in a whole year," she says.
She also says she has noticed a larger variety of art being featured, and a larger variety of potential buyers browsing the shop.
From Here offers goods of all sorts, shapes and sizes. Everything from jewelry, body care, embroidery, ceramics, candles and clothing are being featured in the new space.
"The great thing about this location is that there's more people seeing it," Follevaag says. "They might not necessarily be looking for [local art] but they stumble upon it."
The new storefront, which is found upstairs near Urban Outfitters, is seven times larger than their previous shop location. With this new space Terrain hopes to be able to inspire more local artists and art lovers than they ever have before. They will also be able to increase the types of art found in the store.
Terrain is a Spokane-based nonprofit that aims to build the art scene in Spokane. They host art-focused programming and events which promote local artists, with the goal of building community.
From Here does not have an online store as of now, but its website lists all of the artists it features and includes links to where the artists may sell their goods online.
"The best thing about [From Here] is that I feel like I am contributing in a positive way to how consumers get their products and how [artists] sell them," says Follevaag. "We don't have packaging, it's not all expensive, they're not trendy items that will get thrown away in a month. We're selling keepsakes."
From Here is open Monday-Saturday 11 am-7 pm and Sunday 11 am-6 pm.