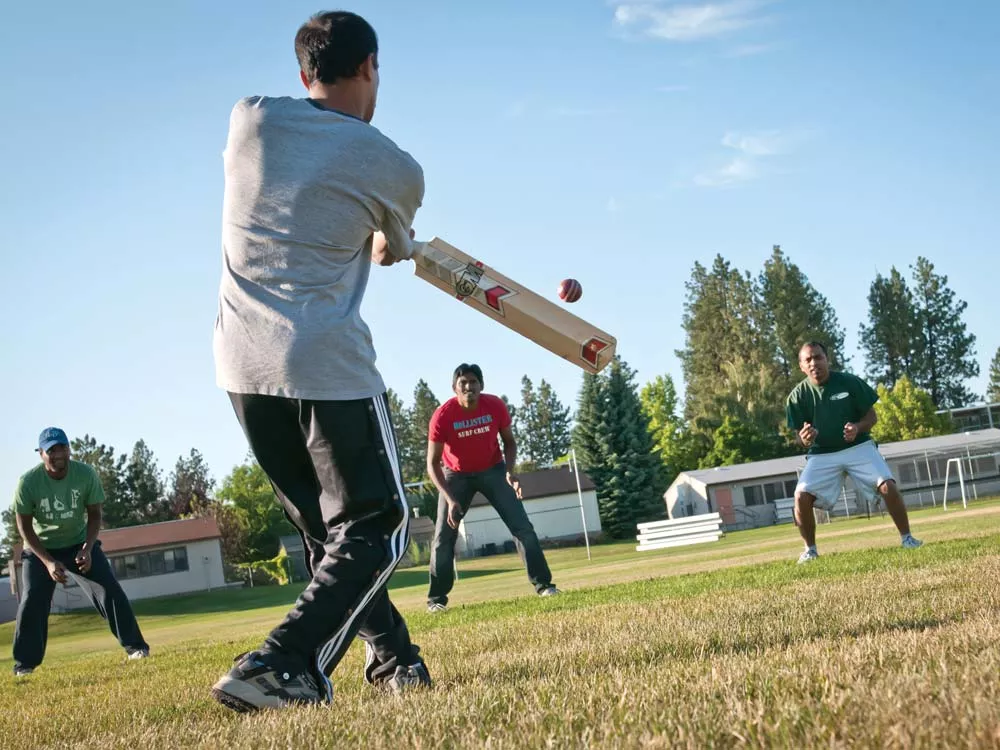 If you squint your eyes a little, the scene at the Ferris High School practice field on a fresh summer evening last week looked as American as breakfast cereal.
Behind the baseball field, four young guys in T-shirts and running shoes do drills in the green grass. They take turns hitting pop flies while the others in the field crane their necks upward, swaying as they peer up into the blue sky and then — slap — receive the balls out of the sky. "Niiiice catch, boy," one calls out after a fielder dives to the earth to seize a hard-hit drive before it touches the ground. The fielder gets to his feet, shaking the sting out of his palms.
The oofs and ahs, the laughter and jibes, the fresh smell of cut grass — it's achingly familiar to anyone who ever sweated out a Little League season in left field.
But these guys at Ferris aren't the Saxon bench-warmers. They're the Spokane Spartans, a team of Indian men devoted to the game of cricket, a pastime followed intensely by hundreds of millions worldwide but mostly ignored in the United States. The team, only three years old, plays in the second division of the Northwest Cricket League (part of the USA Cricket Association) against teams like the Seattle Pioneers and the Microsoft Crimsons. They drive to the west side frequently in their own cars, and then play — for no pay — in the hot sun for seven hours before heading back home.
"When I first started, and we had just driven five hours to Seattle," says Dinesh Yemul, "they told me I had to go stand out in the field for three hours, [and] I was, like, 'What?" Yemul, 32, who joined the team last year, played the game as a boy growing up in Mumbai — every boy there does, he says — but he had no formal experience before he tried out for the Spartans at one of these Wednesday-night practices. The same is true for most of the players (though a couple have semi-pro experience). By day, Yemul helps develop hydrogen cells as a scientist with ReliOn in Spokane Valley. His teammates, he says, all hold down day jobs as software engineers, doctors, accountants. They range from 16-year-old Vivek Jayaram to his 50-year-old father.
"Some are getting married, some are still bachelors, some have older kids," Yemul says, noting that the diversity of ages, lifestyles and hometowns can make it hard to keep a cohesive team together. "Last year, I played almost every single game. This year, my situation changed, because I had a baby two weeks ago. So now I've been only to one game."
The young team faces other challenges, too. Last year, they built a proper pitch (the hard-surfaced area where the batter and bowler face off) at Underhill Park in east-central Spokane, but continuing construction there has forced them to scramble for places to meet. The Ferris field works, but it's less than ideal for the sport, and they can't always get access when they need it. (They sometimes end up taking batting practice at local batting cages, angling the baseball pitching machines down to get a good cricket bounce.)
On top of this, they're struggling to market themselves to the Spokane community. Their Facebook page is bare-bones, and their website has frequently provided incorrect or out-of-date information. Plus, Spokane is likely unfamiliar with the rules of the game and may not take to the all-day style that the Spartans play. (The other versions are "test" cricket, which can last days, and an emerging style called Twenty20, which is more akin to the length of a baseball game, lasting around 3 1/2 hours.)
Still, they're trying. This Saturday's game against the Redmond Colts will be their first home game of the season. And on July 31, they will host a "cricket picnic" at Mirabeau Meadows in the Valley, where they will give lessons and offer visitors an Indian buffet. Last year's picnic brought over 100 people out, says Yemul.


On this night, though, it's just four guys standing in a damp field, taking swings. Sankar Piramanayagam, 28, wearing thick shin guards, heavy gloves and a helmet, stands in front of a gear bag that, tonight, is serving as a temporary wicket — the set of three sticks that batters try to protect and bowlers try to knock down. Hrishi Joshi, about 40 yards away, takes a kamikaze run toward him and whips a deft overhand bowl in Piramanayagam's direction, skipping the hard leather ball off the ground about halfway there. Piramanayagam knocks it into what, in baseball, would be left field. If this were a real game, he'd dash to the opposite wicket and back, hoping to thus score a run before a fielder threw the ball into his wicket.
But this is just practice. Not only that, but it's four-man practice, meaning Yemul, as the sole fielder, has to chase it down himself. The next ball, too. And the next one. Joshi delivers one ball that bounces so wickedly it gets past Sankar's bat and pops him in the solar plexus. He doubles over and wheezes, an embarrassed grin on his face. "Sankar!" Yemul yells from the outfield. "All that fat is helping you!" Fifteen minutes later, Yemul takes over bowling duties and notches the first "out" of the hour-long scrimmage, whiffing his batter and thumping the ball into the gear-bag wicket behind.
All four men erupt with excitement. "Finally!" The pace of cricket is indeed slow. But the Spokane Spartans are just picking up speed.

The Spokane Spartans' first home game of the season • Sat, July 23, from 11 am to about 6 pm • Ferris High School • 3020 E. 37th Ave. (field is due east of baseball field, down Thurston Avenue) • Free
Spokane Cricket Picnic and Fundraiser • Sun, July 31, 10 am-4 pm • Mirabeau Meadows • On Mirabeau Parkway north of the YMCA in Spokane Valley • $10