NOSTALGIA REIMAGINED
The revamping of Riverfront Park's historic LOOFF CARROUSEL continued recently with the debut of a new ring toss system, complete with motion-sensor lights and a bell that goes off when you hit the target's center. The system, designed and donated by staff of the Spokane software development firm IntelliTect, debuted last month. It was created to improve the experience of riders' with good aim, and to make it more fun for first-time riders alike. IntelliTect's engineers wanted to recreate fond childhood memories of seeing lights flash and hearing celebratory sounds when successfully tossing the rings on target so that future generations could enjoy the experience in a new and enhanced way. Learn more at riverfrontspokane.org (SUMMER SANDSTROM)
---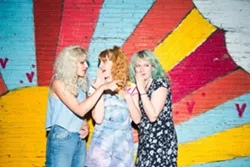 PUNKS PUT ON ICE
Perhaps the only thing funnier than the Seattle Kraken inexplicably asking WHO IS SHE? to be their in-house band for three games in January is the group basically getting fired after the first night. The silly Seattle pop punk supergroup consisting of Robin Edwards (aka Lisa Prank), Bree McKenna (Tacocat) and Julia Shaprio (Chastity Belt) don't exactly scream JOCK JAMS!, but they apparently ran afoul of Climate Pledge Arena management and got the boot for daring to sing that Jeff Bezos is a "jerk" as part of "My My Orca Card," the band's localized rework of the LeTigre's "My My Metrocard." Extremely punk rock. Last week, Who Is She? went ahead and recorded "My My Orca Card" as a single and has an album slated for later this year. If thin-skinned billionaires don't want you to hear it, you know it's good. (SETH SOMMERFELD)
---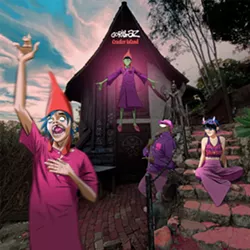 THIS WEEK'S PLAYLIST
Noteworthy new music arriving in stores and online on Feb. 24.
GORILLAZ, CRACKER ISLAND. On its eighth album, the world's premiere cartoon band enlists a very real list of star guest performers ranging from Stevie Nicks to Bad Bunny to Beck.
MODEL/ACTRIZ, DOGSBODY. The Brooklyn band releases its debut LP, one full of edgy and unnerving art punk noise.
DEATH VALLEY GIRLS, ISLANDS IN THE SKY. The LA psych-garage rock outfit takes a spacey trip filled with self-discovery and infectious riffs. (SETH SOMMERFELD)