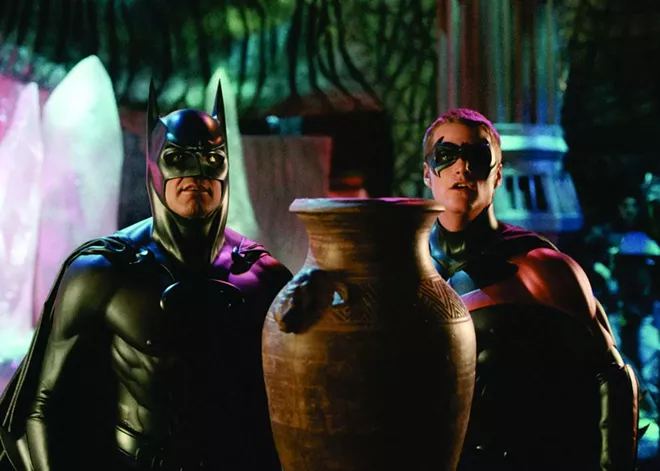 Comic-book movies are experiencing a superhero fatigue cycle of suck. DC's Black Adam, Shazam! Fury of the Gods, and The Flash are all hot garbage, and Marvel's Doctor Strange In the Multiverse of Madness, Ant-Man and the Wasp: Quantumania, and ... oof ... Morbius... don't smell any better. Hey, it happens to the best of bloated media conglomerates, and this isn't the first time. Remember these epic fails from comic-book cinema past?
THE SPIRIT (2008)
Director Frank Miller copy-and-pasted the high-contrast style of Sin City for his adaptation of Will Eisner's classic comic strip The Spirit well enough, but he forgot a script. Ghostly Central City crimefighter The Spirit (Gabriel Macht) and a stacked cast of actors are left adrift in black-and-white nonsense with little else to do except look cool, but not all is lost: The sight of future Marvel partners Samuel L. Jackson and Scarlett Johansson in Nazi supervillain regalia is almost worth it.
SIN CITY: A DAME TO KILL FOR (2014)
Having learned no lessons from The Spirit, Miller went back to the inkwell in 2014 with Sin City sequel A Dame to Kill For. The best that can be said for the performances of returning Sin City actors Mickey Rourke, Jessica Alba, and Bruce Willis is that they, well, showed up. On the other hand, titular Dame to Kill For femme fatale Eva Green goes over-the-top-of-the-top while exercising what appears to be a maximum nudity clause in her contract.
DICK TRACY (1990)
Warren Beatty's Dick Tracy was supposed to be the box-office successor to 1989's megahit Batman, right down to the Danny Elfman soundtrack and the aggressively obnoxious (even by today's standards) McDonald's merch tie-ins. There isn't much below the hyper-colorful surface of Dick Tracy besides an overstuffed rogues' gallery of bad guys and the slim thread of hope that Madonna might finally learn to act (nope), but what a surface it is for a mere $57 million loss.
ELEKTRA (2005)
Someone actually looked at the half-assed production and whole-assed critical/commercial rejection of 2003's Daredevil and thought, "We need a spinoff with that minor character we just killed. What's her name? Shasta?" Hence Elektra, the most inessential follow-up since whichever Kardashian sister came after Kim. Star Jennifer Garner has the physicality, but none of the loner-assassin grit required here — and what's with the "stealthy" neon-red bustier?
HOWARD THE DUCK (1986)
Was Howard the Duck the first Marvel movie? It was definitely the first Marvel movie to get everything wrong. As a 1970s comic book, Howard the Duck was a densely written and lushly illustrated psychological mind-effer that somehow infiltrated supermarket rack spinners. All the movie delivered was a dwarf in a cheap costume and roughly 578 duck-dick jokes at the expense of Lea Thompson. Thank Guardians of the Galaxy for semi-rehabbing Howard's film image.
BATMAN & ROBIN (1997)
Bat nipples! Infamous "franchise killer" Batman & Robin had more going against it than visible goth nips, like stars George Clooney and Chris O'Donnell not being informed that B&R was a full-tilt camp comedy as Arnold Schwarzenegger and Uma Thurman clearly were. Thurman in particular lives her best villainous life as Poison Ivy, playing to the cheap seats with purring glee. Meanwhile, Alicia Silverstone's Batgirl is only here to fill out a pleather suit and a Taco Bell collector cup.
THE PUNISHER (2004)
If Jon Bernthal hadn't nailed the character of Frank Castle/The Punisher so perfectly in the 2015-2019 Daredevil and The Punisher TV series, maybe the 2004 movie starring Thomas Jane would hold up better. But probably not. This is just a glum, you-killed-my-family revenge slog featuring another ridiculous John Travolta villain (sorry, you can't top Swordfish). Also, this Punisher would never inspire tough-guy window stickers on jacked-up Fords accessorized with Truck Nutz. ♦