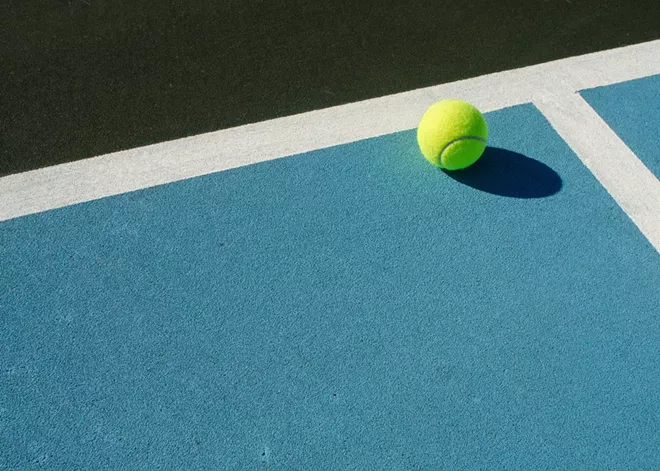 Tennis is my favorite sport.
Tennis is a very dumb sport.
I hold both these thoughts in my mind constantly, spinning them around like Baoding balls that occasionally clank into one another.
On one hand, tennis can be an incredibly accessible sport, with public courts dotting city parks, and can be played in the fresh, open air into old age. You don't need to assemble a team to play — just one opponent will suffice. It's a hybrid of aerobic endurance, anaerobic burst, mental toughness, power, grace and artful ingenuity (See: Federer, Roger).
But at the same time, it can be a completely inaccessible sport in many ways. The racquets aren't cheap. The balls wear out after a match or two. It can be incredibly unfun if you're not playing with people very near your same skill level, unlike, say, pickup basketball. The mental strains and frustrations that occur in almost every match can drive even seasoned players batty. And most upsettingly, because it simply can't be played in the elements (the balls absorb water) unless you live in an always-sunny climate (aka not Spokane), it's really a sport for the wealthy who can afford the absurd costs of an indoor tennis club membership (I've certainly never been in that tax bracket).
Still, it's been my sport since I was a kid. Fond memories abound of tennis lessons in the park, varsity tennis in the spring during high school (Billings Senior Broncs — 2005 State AA Champs!), and eventually coaching high schoolers and beginner adults as a summer job.
Trying to keep playing consistently in Spokane has been an interesting experience. Despite having basically twice the population of Billings, Spokane's tennis scene pales in comparison. There's basically only one local tournament that anyone signs up for all year, and an overall less communal vibe.
It doesn't help that the invading army of pickleball players has descended on the tennis courts. It's one thing when these fad-chasing minions keep to themselves, but when they congregate in large groups at Comstock Park to play their games of oversized ping pong they can be the worst. Given the advanced age of many of these folks, you'd think they'd know a thing or two about decorum and etiquette, but nooooooope. During one match a couple months back, the picklers were walking through our court mid-point and were even trying to measure the court to lay down tape to outline pickleball courts while we were actively playing. Needless to say, I went a bit John McEnroe on the bunch. "PICKLEBALLERS, YOU CANNOT BE SERIOUS!"
The one way to ensure matches during the year comes via the Tennis Association of Greater Spokane (TAGS) and the organization's spring and summer leagues. Essentially, players can sign up according to their National Tennis Rating Program skill level (for TAGS purposes: 3.0 is fairly low level, 3.5 is pretty good, 4.0+ is very good) and then try to get in matches versus others at your level. Is self-scheduling sometimes a migraine-inducing task? For sure! Are you basically just paying to be put on a spreadsheet? Yep! Do most of the matches turn out quite fun? Thankfully, yes to that one, too.
The leagues provide an engrossing level of competitive spirit without ever getting nasty (if you care too much about winning and losing in TAGS, you have a problem). It's been a blast gutting out epic tiebreaks, with 100-plus degree days, long rallies, occasional injuries (hello, knee sleeve and elbow brace!) and swift turns in momentum as the yellow sphere spins back and forth above the net. I've had some competitive highs (won spring 3.5 singles in 2022) and lows (have only won one match in summer 3.5 singles in 2023 //cringe emoji), but more importantly, I've met some pals over the course of two years playing TAGS, including my doubles partner, Joey (we got thrown together cause we were both fresh Spokane transplants last year).
Perhaps the coolest thing about TAGS and tennis in general is the gamut of people you end up playing who are close to your skill level. This year I've gotten wrecked by both plucky teens and gray-haired retirees. (I view myself as an equal opportunity loser!)
Spokane is no tennis oasis, but there's still a lot to love about the sport here. Wait... "love" means zero in tennis... hmmmm.... (Now if we can just find a way to launch all those pickleball players into space...) ♦