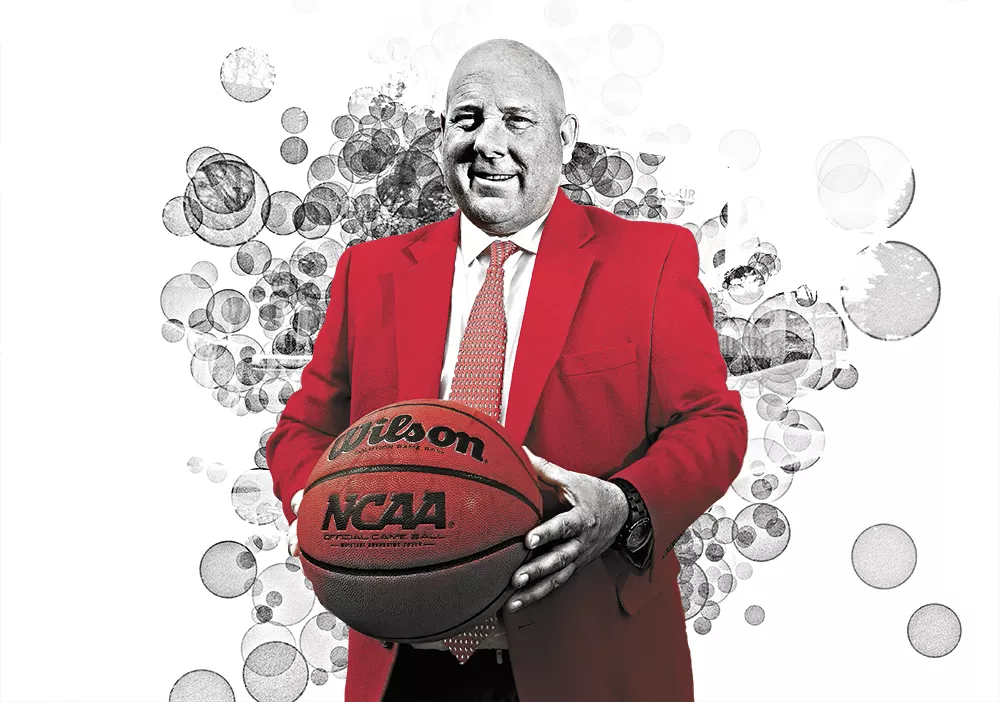 In 1985, Jim Hayford came home from his freshman year of college for Christmas, pretty much flat broke. His dad knew this, gave him a little cash and sent him off to the Sun Valley Mall in Concord, California, to buy his family gifts. It was two days before Christmas; the place was packed when Hayford and two friends arrived.
At See's Candy, he figured he could get his grandmother some sweets, ignoring the fact that she had false teeth. He's never been a guy for lines, and when he saw one at the candy store, he'd figure he'd try a different See's across from the mall. As he and his friends were leaving, a flash of light shot down the center of the two-story structure. The place rumbled, then a wall of people came running at them. They took refuge in an organ store, where the shopkeeper continued playing throughout the melee.
When they got outside, they saw the tail of an airplane that had crashed into the mall, directly above the See's Candy store. Hayford and his friends were dazed by the events and watched dumbfounded as the injured began to make their way out of the shopping center. The plane's pilot, who had been disoriented in the fog trying to land at the nearby airport, was killed on impact, as were his two passengers. Four people in the mall also lost their lives and about 80 others were injured, most of them burned by the plane's fuel.
"At that time, that's when the light hit home that you're not promised tomorrow. I began to think very seriously about what I wanted to do with my life," says Hayford. "I knew I wanted to be part of the solution, I knew I wanted to invest myself in others. The people who had the biggest influence on me were coaches. At that point I changed my major and decided I wanted to do something that would lead me to education so I could be a coach."
It's 20 years later, and Hayford is entering his fifth season as the head basketball coach at Eastern Washington University, which is why he's telling this harrowing story to Spokane's Rotary Club 21. He's fresh off a school-best 26-win season that saw the Eagles take the Big Sky Conference title on their way to the NCAA tournament for the first time in 11 years. Along the way, EWU went to Indiana and won, featured the nation's leading scorer in Tyler Harvey, was among the country's top teams in scoring and 3-pointers and cultivated a following that grew with each seemingly impossible comeback.
Still, when the Rotary Club's president takes the podium to thank Hayford for speaking, he calls him "Coach Hayward." It happens again at the end of the club meeting.
In a region where Gonzaga's powerhouse shadow can loom heavy, it's understandable that the coach at the other Division I team in the Spokane area might not be a household name.
Hayford, 48, is never going to be Mark Few, and he's not trying to be. He doesn't like comparisons. He hates comparing things, because one side always comes out a loser, and he's had most of his professional life judged by a scoreboard anyway. He's not trying to make his team the next Gonzaga. He's fine being his own man, having his own team. It's the only way he's ever done it.
In the dining room of the Spokane Club, Hayford sips on a Diet Coke and fires off an email on his cell phone, but he stops when the server comes by. He calls her by name and asks how she's been. It's the same with the busboy. Hayford inquires as to how the motorcycle is coming along. The kid says it's almost ready, and the coach wishes him well.
Hayford meets at a table in the club most mornings before practice with his coaches, before they all carpool out to campus. It's a good plan, he says, because it might encourage him to cross the skywalk over to the club's gym. He likes the routine, just as he likes Spokane, even if he moved here 15 years ago knowing absolutely nothing about it.
"When we moved to Spokane, I didn't know a person here. And I mean we really didn't know a single person, but here we are showing up with a girl starting first grade with a terminal illness," he says.
Hayford and his wife Robin had decided to move to Spokane with their younger son Joseph after daughter Jayme, then 6, was diagnosed with leukemia. Hayford had been in his second year at the University of Sioux Falls. He had led USF, an NAIA school, to a program-best 22 wins, but Jayme's illness meant they'd have to move for treatment. If it meant that Hayford had to give up coaching, he was ready to do that.
Instead, he landed the head-coaching job at Whitworth University.
At Whitworth, Hayford began winning immediately. Off the court, the coach's family was having similar success. Jayme underwent treatment in Spokane and Seattle until she was in sixth grade, battling all the way. She's about to hit her 10-year cancer-free anniversary. The family's challenges resulted in a core group of friends in Spokane that Hayford has come to consider family.
"Spokane loved us from the beginning, and we've tried to love Spokane back," says the coach.
Hayford's Whitworth teams were always at the top of their conference, and the coach recorded a 217-57 record during his time on the cozy, pine-tree-laden campus in north Spokane. His teams were always loaded with shooters and made trips to six NCAA D-III tournaments, including three Sweet Sixteens. At the end of the 2010-11 campaign, Eastern athletic director Bill Chaves made Hayford his new head basketball coach.
"He's one of only 13 coaches ever, I think, to go from D-III to Division I, but I've always thought that a great coach is capable of winning at all levels," says Chaves. "He helps raise the level of all his programs with his tenacity and attitude."
On a recent afternoon, Hayford spends a lot of time pacing the floor of Eastern's Reese Court with his hands rubbing his bald head. There are 16 days remaining until Eastern heads to Mississippi State for a nationally televised game on Nov. 13, and there's still work to be done.
Even after Venky Jois, the Australian senior forward who's expected to be the conference's premier player, throws down a two-handed dunk in a five-on-five scrimmage, Hayford halts practice. The subsequent inbounds pass was lazy, and that doesn't work. He'll stop things again when redshirt freshman Will Ferris, a sharp guard with great touch, fails to use a ball screen correctly. When Ferris does it again, Hayford sends him to run lines, where assistants talk him up and lend high fives on his trips down the court. He does the same when lightning-quick sophomore guard Sir Washington lags up the floor.
"Do you want to play fast?" he asks.
Hayford's coaching is Socratic like this. It's almost all questions to his players, which he always calls by first name, never commands. And they answer, but there's not much time to do it, because everything moves quickly in a Hayford practice.
When the practice heats up and the players are executing, it's something to behold. This afternoon, it's threes on both ends, back and forth, then again on both ends. Everybody shoots the three, everybody sprints up and down, and you can taste the sort of excitement a style like this can engender.
"I call it playing downhill and deep. We like to tilt the court and come at you fast. That's the downhill. Every year I've been a D-I coach, we've been in the top 10 of 3-pointers attempted. And that's the deep," he explains.
The style was lauded by Basketball Hall of Famer and current SMU coach Larry Brown after the Eagles traveled to Dallas for a game last season. The legendary coach picked Hayford's brain on the style, which the Eagles coach says was built gradually over years of teaching the game.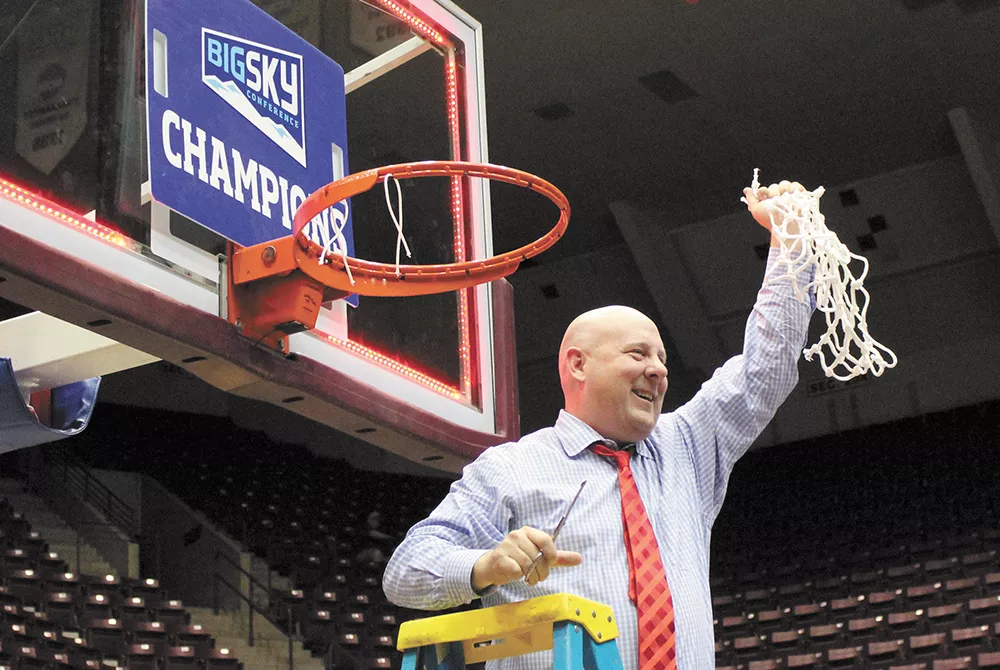 However it came to be, it attracts players to Cheney who want to score, like Austin McBroom, who came to Eastern from Saint Louis University as a graduate transfer to finish his college career. McBroom loved the way Eastern's guards get to score, but it was Hayford's personality that sealed the deal.
"He really cares about his guys. A lot of coaches say they love you, but this guy is serious. He makes it a family," says the Los Angeles native. McBroom was one of the last recruits to SLU by the late Rick Majerus, a mentor to Hayford throughout his career until his death in 2012.
The Eastern players get a lot of love from their coach, but it comes with a condition of accountability. Hayford wants to know everyday, and from every player, when they're done with class for the day. They text him to let him know.
"I want to know that they're doing what they're supposed to be doing, which is getting their education," he says.
Part of that education had the entire Eagles team out at Whitman Elementary in Spokane's Hillyard area before a recent practice for the College Headed and Making Progress (CHAMPS) program that Hayford helped start with teacher Jodi Schock. CHAMPS teams a player with a specific student who they'll mentor through high school.
With his slender 6-5 frame wedged into a tiny desk, junior forward Felix Von Hofe helps a soft-spoken student with a worksheet on the subject of citizenship.
"What does it mean to be a good citizen?" asks Von Hofe in his bouncy Australian accent. "Are you a good citizen if you help out your friends?"
The kid nods.
"Well, then, write it down!" says Von Hofe, named a co-captain of this year's team.
Behind them, Hayford looks on with a smile.
Five days after the Eagles had clinched their first NCAA tournament berth in 11 years, Hayford was standing outside the team bus in Portland, where Eastern would soon play Georgetown in the opening round. Because they could score at will and possessed the nation's leading scorer, the Eagles were the trendy upset pick in a lot of brackets. It helped that Georgetown had an awful reputation for losing in the first round in recent years.
He was on the phone with CBS Sports Radio firebrand Jim Rome. At the end of the call, Rome thanked him for calling in. But Hayford didn't say goodbye.
"We're gonna win and talk again, Jim," he told Rome before hanging up.
Rome loved it. His team inside that bus loved it, too. They were listening to the interview and were going bonkers. But by that night, Hayford's comment produced headlines like "Eastern Washington Coach Guarantees Win."
"I didn't guarantee a win. What I said was, 'We're gonna win.' I've said that to my team before every game I've ever played. I probably didn't need to say it to Jim Rome and a national audience, though."
The Eagles didn't fulfill Hayford's prophecy, losing to Georgetown 84-74. The Eagles made nine 3-pointers, but Georgetown made 11 and Eastern struggled with the physicality of the Hoyas' much bigger lineup. Hayford walked away with great memories and a taste of what his program could achieve. As an added bonus, he received a five-year contract extension worth a guaranteed $155,000 annually over the summer.
Change came quickly after the loss to Georgetown when Harvey, who'd averaged 23.1 points per game as the nation's leading scorer, announced he'd enter the NBA draft. Hayford was standing by his side when Harvey made the announcement and held no hard feelings about the sharpshooter forgoing his final year of eligibility.
"Tyler was the bridge between here and Whitworth for me," says Hayford, who recruited Harvey at Whitworth.
"If Whitworth hadn't been good enough, Tyler wouldn't have come, and if Whitworth hadn't been good enough, I wouldn't have ended up at Eastern," says Hayford.
The story was recounted in numerous national publications as Harvey's star rose in his final season at Eastern, but that doesn't make it less Disney-movie ready. Hayford, as he tells it, was on a plane to California and ran into Frank Harvey, Tyler's dad and a longtime college coach who Hayford had first met many years earlier as an assistant at then-NAIA Azusa Pacific, his alma mater. Frank told him that Tyler hadn't received offers, but insisted that the kid could shoot the lights out.
"By the end of the flight, I had my No. 1 recruit," says Hayford.
When Hayford was hired by Eastern just a year later, Harvey said he wanted to give Division I a shot, and Hayford told him, "Well, I'm giving Division I a shot, too, so you might as well come along."
With Harvey drafted by the Orlando Magic and starting the season with their D-League affiliate, things are different with the Eagles. Jois, still a thundering force under the basket, remains, but that's about it. They lost starters Drew Brandon and Parker Kelly to graduation. Then forward Ognjen Miljkovic left the program, leaving Jois the lone returning starter.
Hayford says he has the weapons his system needs. Von Hofe and Bogdan Bliznyuk, voted the Big Sky's top freshman last season, will fill some of the gaps, as will McBroom, the transfer from Saint Louis. Then there's Washington, arguably the team's most athletic player, who spent a bulk of last season injured. There also are players with impressive stat lines who've transferred from junior colleges.
"When we have our [Big Sky championship] ring ceremony at our home opener, there's going to be a lot of guys on the side clapping," says Hayford. "But this team will find its own identity."
He then offers another reminder that he doesn't want to measure this season against last year's campaign. Again, he doesn't like comparisons. His program can speak for itself.
"Let's find our own niche," he says. "Let's be who we are." ♦