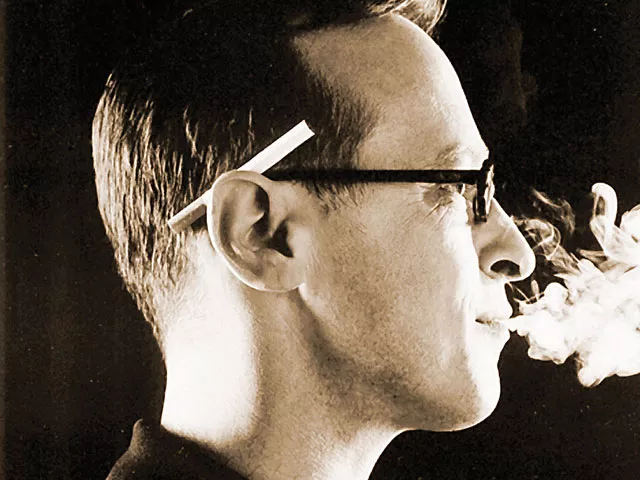 In the last couple years, reporters have taken to using the adjective "rock star" to describe David Sedaris. In the world of literature, he is as about as big as anyone gets.
By all accounts, his legion of ticket-holding fans get the same show every time. He walks out, reads some stories — some previously published, some brand-new — tells some personal anecdotes and then settles in for hours and hours of signing books — always, it seems, spending time talking to every person in line.
For the press, though, it's hot and cold. When he's on book tour — traveling around in support of a specific book, as he was last year at this time — he'll talk to anyone. He'll tell funny anecdotes, often about the town you're calling from. He had a great story about being transfixed by Spokane's marmot population.
He'll get serious too, answering all questions quickly and directly and with a downhill delivery as though he has all his memories and opinions queued up beforehand for recall at a moment's notice. He never pleads the Fifth, though he sometimes subtly steers a tough, direct question into a gauzy realm of piquant observation.
But everyone does that. One thing no one has ever done — at least not to me — is send a postcard with a sincere note of apology after our call was cut off by another. The postcard pictured stuffed animals fornicating.
This is David Sedaris' unique charm and the key to his celebrity. He invites a feeling of closeness — even though, upon reflection, you realize that you actually know very little about him. He is pure persona. The question of whether or not he's putting on an act is moot. The act is so complete — in interviews, on stage, on the street, by accounts — that it doesn't matter.
You get to know Sedaris on book years.
In non-book years, we're finding out, you get to know his fans, his detractors and everybody else.
There are no interviews this year. His publicist tells you, "David isn't going to be doing any press on this tour. Sorry."
And then a strange thing happens. In a Sedaris vacuum, other voices start to fill the void in narrative. A young gay blogger in Houston writes a long, unfunny, navel-gazing report of how Sedaris gave him a condom in the book line. A critic in Dallas writes in a scathing review, not of Sedaris, but of his audience.
"David Sedaris doesn't have to be funny because his audience is already laughing," says Laura Kostelny of the show she caught on April 26. "Every pause, every sideways glance — his fans are already doubled over."
It's a reasonable criticism, except that from other blushing blog reports, these breathless fans aren't laughing much at the contents of Sedaris' new book Squirrel Seeks Chipmunk: A Modest Bestiary. Akin to a book of fables — except "fables have morals," in Sedaris' words — it's a collection of stories about animals facing human problems like infidelity and government bureaucracy and how a mommy stork should tell her little storklings where babies come from. It'll be out in October.
The consensus seems to be that an essay he reads in the second half of the night — about a long airplane flight that includes a stewardess spraying farts up and down the cabin — is funnier than any of the animal stories.
Aside from whether Squirrel Seeks Chipmunk will suck or not, at least we still know Sedaris, who is now 53, is using his middle age to push himself, despite how much or how little his fans want him to.
Which, in the spectrum of middle-aged rock stars, makes him more David Byrne than Sammy Hagar, say.
David Sedaris will speak at the Fox on Saturday, May 8, at 8 pm. Tickets: $30-$50. Visit ticketswest.com or call (800) 325-SEAT.