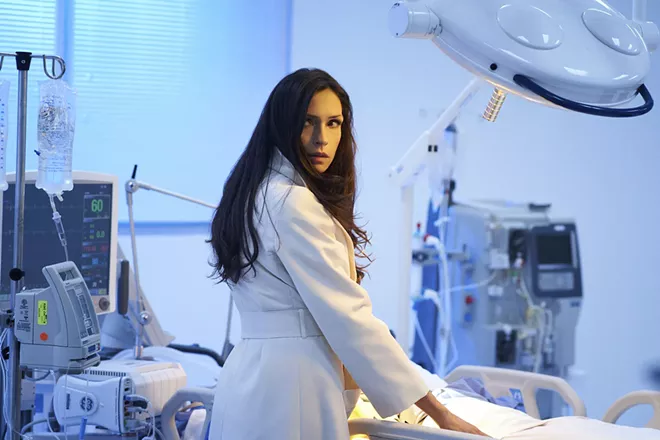 Remember 2013? Barack Obama was sworn in for a second term, Rush was inducted into the Rock & Roll Hall of Fame, and there were only six Fast & Furious movies — good times. It was also the year when TV hits like Orange Is the New Black, Rick & Morty, and Bates Motel made their debuts. You know those, but you probably don't recall these obscurities from 2013. I barely do, and I reviewed 'em back then.
BANSHEE (2013-16)
Before he became Homelander on The Boys, Antony Starr was Lucas Hood, a less psychotic (but still brutal) criminal hiding out in the Amish country town of Banshee. While he's posing as the local sheriff, he discovers that his ex (Ivana Milicevic) is also ensconced in Banshee under a fake identity — what a coincidence! The hyper-violent, little-seen Banshee is a gritty, twisty crime-noir action thriller that would have exploded on HBO, but instead floundered for four seasons on Cinemax.
HEMLOCK GROVE (2013-15)
Speaking of Pennsylvania, there's weirdness afoot in the rundown steel town of Hemlock Grove (with a lovely name like that?). Hemlock Grove was one of Netflix's first originals, so it didn't have to make much sense, it just had to look cool — and no one looked cooler than perpetually white-clad local heiress Olivia Godfrey (Famke Janssen) in 2013. The three-season series was a chaotic collision of science and the supernatural and probably best viewed with herbal enhancement.
ROGUE (2013-17)
After FX's The Shield and AMC's Mad Men, other cable networks jumped headlong on original programming looking for a hit — DirecTV even launched the exclusive channel Audience Network (narrator: There was no audience). A pre-Westworld Thandiwe Newton carried the hardboiled crime drama Rogue for three seasons, leading a sprawling cast of "hey, I know them" actors (including Yellowstone's Cole Hauser). Rogue is The Wire for Dummies.
ORPHAN BLACK (2013-17)
It's the show you've heard about for years but likely have never watched: Orphan Black, the critically lauded sci-fi drama that should have made Tatiana Maslany a star but instead only earned her an Emmy and a consolation prize in the Marvel Cinematic Universe as She-Hulk: Attorney at Law. Over five seasons, Maslany played 14 distinct characters, "sister" clones who escaped from a covert eugenics operation. Orphan Black is a wild, emotional ride and a modern sci-fi milestone.
UNDER THE DOME (2013-15)
In the summer of 2013, CBS promised a one-season-and-done thriller series in the form of Under the Dome, an adaptation of Stephen King's 2009 novel. But then, the series about a small town trapped in a giant dome (obvs) became a hit, and CBS dragged it out for two more seasons. Greedy move, but Under the Dome is still a taut mystery early on, with excellent performances from Dean Norris (Breaking Bad) and even Rachelle Lefevre (Twilight).
YOUR PRETTY FACE IS GOING TO HELL (2013-19)
This is a drama-heavy list so far — time to lighten the hell up. Your Pretty Face Is Going to Hell is an office comedy set in Hades, starring Henry Zebrowski (The Last Podcast on the Left) as a damned, khakis-clad soul working desperately to climb up the corporate underworld ladder... to what end? Why do any of us do it? Makes you think. Anyway: YPFIGTH is most notable for featuring the best Satan ever, Matt Servitto (of Banshee, coincidentally).
UP LATE WITH ALEC BALDWIN (2013)
At the height of his 30 Rock fame, MSNBC handed Alec Baldwin his own Friday late-night talk show in October 2013, Up Late. At the time, he said, "I'm going to do it for a year, then we'll see what happens." By November, MSNBC had canceled the show and fired Baldwin, much to the disappointment of his dozens of viewers. Also in 2013, MSNBC corporate cousin Syfy aired, and quickly canceled, a Joe Rogan conspiracy series — a real banner year for NBCUniversal. ♦