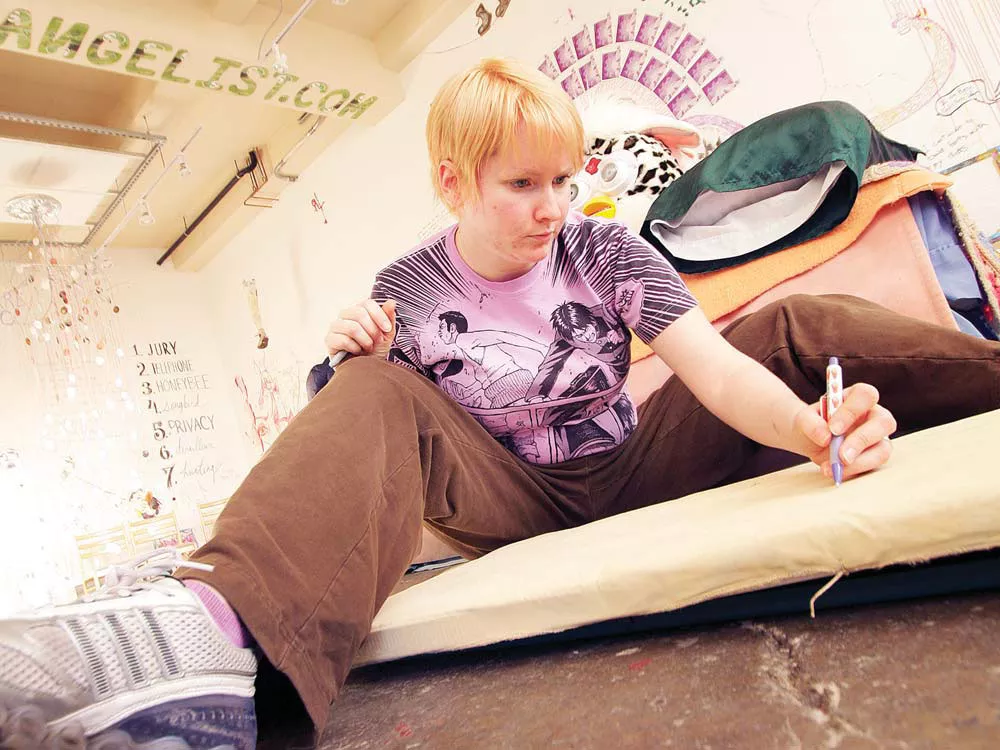 THE YEAR UNDERGROUND ART CLICKED
With the closing of Lorinda Knight, Spokane's only true white-box gallery space near the first of the year, no one was really sure how fine art would respond in 2010. It mostly kept on keepin' on.
Young artists got ballsy, putting their work on display wherever the hell they could. In unused storefronts, in band-practice spaces — the locales were as evocative as the art, and got previously unregarded artists out in a big way.
It's something Raw Space, Intoxicated Dreams and Terrain have done for a while, but 2010 was a watershed year for the number of people who got in on the act — and who noticed.
The Kolva-Sullivan Gallery hosted MONTH, a production of Black Rabbit Magic, a loose collective of artist-friends, who got almost 30 artists to spend 24 hours each in the space, doing whatever they wanted to do. The Transcendence Project was a collaboration with Our Kids Our Business to put youngsters in contact with young artists on big, transitory public art projects. Riverspeak, a community-building and networking outlet for artists, came into its own in 2010 as well, hosting a tremendously successful group show called Kinetic and announcing a new quarterly literary journal, which will publish early 2011.
2010 was the year a new generation came into its own. (LUKE BAUMGARTEN)
THE YEAR THE SPOKANE SYMPHONY HAD TO CANCEL
Take away their serenaded picnic and they will listen. When the Spokane Symphony Orchestra broke a 25-year streak and canceled its annual Labor Day concert at Comstock Park on the South Hill, people weren't just disappointed, they were angry: "There was a real shock," says SSO marketing director Annie Matlow. "One man called and said we were taking something away from his family." And, the man continued, couldn't the musicians just play for free? (Well, actually, they're professionals. They're not just doing this as a hobby.) The end-of-summer concert under the band shell — while free to picnickers — costs $36,000 to produce, and hoping for its return, plenty of folks pledged financial support. But now Sterling Savings — already a longtime supporter — has responded to the Symphony's shortfall by pledging a three-year sponsorship for the Labor Day concert. Thanks to Sterling's generosity, we're getting our picnic-concerts back. (MICHAEL BOWEN)
THE YEAR THE CIVIC GOT SCANDALOUS
What if an anonymous source maliciously exposed your illicit sexual habits to your boss — and you were fired for it? What if the reputation of the organization you lead were endangered by the private behavior of one of your employees — and word got out, and people took sides, and a scandal resulted?
And what if none of that affected your ticket sales?
That's the startling state of affairs at Spokane Civic Theatre, where former music director James Ryan and his wife Lynn were outed as swingers, and Executive Artistic Director Yvonne A.K. Johnson fired them for it. Even as this scandal was emerging, however, two recent mainstage musicals, Buddy and White Christmas, were playing to predominantly sold-out houses.
As for developments since our Nov. 18 story: James Ryan's out of a job but remains in town. Progress on identifying the cyberspace rabble-rouser has been incremental. The Civic's many volunteers are divided in their opinions about the resolution of the Ryan affair. And lawsuits may be in the offing. (MB)
THE YEAR OF RETROSPECTIVES
The Museum of Arts and Culture hosted two huge retrospective art shows this year, and a third that might as well be. The MAC featured career-spanning work by the late Chicano artist Ruben Trejo from April to November, and the incomparably prolific Harold Balazs from July to October. Trejo's collected works displayed a fascinating preoccupation with crucifixes and penises — meditations on the centrality of faith and machismo in life. Balazs' work was eclectic and diverse, touching on everything from enamels to watercolors to furniture he builds. In December, the MAC opened a huge review of Colfax book artist Timothy Ely's book art. While not technically a retrospective, the show is getting national book-nerd attention for hosting more of Ely's books in one place at one time than ever before. "It's the biggest exhibition of my work that will probably be done — at least in my lifetime," Ely told us. (LB)
THE YEAR THE MAC´S LIFE WAS THREATENED
From a purely artistic perspective, the Museum of Arts and Culture has thrived. Its halls have featured the twisting knots of Harold Balazs, the warped sculptures of the late Ruben Trejo and the mystical handcrafted tomes of Timothy Ely. Its exhibit halls have highlighted the depression and the ascendancy of the woman voter. And the MAC's monthly free BeGin! parties continued to bring out the community. But then there's the financial situation. There's always the financial situation.
Last year, the state slashed $800,000 from the MAC's budget. At the start of the year, 13 positions had already been eliminated. The thin staff was stretched even thinner. July brought more cuts. And now, the state may deliver a deathblow. The governor's proposed budget recommends shutting down the museum entirely. If the budget goes through, it'll be like the end of Raiders of the Lost Ark: Countless artifacts locked up in storage, unseen and inaccessible by the general public. (DANIEL WALTERS)
THE YEAR THE LAKE CITY PLAYHOUSE GOT A STANDING OVATION
Coeur d'Alene's community theater is on the rebound. There have been a lot of positive changes at Lake City Playhouse since April, when new artistic director George Green took over: Debt reduced by two-thirds. The re-establishment of the technical director position. The innovation of a resident costumer. And that kind of in-house improvement attracts external results: Plenty of new sponsors. Six times as many season subscribers. Actors and backstage personnel volunteering from across the region. "I can't recall a time that so much talent has crossed back and forth over the state border to perform," Green says. Directors are making the drive, too, including Abbey Crawford (Evita this season, Fiddler on the Roof next September) and the resident director at Spokane Civic Theatre, Troy Nickerson. "The most repeated comment we get from patrons is that they feel the new energy," Green says. "They sense the culture change and the care that is being exhibited both on and off the stage. It's contagious." (MB)
THE YEAR INLAND NORTHWEST SPORTS TEAMS TOOK NAMES
Inland Northwest teams enjoyed great success at the professional, collegiate and high school levels in 2010. The Spokane Shock moved up to the "major leagues" of indoor football and won the Arena Football League championship. In minor league baseball, the Spokane Indians lost in the Northwest League Championship Series.
Gonzaga had yet another fine season in men's basketball, and the GU women reached the Sweet 16 round of the NCAA tournament for the first time. Whitworth played in the Sweet 16 in NCAA Division III men's basketball, and Washington State made it to the Division I baseball regionals for the second year in a row. Prep sports were champs, too: Ferris and Coeur d'Alene in football, North Central in boys cross country (for the fifth consecutive year), Coeur d'Alene in girls basketball, Priest River in boys and girls basketball, Post Falls in softball and Pullman in volleyball. Not too shabby, eh? (HOWIE STALWICK)
THE YEAR UNIVERSITY OF IDAHO POETRY CONQUERED
Few things in life are accepted as universally true. Global warming? Nope. Evolution? Come on. Heliocentrism? Give us a second, we'll find someone to dispute it.
With the gradual implosion of print media, though, and a narrowing of avenues for the art of poetry, it's become a truism that there's no better platform for that art than the New Yorker. Every issue of the almostweekly magazine contains a poem or three, and every issue circulates over a million copies. Fall 2010 saw poems by not one, but two University of Idaho poets featured in the magazine. The first, in early September, was Robert Wrigley's "I like the wind," which likens the glory of nature to a gale of sensation. The second was just after Thanksgiving, a bad-breakup poem called "Sestina," by Ciara Shuttleworth, one of Wrigley's master's students.
It seemed fitting that Wrigley would be the first to win the race to publish in the New Yorker, by dint of seniority. "Of course," Wrigley told us on the eve of Shuttleworth's publication, "I was 55 when I got my first poem in." Shuttleworth, 30, beat him by a couple decades on that score. (LB)
THE YEAR PALOUSE DRAG TURNED 15
"There is no gay bar in this rural part of Idaho," Kathy Sprague told Inlander contributor Richard H. Miller in January. "The drag show is all there is." Sprague and her partner Tabitha Simmons began the Moscow drag show 15 years ago last January.
For several years the show has taken place at the Moscow Moose Lodge, a national coed fraternity (if such a thing is possible) dedicated to "celebrating life." This is no mere renting of an empty hall either. Sprague is a member of the lodge and Simmons is a senior regent. The two estimate that half their audience each month is straight and many are under 21 (it's an 18 event), making it a place, in the words of one attendee, "where everyone can come together."
It's not going anywhere, either. The drag show has its 16 th anniversary show planned for Jan. 29, and shows booked through next August, so expect a 17 th anniversary as well. (LB)
THE YEAR THE MAYOR REPRESENTED
Mayor Mary Verner rang in 2009 by rapping. Remember that? About all the change happening in Spokane. She spent most of 2010 representing — at least on the arts side of things. While both critics and supporters are sometimes unsure where she stands on issues, it's pretty clear she's stoked about the arts and youth culture of this town. She was spotted out at dozens of events, including underground events like Spokane Boxing, Terrain 2010 and mainstream stuff like the skate park dedication, the Main Market mural dedication, a bubble fashion show at Sante, MAC and Chase Gallery openings, and numerous First Friday art walks.
Perception matters, and there's a broad sense among artists — used to being societal outsiders — that Spokane's top elected official spent 2010 giving out group hugs. (LB)



FOOD

SCREEN

NEWS

MUSIC

ARTS & CULTURE