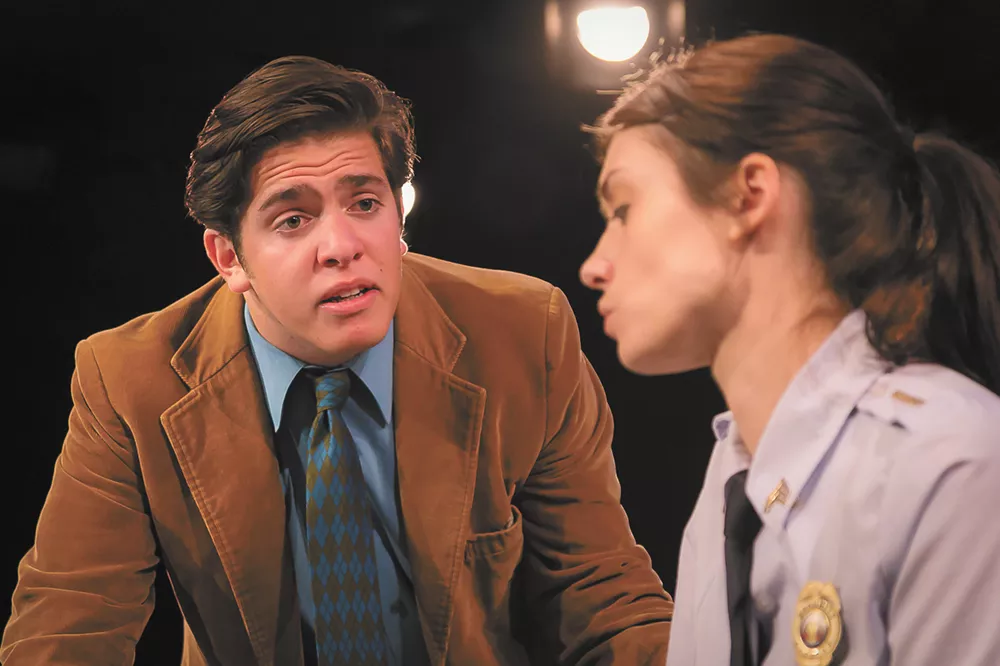 When The Modern (then Interplayers) first announced that it would be producing Neil LaBute's Reasons to Be Pretty/Reasons to Be Happy duology, the theater's intent was to stage the stand-alone plays back-to-back in repertory. The change of ownership resulted in a slight reshuffling of schedules, ultimately leaving a gap of four months between them.
This isn't the disappointment it seemed at the time. The internal chronology of the plays, written five years apart, puts a roughly three-year spacing between Pretty and Happy. In the interim the characters' relationships to and with one another have all drifted and rearranged. Jennifer, the baby who complicated the already shaky marriage between Carly (Jennie Oliver) and Kent (Nich Witham) in the previous play, is now a little girl. Her parents, once estranged, are experiencing a tentative rapprochement. Impetuous Steph (Molly Tage) is unhappily married. Greg (Ryan Shore), her ex, has become romantically involved with Carly and found work as a substitute teacher.
And yet some things remain constant: An expletive-heavy argument between Greg and Steph opens this play, too. Here they're in the parking lot of Trader Joe's, Greg's ice cream sandwiches melting, Steph furious over the news that he's now with Carly. Greg is — at the outset, at least — still a limp milquetoast to whom life happens, and Kent is still the cocky homophobe and misogynist who only knows expression through sex and violence. From an audience perspective, the actual time away from these characters has the effect of reinforcing the time that's passed within the play proper, and in turn the significance of what's changed and what hasn't.
Reasons to Be Happy is funnier than its predecessor. Though LaBute, true to form, denies his characters happiness as well as the ability to define the term, his play at least offers the audience ample reasons for laughter. ("White Fang?" Kent sneers at one of Greg's novels. "I hate that vampire shit.") The respective strengths of the cast members — all of whom reprise their previous roles, once again under the direction of Dawn Taylor Reinhardt — are as visible as before, only here Shore tends to overdo his agitation to the extent that it's unclear why Steph and Carly would be tussling over him. Oliver in particular has a remarkable naturalism. That's offset, unfortunately, by the forced poignancy of the play's ending and the contrivance it takes to get there.
Reasons to Be Happy • Through June 28; Thu-Sat at 7:30 pm, Sun at 2 pm • $19 to $25 • The Modern Spokane • 174 S. Howard • the moderntheater.org • 455-PLAY