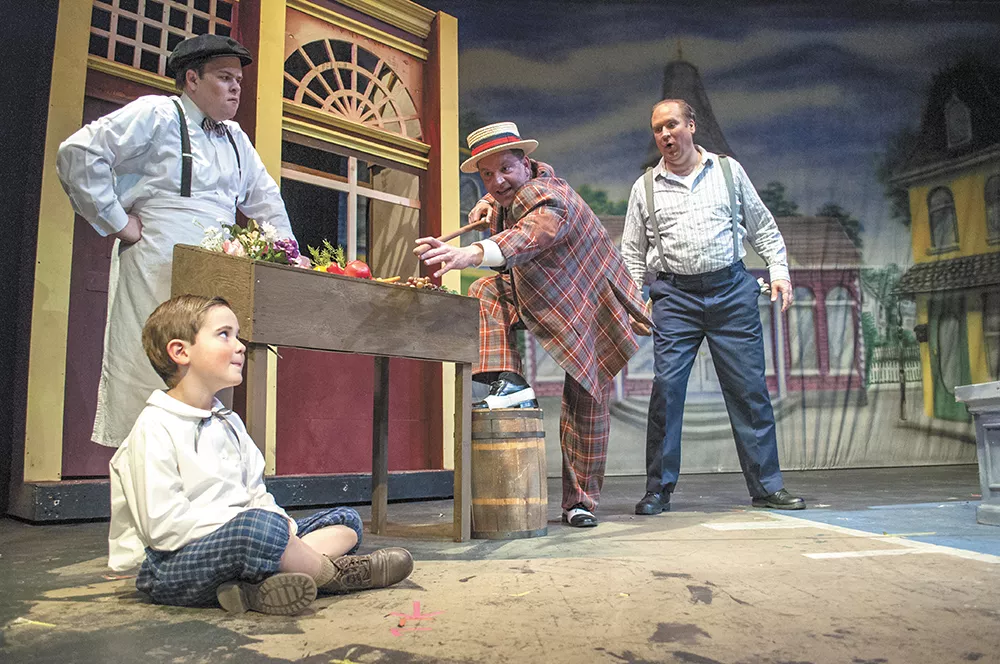 "Well, ya got trouble, my friend, right here, I say, trouble right here in River City!"
In The Music Man, that rapidly delivered line signals the start of con artist Harold Hill's gambit to create a marching band in a tiny Iowa town. Hill, of course, isn't the professor he claims to be, and he has no intention of following through on his pitch. Once he's pocketed the money from selling uniforms and instruments to the well-meaning but naive townsfolk, he'll be on the outbound train headed toward his next mark. But then he's smitten by librarian and part-time piano teacher Marian Paroo, which might be enough to put him on the straight and narrow.
That iconic line was the one that kicked off a flash mob promoting a new production of the musical, opening Friday night at the Spokane Civic Theatre. Led by Mark Pleasant, who stars as Hill, the cast of The Music Man gathered at Bloomsday registration in the Convention Center on May 2 to reenact the scene where the townspeople are smooth-talked into a state of indignation over a new pool table.
"It was fun," says director Tia Wooley. "I brought in a keyboard, and we hooked Mark up with a microphone. I think some people were pretty surprised."
Wooley knows The Music Man is a staple of community theater repertoire, so she's making her mark by concentrating on authenticity despite some of the show's incidental anachronisms (Rafael Méndez, a popular trumpeter comically name-dropped by Hill, would only have been 6 at the time The Music Man is set). Her marching band includes 20 children who she's "helping to develop their own characters" through that emphasis on historical accuracy.
"The way I chose to pursue this production was to do my research on a time frame, which was 1912, and to be real to that time frame as much as possible — trying to tell the kids, 'You were at home doing the chores and helping to provide for the family,'" says Wooley.
For her first main-stage production, Wooley has had welcome assistance from the veteran cast members, some of whom were part of the production directed by Jean Hardie (who's returned to play Marian Paroo's mother) at the Civic 20 years ago. Pleasant played teenager Tommy Djilas in that show, but Wooley says he was born for the title role.
"I can't even imagine somebody else being The Music Man now. He's put his heart and soul into this. Alyssa Day as Marian? She can nail 'My White Knight' like no other," says Wooley.
The Music Man • May 15-June 14; Thu-Sat at 7:30 pm, Sun at 2 pm • $22-$30 • Spokane Civic Theatre • 1020 N. Howard • spokanecivictheatre.com • 325-2507