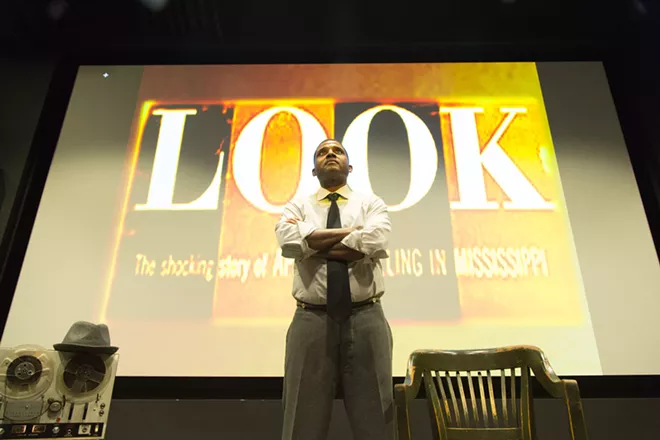 The 1955 lynching of 14-year-old Emmett Till and the subsequent acquittal of his unrepentant white killers was an event that had swift as well as lasting repercussions. It immediately catalyzed the wider movement for civil rights in America, and for years afterwards artists sought to capture its tragic injustice in one work after another.
In the same year Till was kidnapped, mutilated and murdered for allegedly making what was described as a "wolf whistle" at a white woman, Langston Hughes published a poem that would later be titled "Mississippi — 1955." Around 1962, Bob Dylan wrote a folk song recounting the racially motivated murder and the subsequent trial. To those who refused to speak out against the crime, he sang, "Your eyes are filled with dead men's dirt, your mind is filled with dust." A little over two decades afterwards, Toni Morrison premiered Dreaming Emmett, her first-ever play, which examined contemporary social and racial injustices through Till's eyes.
For writer and actor Mike Wiley, who later took up Emmett Till's story in his own play, the inspiration came from an unlikely source.
"I wish that I could tell you that it was some deep, fiery muse that turned me toward the story of Emmett Till," he says.
Instead, his path started with Kanye West.
"It was in the early 2000s when Kanye was really making great music, and he put out a song where he samples [Chaka Khan's] 'Through the Fire.' Within the lyrics, he compares himself after a car accident to Emmett Till. He says that his face looks like Emmett Till's. And it honestly angered me. Anyone looking at that poor little boy's body and face would know that there is little chance of recognizing him as a human being."
Wiley recalled his grandmother showing him that gruesome photograph as a "cautionary tale" and felt that West's self-martyring comparison "sullied the memory of these tragic individuals by putting them in a flippant context."
And so, "out of a desire to not let [Till's] story not only die but be mangled and turned into a different narrative," he channeled that anger and indignation into a one-man play called Dar He.
The title comes from a sentence that was supposedly uttered by Till's uncle, Mose Wright, as he stood to identify one of the boy's killers in court. Though only two words long, it speaks volumes about the prejudices and institutionalized racism of the era. For Wright to rise and single out a white man was an act of almost unprecedented defiance in the American South, yet there were accusations that newspapers twisted his actual words — "There he is" — in an attempt to make him sound less intelligent.
Wright was for a long time a "forgotten tragic player in this story," Wiley says.
"After testifying against these men, he immediately had to leave Mississippi. Whatever life he had in Mississippi was done because he would have been killed had he stayed. He left his farm and his community to be an elevator operator in Chicago. The following year, he came back to harvest his crops, and because he knew that he would be killed, he slept in his fields at night and he could hear his house being shot up."
To perform the play, Wiley alone adopts 36 different roles. That's certainly a challenge for him as an actor, and in less experienced hands, it might also be one for the audience. But Wiley also worked distinct clues into the writing, establishing characters through dialogue that conveys their age and other important traits.
"Ninety-nine percent of the time people stick with me and have no issues understanding. I have kind of a nonverbal agreement with the audience that I'm not going to lose them," he says.
"Now, it's a handful of main characters, say six or seven, and the rest are people that pop in and out — a waitress, a bartender, a townsperson, a cousin. You'll know those folks are completely different because they're a different voice and a posture and even where I stand onstage."
Today, more than six decades after Till's body was pulled from the Tallahatchie River, Wiley continues to perform Dar He for audiences of all ages across the country, and with as much urgency as ever. There was a time when he might have worried about the piece's emotional intensity fading, but that has changed along with the political climate.
"Living in 2019, there is no worry about that at all," he says. "I live in a progressive small town in North Carolina, and yet some guys erected a Confederate flag across the street from my son's middle school yesterday. I live in the bluest little town in the state, and yet for the third weekend in a row, we're having to stand out on the street and counter-protest the Klan, who are protesting the removal of a Confederate statue."
What spurs him on aren't these retrograde events but the glimmers of hope amid them. Like the tearful elderly woman who quietly waited to hug him after a recent performance.
"I hugged her right back," says Wiley. "Because what I see in that is that it's never too late to move somebody to action." ♦
Dar He: The Story of Emmett Till • Thu, Oct. 17 at 7:30 pm • $25 • Myrtle Woldson Performing Arts Center • 211 E. DeSmet Ave. • gonzaga.edu/myrtle-woldson-performing-arts-center • 313-2787