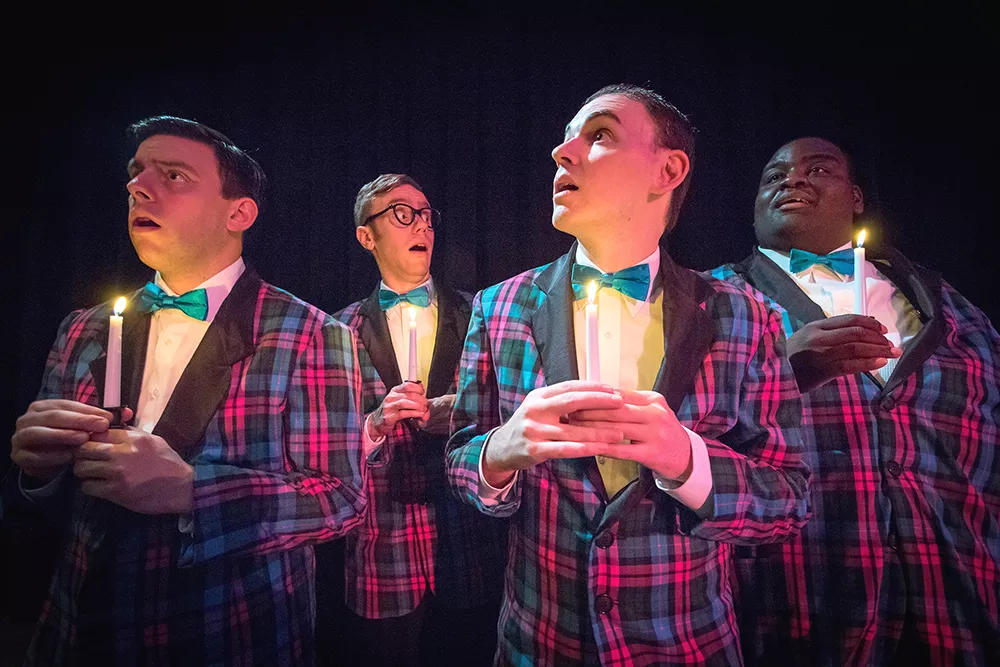 The season of Santa, snowmen and sparkling lights is upon us, and with it comes a bevy of appropriately themed offerings from all the region's live theaters. From Dickens' classic Christmastime tale to a show based on true events during World War I, the following productions should get everyone fully immersed in the holiday spirit. Find more holiday-centric entertainment beyond these at inlander.com/events.
FOREVER PLAID: PLAID TIDINGS
Breaking from its typical holiday show choices (past year's repeats like White Christmas and A Christmas Carol), the Spokane Civic Theatre is going retro pop with this year's upbeat Christmas musical. Plaid Tidings puts a festive spin on its original source material, a revue-style show about a four-part harmony group called Forever Plaid. In a dreary turn of events, our '50s boy group is killed in a bus accident, but gets the chance to return to earth for a posthumous holiday performance on The Ed Sullivan Show.
Through Dec. 18: Thu-Sat at 7:30 pm, Sun at 2 pm • $22-$30 • Spokane Civic Theatre • 1020 N. Howard • spokanecivictheatre.com
ALL IS CALM
Returning to a Spokane stage for the third consecutive year, this historically based script by Peter Rothstein recreates one night in 1914 on the Western Front of World War I, when men on both sides put down their weapons and peacefully interacted with one another. History tells us they sang songs, exchanged gifts, and buried their dead together. A musical performed in a radio theater format, All is Calm is a moving production that illuminates this lesser-known moment of humanity, and reminds us that no matter our story, we're not so different after all.
Through Dec. 24: Thu-Sat at 7:30 pm, Sun at 2 pm • $26-$32 • The Modern Theater Spokane • 174 S. Howard • themoderntheater.org
THE EIGHT: REINDEER MONOLOGUES
For those looking to laugh deeply, Spokane's resident alternative theater is getting ready to stage a dark (even depressing) comedy that's rated adults only. Here's why: Santa's been accused of sexual harassment by one of his reindeer, Vixen. When the word gets out, other members of the magical sleigh team start coming forward with more allegations against the sainted ol' Nick. Performed in a series of confessional monologues, this darker tale might not be for everyone, but it definitely breaks free of the classic expectations we may have for holiday entertainment.
Dec. 9-10 at 7:30 pm, Dec. 11 at 2 pm • $10 • Stage Left Theater • 108 W. Third • spokanestageleft.org
A CHRISTMAS CAROL
For those who enjoy a good classic, the holiday season might not be complete without a viewing of this familiar story. After performing the story of Ebenezer Scrooge's personal enlightenment each December for three years, the University of Idaho Theatre Arts Department is now staging its fourth and final version (for now, at least) of A Christmas Carol. In an effort to maintain the true spirit of Dickens' work, a commentary on the realities of poverty and social injustice, the cast and crew decided to use the show to emphasize the author's original call to action. The audience will notice that traditional cast bios in the show's playbill have been replaced by descriptions of each member's favorite charitable organizations.
Dec. 1-3, 8 and 10, at 7:30 pm; Dec. 4 and 11, at 2 pm • $5-$15 • University of Idaho Hartung Theater • 625 Stadium Dr., Moscow • uidaho.edu/class/theatre
IT'S A WONDERFUL LIFE: A RADIO PLAY
In keeping with another new and local tradition, the Friends of the Bing and the Spokane Civic Theatre are again — just days before Christmas — producing a special two-night recreation of Frank Capra's beloved holiday film, in radio-theater format. Sure, we all know and love the heartwarming story of George Bailey's life-changing Christmas Eve, but seeing it live on stage in a pre-digital production style is just the ticket to get you feeling all warm and fuzzy inside — and grateful for the blessings in your own life.
Dec. 23 and 24 at 6 pm • $13.50-$21.50 • Bing Crosby Theater • 901 W. Sprague • friendsofthebing.org ♦